Trout Stocking And Kamberg
Trout Stocking And Kamberg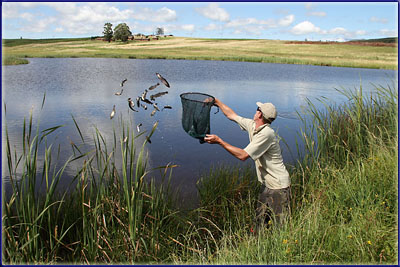 Long weekends are made to be taken advantage of and this particular one was no exception.
With Friday being a public holiday I'd agreed to monitor the stocking of several NFFC waters by Bushman's River Trout. So at 6am Sharon and I took a leisurely drive to the Giant's Castle area where we met John. He'd stocked the 3 dams with 3″ (or 5") fish the previous morning and it was now time to put in a few 10″ fish to kick start the process of rehabilitating these Mondi waters.
The whole process was surprisingly fast and started by looking for a place to safely release the new fish. The obvious choice was along the dam wall into deeper, safer water. There was however a small problem in that we could see the previous day's smaller fish shoaling along the wall. Not wanting the 10″ fish to consume the previous day's work we examined the rest of the water but soon realised that the dam wall was the only option. As such we searched it for the place of least activity and began the process there.
He part emptied the tanks and added water from the dam. This was to acclimatise the fish to their new living conditions from those in the tank. During this process one of the fish managed to leap from a tank and I picked it up hoping to snap off a quick photo. Fat chance! All the fish I usually hold have been at the end of a fly line for a few minutes thus tiring them out. This particular one had however been in cool, highly oxygenated water and was at full strength. I must admit, I was impressed! It had so much power I was unable to hold it for any length of time without it wriggling free from grasp.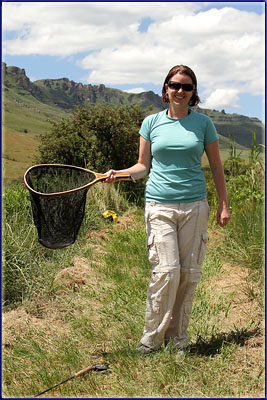 After allowing the fish time to acclimatise they were then netted, probably 40 odd fish at a time, run to the water and thrown, yes thrown, in. I was a little shocked that the fish were thrown for 10 odd meters before hitting the water, but soon discovered that the shock jolted them enough to make them move off happily in their new environment (or so I was told).
With the first dam complete we moved off to the next water and repeated the process there. Only this time, due to a small outlet stream, John was forced to run a fair distance to safely release the fish.
By 11am all fish had been released and we started the short drive to Kamberg where Sharon and I had decided to spend the night. When we drove through the gate I became immediately aware of the storm clouds which were already forming at a rapid rate. Worried that I wouldn't be able to fish later that day I cut a deal with Sharon which allowed me to fish while she unpacked the car.
I fished the usual spots around Erskine for about 30 minutes with no luck. It was midday in summer and I wasn't expecting a lot so I continued fishing while enjoy the pair of Crested Eagles nesting in a nearby tree. It was at this point that I noticed a few stockies shoaling in the far corner of the dam. I made my way over there, put in a cast, and was immediately into a fish. It wasn't a large fish but in the midday heat a fish is a fish.
I continued fishing the corner, catching on almost every cast, until Sharon arrived a few minutes later. Realising we were sitting on a gold mine I passed her the rod and relaxed on the bank with a beer while she wet her appetite for fly fishing. Although she couldn't cast far she landed 5 fish within the hour, and lost equally as many due to the barbless hook.
Eventually, after we'd landed 17 fish between us, we called it a day and headed over to the weir next to the hatchery for a swim and a picnic. From there we headed back to the unit for a shower and to relax while a mild storm passed overhead.
For dinner we enjoyed a quiet braai while chatting to a few of the people around us about their day's fishing. Amazingly none of them had caught anything and were in awe of our small achievement.
Starting a fire in our chalet proved to be somewhat exciting when we realised we'd left our firelighters in the garage when we'd bought out morning cup of coffee. Thankfully with a little ingenuity we got it going and managed to relax with a glass of red before going to bed.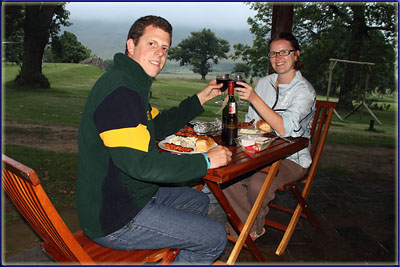 On Saturday morning I headed down to the water at around 7am. Sharon's arm was a little stiff and opted to relax in the chalet instead. When I got to the water's edge I headed for my corner only to discover that one of the fishermen I'd chatted to the previous evening had poached it. Grrrr!
I gracefully moved off and fished a few of my other favourite spots around the dam. This turned out to be a blessing in disguise as I landed a few larger fish (in the 1kg range) as opposed to the small stockies of the day before.
After I'd picked up 6 larger rainbow trout the other fisherman moved off and I reclaimed my spot for a little stockie bashing. In the next hour I landed 10 (possibly more as I was battling to keep count) small rainbows.
So 16 fish and 2 hours later I headed back up to the chalet for a well-earned breakfast. We then packed up the chalet and began the drive home. The reason for the early departure was to look at a few wedding venues on the way home. We did however only really pass one, The Bend, which looked to be pretty good if the weather was right.
After that we stopped off at Gunther's for a good Austrian sausage. Having eating several times at the Bierfassl I have to say that I definitely prefer Gunther's. They offer the same beers for a few bob less, you get to sit in a fantastic garden which is far less crowded, and the sausage is great for a lot less money. The menu is however very limited and you'll basically be eating a sausage of your choice, with a roll and fried potatoes.
All in all a great weekend.