NFFC's Newest Member Gets Taught A Lesson
NFFC's Newest Member Gets Taught A Lesson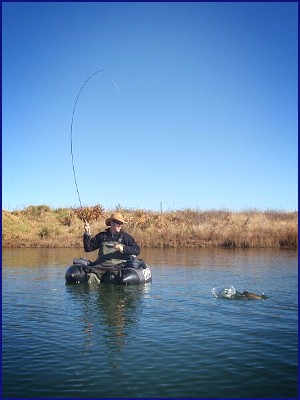 Sunday was yet again spent showing Nick how to catch fish in the 'berg; Nick had joined the NFFC during the week and was eager to test out some of his new waters. We opted to fish a venue in the Kamberg area called Uitzicht. This venue offered 2 dams – a larger one which you were allowed tubes on, and a smaller, heavily weeded dam which had to be fished from the bank.
I managed to produce a nice Rainbow in the larger dam, which certain had a lot of promise but didn't fish well on the day. The smaller dam sadly wasn't as productive. It looks like a great water with a lot of weed in it, and is probably best fished with a floating line. Sadly two things caused us problems here. Firstly cows had been drinking and the water was churned up and muddy. And secondly, we both had intermediate lines on which made fishing amongst the weed very tricky.
As a result we opted to move on to a second venue called Bracken waters, which was just around the corner. It was a large dam and looked great from the bank. Sadly we had a minor fail here as Nick rushed for the water, snagging his tube on a barb wire fence on the way. It seemed ok at first, but as we made our way into the water it became very obvious that he was sinking. Bwahaaa. This gave me a good chance to catch more fish while he sulked…or so I thought.
The dam is heavily weeded near the car park, and I had to push my way through 50 to 60 meters of weed to make it into open water. When I finally got there I felt guilty, and decided to head back. Not wanting to go back through the weed I tried a different route, which ended up having even more weed. I ended up on the wall and began the walk back to the car, which resulted in another fail – I was now on the wrong side of the barbed wire fence. Not wanting to risk my tube I got back into the water and made my way through more weed back to the start.
This was enough exercise for us, so we nailed a few Laurentinas and then headed home.