World Cup Opening Game
World Cup Opening Game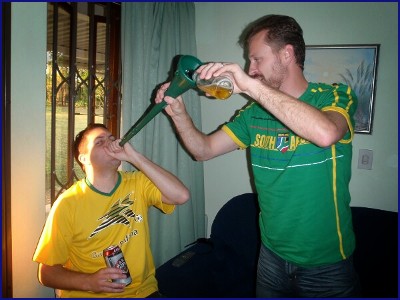 The weekend started with a bang! We finished work at lunch time and all headed for the canteen which had been converted to a fan park. The World Cup opening ceremony was on at 2pm so we all watched as South Africa showed the world what we're made of. It was rather impressive, and I especially enjoyed the Dung Beatle doing its thing with the Jabulani ball. Is this a hint at the quality of the ball? Was it approved by FIFA? And do they even know what a Dung Beatle is?
After the opening ceremony we headed for the car park where we had various competitions running. There was foosball, a fake diving competition, a vuvuzela blowing volume meter, dribbling, shooting, one bounce and more. At risk of another snapped Achilles I showed some dedication and in a spectacular fake dive, but sadly the judges did not agree, and I ended up with a score of 4 out of 5.
From there it was off to meet some mates for the opening game – Bafana vs Mexico. There was excitement in the air as the Dead Sea of frozen margaritas were consumed (yes, they were so salty a human body would literally float on top). Bafana was first on the board and roaring vuvuzelas could be heard from all the surrounding houses. Sadly, with around 10 minutes to go, Mexico equilised and the game ended at 1-1. Not the best result, but the boys did us proud, and a draw is better than a loss.
At this point the Tequila came out in full force as we started our own World Cup…of darts. How is it that a game comprised of throwing pointed metal objects became associated with drunken men?
Saturday was fairly standard, with a slightly slower start than usual after the Friday night festivities. Due to the Boks playing at 2pm we hit the squash courts at 12 for a few games. From there it was up to the Lemon where the Boks crushed France. Go SA!
FEEL IT! IT IS HERE! (Oh shit, now I owe FIFA money)