Nick's Bulls
Nick's Bulls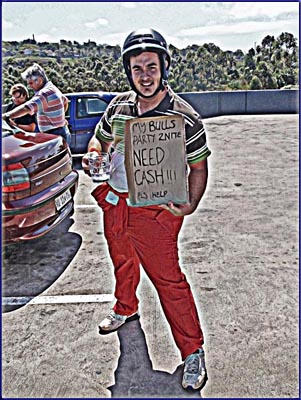 At 10am on Saturday morning Rob and Pierre picked me up and we headed for Pietermaritzburg to pick up Nick. Somebody had let him in that we'd be meeting at the Pav at 1pm, so he wasn't expecting us at his house at 10:30. After picking him up we headed to Rob's place in Westville to dress Nick in his race suit, grab a quick roll, pack the cooler boxes, and chug a few beers.
We then headed for the Pavilion, dropping Nick off at the robots to collect his drinking money (and let everyone see him as they arrived). At about 1:30pm everyone was there, we pilled into the taxi and headed for Gateway. Clearly we'd forgotten to inform the driver to pick up Nick, and we shot past him heading for the freeway. Luckily, being in a taxi, this wasn't a problem and we made a quick u-turn and picked him up.
After a beer or two in the taxi we reached Gateway and headed for our first activity…Go Karting. Sadly I wasn't able to drive so I became the official photographer of the event. The rest of the guys divided themselves into 4 teams and raced a one hour enduro event, changing every 20 laps.
The racing was epic with the skinnier guys having a definite speed advantage. Once the race was over, prize giving done, and Nick had been covered in champagne, we had a quick beer at Gateway and then headed to Hops to have dinner and watch the Sharks take on the Lions.
Dinner and rugby was good, albeit a calming period of the evening. I'm glad to say that the Sharks won, albeit without a bonus point. This means the Sharks sink to second on the log with one match to play.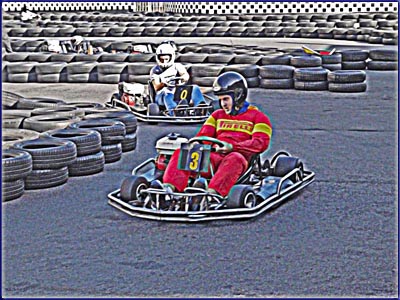 After a good meal and a bit of tequila it was time to move on. While leaving we ran into a hens party with the bridesmaids dressed as cops. Ouch! Nick had a bit of fun with them and then we headed for Suncoast Casino. It was time for Goldfish BABY!
Suncoast was packed with both an Indian festive on, as well as the concert. We waited outside while tickets were sorted out (who sells tickets miles from the entrance?). During this brief wait Nick managed to sneak in…must be the cunning bulls disguise. Once inside Goldfish rocked. Unfortunately after several hours on my feet (foot?) I was pretty stuffed and eventually had to go and park on the side line where I could at least lean against a wall. Thanks to the good fellows who came and parked with me instead of going banshee in the crowd.
Many jugs of beer and a great concert later and it was time to move on. Luckily we didn't have to go far, and after crutching around the parking lot for quite some time, we were in the taxi and on our way to 80s.
Its been a while since I was in a club like 80s, and things have changed (getting old?). The girls wear next to nothing. Clearly mini skirts are back in fashion, as is showing off half your bum. Anyway, we didn't complain and got down to some serious partying.
Dancing on crutches is not as easy as it looks, but by the end of the evening I'd worked out some good moves, and taken pictures of Nick with almost every girl in the club. Go you good thing!
Sadly all good things come to an end, and at about 2am people were looking a bit drained, so we headed for the taxi. No night would be complete without a trip to Jonnies…and 10 minutes later we were munching some serious chip and cheese rotis. BRILLIANT!
And then, just over 16 hours after we picked Nick up, it was over. The taxi dropped us back at the Pavilion and those who were left headed home. Sharon drove down and picked Nick and I up. We dropped Nick off at Tarryn's ballies place and then headed home. Its been a long time since I only got to sleep at about 4am, birds chirping.