Nick's Wedding Weekend
Nick's Wedding Weekend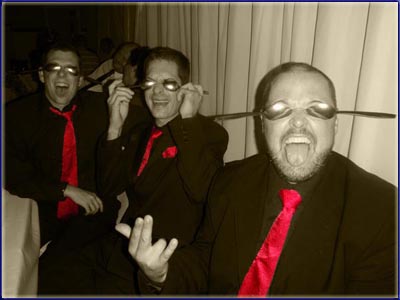 Ten years after their first date, and the day finally arrived…Nick and Tazz's wedding. And with a best men trio of Rob, Pierre and myself it was going to be a ripper of a weekend!
Sharon picked me up from the office on Friday and we headed for Hilton (after a quick stop at the bottle store of course). We found our accommodation easily enough; It was a little B&B overlooking the Umgeni River valley with 2 bedrooms, 2 bathrooms, a lounge, dining room and kitchen. It was brilliant, and as embarrassing as it is to say, bigger than my actual house. There was also a small dam filled with bass, and a great view over the valley and river.
After a quick beer we were back in the car and driving the 1km to the Hilton chapel. The rehearsal went off quickly, and without a hitch, and soon we were on our way to Nick's place for a braai and a few quiet drinks. I use the term "quiet" loosely since, despite our best intentions, the rum got flowing and soon everyone was on top form. We eagerly await to hear if Nick has a fine in his post box when he gets back from the honeymoon.
Saturday morning started badly; I needed a bath and we soon realised there were only showers…FAIL! Luckily we used out ingenuity to fathom a cast covering device using a dustbin bag and towel to cover the cast, and then several strands from a mop, as a rope, to tie it in place.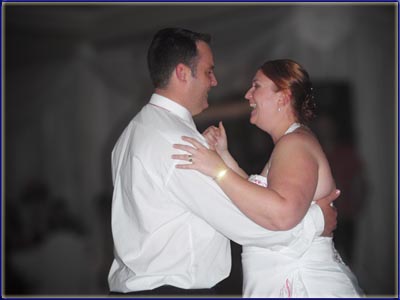 From there it got better. After a good cooked breakfast, Sharon dropped me off a McDonalds where the other boys were waiting. Everyone was looking a bit rough around the edges, but a second breakfast soon sorted that out. We then headed back to Nick's place where we chilled for a while before heading to Hesketh Race Track for some relaxed pre wedding photos.
"Pre-wedding" means Nick wearing and shirt with a bride and groom on it, and the message "Game over!", and the rest of us with beers in hand. Admitantly the first beer went down like nails, but after that all was looking good. Relaxed photos also meant having a zoom lens pointed at our asses with our pants around our ankles. Nice!
After the photos we showers, got into those suits, and headed for the chapel looking like a bunch of gangsters.
The ceremony was fantastic, although part of the reason I say this is that it was short. I can tell you right now that standing on one leg without crutches gets painful.
Nick, being true to his sadistic nature, got me to be a witness. This of course meant that midway through the ceremony I had to crutch my way up some stairs, around a few obstacles and then sign a few papers.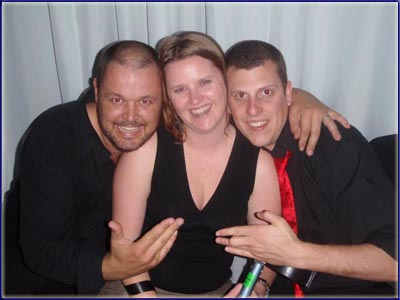 After the ceremony Sharon and the rest of the guests headed to the reception venue, while the Bridal party stayed for the photos. The photographer did a fantastic job despite the drizzle and mist, and an hour and a few glasses of champagne later, we were on our way to the Hilton Hotel.
Upon arrival and our grand entrance, Vanessa, the MC, gave the welcomes and then we were served our starter. Thereafter we had a fantastic buffet dinner consisting of lamb, chicken and more…
After everyone had done eating it was time for the speeches. Things went down smoothly until Rob stood up to say his few words. Rob's speech was great, and successfully divided the crowd into the hardcore partiers, and the rest. His famous comment of "Being a best man is like f$%king the Queen, its a great honour" certainly opened a few eyes.
Then it was time for desert, which I never got to due to a combination of rum, red bull and crutches.
The first dance went down well, as did the cutting of the cake, although I never got to try any.
Somehow I missed the throwing of the bouquet, but I did get involved in the throwing of the garter. Nick put in a good throw…I lunged a crutch into the air…it hit the end…it spiraled…and then it dropped to the floor, only to be retrieved by Nick's boet.
The rest of the evening was spent parting hard. The drinks flowed, the dance floor was packed, and everyone had a fantastic time.
At around 12pm Nick and Tazz headed for their honeymoon suite. The rest of us stayed on a while longer, since there was no time limit on the DJ and drinks.
All in all it was a good evening, and Sharon and I eventually got to bed at around 3am.
Sunday morning was very relaxed. We had another fantastic breakfast al la Shaz, and then watched some TV and played some board games. We didn't have to check out at any specific time, so we enjoyed the accommodation until lunch time, when we knew the Amashova would be over, and the roads would be empty. Then we made our way home slowly, and spent the rest of the day recovering from two big nights.
Nick and Tazz's wedding…SUCCESS!!