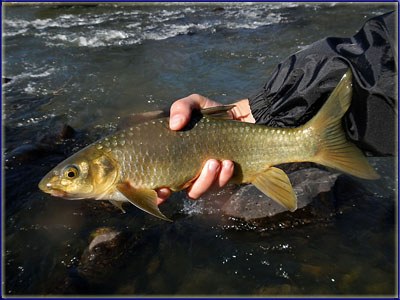 With the streams opening on the 1st September Nick and I planned the mandatory, season opening, trip to the Berg. But then something strange happened, a friend invited Nick and I to fish a stretch of the Umkomaas with him. After much deliberation we decided that the trout could wait another week or two and readily took our friend up on the offer. And then the second strange thing happened, our friend cancelled.
None the less, with plans in place, we climbed into the car on Saturday morning and headed for waters unknown in search of Natal yellowfish (or the scaly as they call them here). Our arrival was hindered somewhat by a mountain bike race taking place at the same venue. Thankfully we managed to drive under some of the red chevron tape and were soon kitting up our trusty 5 weights in front of a low, clear Umkomaas River.
Once our coffee cups were drained we waded into the water and began slowly fishing our way upstream. The river looked good but it did take us some time to get into our first fish. When I did finally land that first fish it was a small yellow of not more than a few hundred grams. Feeling a little more confident with my chosen setup and fly I continued fishing. Not more than a 5 casts later I got into another yellow, this time weighing in the 1kg region and giving a good account of itself.
Happy with the fish I'd produced I holstered my rod, exited the river, and headed upstream in search of Nick. Eventually I found him, waist deep in water, nymphing a large pool. Sadly he hadn't experienced the same luck as me.
We sat down on the banks of the river and pulled a few bags of chips from our backpacks. As we enjoyed our snack we chatted about the flies and rigs that had worked. Although not my favourite setup I'd been fishing a New Zealand rig and it had worked for me. My fly of the day was the PTN and they were self tied with various colour hot spots.
We fished our way back to the car but sadly produced no more fish. At the car we enjoyed a quick lunch and then decided to scout a nearby club water (also on the Umkomaas). We were hoping to find similar conditions but sadly the club water was locked, with no sign or key, and we were forced to head home.
It was a great day and we'll definitely be back for more.