The B Squared Wedding
The B Squared Wedding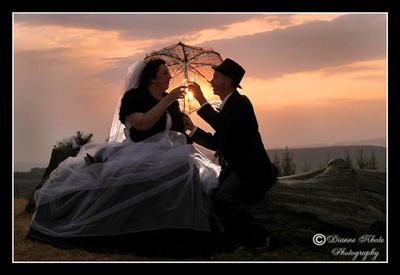 The wedding got off to a relatively early start as we headed for a florist in Malvern. Not very manly, I'll admit, but I'd offered to pick up some of the flowers for Brian's wedding and they needed to reach the venue ASAP.
When we arrived at the florist they were a little behind due to a few complications with the orchids. While one of them rushed out to find a spare we decided to head out for a quick breakfast. Being 7am on a Saturday morning in Malvern not much was open. As such we found ourselves at a KFC trying their new breakfast menu. It was far from ideal but did fill the gap and used up some time.
Back at the florist we collected the flowers and made our way to Calderwood Hall. The rush was twofold. Firstly Bianca needed her flowers, and secondly the Sharks game kicked off at 9am.
Upon arrival I delivered the flowers to the bride and then gathered in the pub with the other men to watch the game. Clearly there was no reason to have rushed as the Sharks put up a dismal fight in the Super 15 final. Clearly weeks of travelling and a few tough games had finally taken their toll. I guess there's always next year.
With a few hours to kill until the wedding Sharon and I went for a walk around the premises and generally relaxed until our room was free (Brian was using it for photographs). This involved a lot of playing with a local, and clearly wild, cat which managed to leave with a fair quantity of my blood.
When we did get into our room I was amazed to discover we'd all been given welcome bags complete with various useful items for the wedding and an itinerary. We quickly got ready and then headed up to the small chapel on the premises for a very emotional ceremony which included a tree planting.
After the ceremony the bridal party headed for photos while the rest of us gathered on the lawns for snacks and drinks. Lawn games were also provided to pass the time which was a very novel idea. Sharon and I spent our time playing boule and croquet, while enjoy a few glasses of gluwein and hot chocolate with a kick, before being summoned into the reception hall.
The reception followed the usual format of dinner, speeches and dancing but I have to mention that the food was fantastic. We were served a spicy soup followed by cocoa rubbed pork, mojito chicken and beef wellington, and finally a fantastic buffet dessert. There was also a candy station at the exit. Nom nom nom! This was of course followed by a party which ran well into the night.