Jacana Lodge
Jacana Lodge
Since Sharon's birthday fell on a Monday this year we decided to make use of the weekend prior to head out into the bush. Sadly, due to a mountain bike race in Imfolozi, there was no accommodation available in the park. As such we booked into a small private lodge in Kuleni Game Park called Jacana Lodge. It was a bit of a shot in the dark as there was very little information available on this venue. That said I'm yet to find bad bush venue so I made the booking.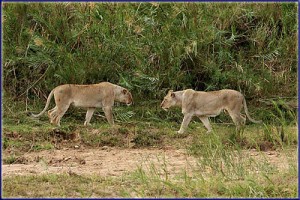 On Saturday morning we climbed out of bed at 4am and were on the road by quarter past. The majority of our drive to the Imfolozi gate was in the dark thanks to a lingering winter. The usual breakfast of egg mayonnaise sandwiches helped pass the time until we finally reached the park at around 7am.
Sharon and I took our usual bets as to which animal we'd see first. I went for warthog, a safe bet I thought since they're usually a few grazing at the gate, while Sharon opted for wildebeest. We were both pleasantly wrong when we spotted a beautiful pair of rhino before even entering the park.
Our first order of business was to purchase a Wild Card for ourselves. Sadly, as we discovered, this is not an option at the gate. As such we were forced to forgo the card and to pay the normal entrance fee which was somewhat annoying as we will definitely be getting a card in the future.
None the less we paid our entrance free and drove slowly into the park. Luck seemed to be on our side as we spotted a pair of male lion shortly after entering the gate. Being a fly fisherman I could only but think that this was similar to landing the first fish of the morning, it really took a lot of the pressure off for the rest of the day.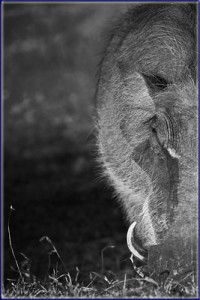 After the lions had vanished into the bush we continued down the road towards Sontuli Loop. We spotted the usual game and then, less than 5 kilometres after seeing the male lion, we came across a single female lion lying in the grass. It wasn't a great sighting but it was a sighting none the less.
From our second lion sighting we continued on through Mpila Camp where we stopped briefly to check out the sightings board and buy some charcoal. The good news was that there had been several recent sightings of wild dog in the reserve. The other good news is that there had been lion sighted at Nselweni Bush Camp where we would be staying in a few weeks.
With all our supplies accounted for we continued through the camp and on to the famous loop. Again we saw the usual game, including those spectacular rhino sightings that Imfolozi is famous for.
As we reached the picnic spot, mid-way through the loop, we noticed all the people in the picnic sight were flocking to the river. We quickly grabbed our cameras and joined them knowing that it must be something spectacular. Amazingly we were treated to yet another lion sighting. This time it was four lionesses, two of them large cubs being taught their stalking skills. What an amazing moment, standing there, watching four females stalk through the reeds just below us.
When the lionesses vanished up the hill on the far back we climbed back into the Jeep and continued around the loop and on to Hilltop Camp where we stopped for lunch. Although Hilltop Camp has a spectacular view and is an incredibly beautiful camp I was highly disappointed with the limited menu at the restaurant. We eventually both opted for toasted sandwiches, which were admittedly good, but I really could've done with more options.
We left Hilltop just after lunch and headed for the Memorial Gate where we left the park in search of our accommodation for the night, Jacana Lodge. Thankfully it was on just the other side of Hluhluwe town so we didn't have far to travel.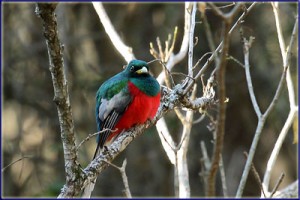 As I mentioned earlier, Jacana Lodge is located in the Kuleni Game Park. Upon arrival we were greeted by a friendly guard and given a map. It was at this point that we realised that Kuleni Game Park was in fact a small private game reserve of 170 hectares divided into 17 sites. Each of these sites is sectional title and are allowed to contain only wooden structures with a maximum of 8 beds.
The reserve has a single road around the perimeter and driving is only allowed to and from your accommodation. Otherwise walking trails are provided through the reserve which is made up of sand forest, thornveld, wetlands and grasslands. There is an abundance of wildlife from impala and duiker through to zebra and giraffe. Kuleni Game Park also offers some spectacular birdlife. There are several small watering holes, a hide, and benches scattered throughout the park. This creates an incredibly pleasant environment for game viewing on foot instead of in a vehicle.
When we arrived at our lodge we were pleasantly surprised to find a beautiful wooden chalet complete with a large inside bath, king sized bid, outside shower, small kitchen, and a beautiful wooden deck overlooking a small watering hole. The other chalet on offer had a small plunge pool (instead of a watering hole) which may have been a good option in summer. There is also an 8 sleeper lodge which has both a pool and a watering hole, and looked very impressive.
After settling in we headed out for an early afternoon walk before the rugby at 5pm (yes, each lodge has DSTV). Our chosen route was to the nearby hide and on route we came across both red and grey duiker, nyala and warthog. The hide was relatively quiet despite overlooking a small man made watering hole (I think it was just a little cool for the water to matter).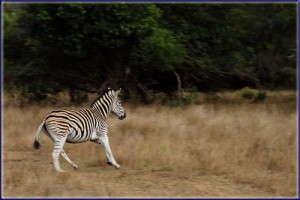 Thankfully we were treated to an incredible sighting of a Narina Trogon just as we were leaving the hide. We sat down on a nearby bench and watched it for ages. It even let me walk up to it, facing us proudly at eye level, and snap off a few photos.
Feeling content we headed back to our lodge where I cracked open a beer and sat down in front of a TV to watch the rugby. Somehow it felt wrong, but being the semi-finals of the Super 15 I just had to watch. In keeping with the incredible weekend it had been the Sharks played a cracker of a match to defeat the Stormers at their home ground. Things got so tense towards the end I even left the TV and opted instead to braai on the deck until the final minute of the game, it was all that I could take.
The following morning we rose slowly and let the birds wake up while enjoying a cooked breakfast. We then headed out on another walk through the reserve, opting for the grasslands over the forest. We were treated to some lovely interactions with zebra and wildebeest with the added benefit of almost standing on a warthog which had nestled down in the grass.
Eventually we decided it was time to call it a day and headed home to Durban. Isn't it a pity that there's always a long drive at the end of every journey? I guess that's when you get to start reminiscing and plan the next trip.