The Boston Dargle Fly Fishing Festival 2013
The Boston Dargle Fly Fishing Festival 2013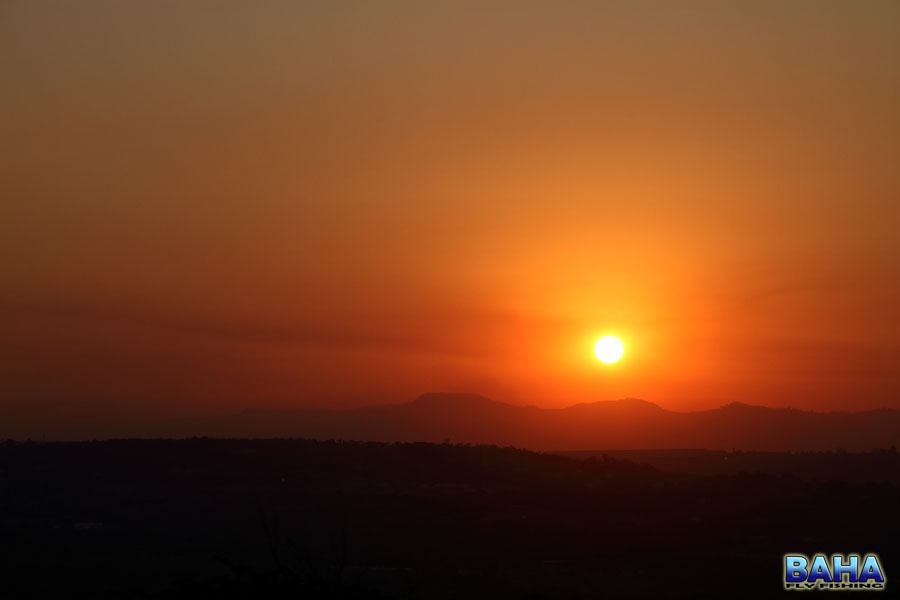 After having taken part in the inaugural Boston Dargle Fly Fishing Festival in 2011 (and having then missed the second festival due to my wedding) there was absolutely no chance that we were going to miss the third running of this (now) legendary festival. So we made sure we got our entries in early and then counted down the days until the festival began.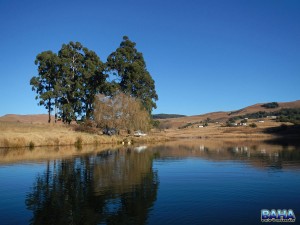 When Friday, the day of registration, finally arrived my day in the office dragged. Thankfully I managed to sneak out a little early and headed for my house where two of my team mates, Nick and Neill, were meeting me at 4pm. We threw all of our kit into Neill's bakkie and hit the road for the Boston. The adventure had finally begun.
As we advanced on Boston the banter grew and the temperature dropped. Slowly it neared the single digits and we were suddenly thankful we'd made a trip to the Columbia Sportswear store earlier in the week where we'd stocked up on a few Omni-heat items to see us through the weekend.
When we arrived in Boston at around 6pm the bar was already abuzz with friendly fishermen enjoying everything from sherry to beer, and rum and shots. We grabbed a quick drink and then headed through to the registration table where we signed in and collected our measuring sticks and festival jackets.
At this point it's definitely worth mentioning just how friendly and welcoming the local ladies were. They manned the registration and "weigh-in" tables, cooked us multiple dinners, and made up the most amazing breakfast and lunch packs. I can't image that cooking food for 60+ fishermen is easy, and yet they never stopped smiling. I'm also convinced that they slept far less than the fishermen, so a BIG thank you to all the smiling ladies.
Amazingly the entire local community was just as friendly and welcoming as the ladies. The local farmers opened their homes to the fishermen and most of us spent the weekend sleeping in their cosy farm houses and enjoying their hospitality, coffee, and breakfasts. So a BIG thank you to them as well. As far as I know it's the only festival of this format and I can't imagine any other community being as welcoming as Boston. In my opinion this is the sole reason that the festival works and is such a success.
But back to the festival; it works on an honestly system and fish are measured rather than weighed. As such everyone is given a stick on which they mark off their fish. These lengths are then totalled and prizes are awarded based on the total length of the bag. This system works well as it promotes a healthy catch and release system and minimises any harm to the fish.
Having signed in and collected our goodies we gathered around the large map on the wall and took note of where our first day's dams were. Our fourth team member, Alan, then arrived from Underberg and quickly took ownership of the directions thanks to his local knowledge of the area. As such we quickly found our way back in the bar and the drinks once again began to flow.
The ladies then served a fantastic, steaming stew for dinner which we all scoffed down before gathering back in front of the fire. Nick quickly deemed the fire to be too small and promptly threw pretty much every piece of timber in the room onto it, resulting in a roaring inferno, which he seemed rather proud of.
Slowly, as the night progressed, the bar emptied as the more serious fishermen headed home for some rest before the competition began the following morning. We weren't far behind, lunch packs in hand, wondering what our accommodation for the weekend would hold.
Thankfully we found our farm without too much difficulty, and were relieved to see that everyone was still awake. Helen, the lady who was kind enough to house us for the weekend, showed us to our room while explaining that her whole family was staying with her for the weekend (her daughter was getting married) so we didn't have the cottage as she had planned.
Despite the confusion we got a fantastic room with 4 beds, a kettle, coffee, rusks and a heater. We really couldn't have asked for more. Her hospitality was amazing and we had to fight her off as she tried to do everything for us including cooking us infinite extra meals. So thank you Helen.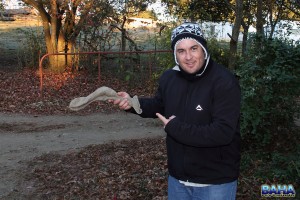 That night we opted not to set an alarm and finally woke up at around 6am. Alan was the first out of bed and quickly set about lining up a hot cup of coffee for each of us. Adequately warmed we all climbed out of bed, packed our fishing kit, and headed out for dam number one.
Our first water was Ivanhoe 1 which was a half an hour drive from our accommodation. We found the farm easily enough but when we got to the dam there was no sign indicating that it was the correct water. Alan therefore headed up to the dam above where there was another group of fisherman. In the meantime Nick and I, in our eagerness of youth, began pumping up our tubes and kitting out our rods.
A few minutes later Alana returned with Andrew in tow to inform us we were at the wrong water as it had been changed at the last minute. Unfortunately Alan also picked up a flat in the process so, after a quick tyre change, we threw our tubes onto the roof and Andrew lead us to our actual dam.
Our "new" dam looked fantastic but was a tad chilly as it sat in the shadow of a large hill. None the less we pulled on our Columbia beanies, slipped onto the water and kicked out to our chosen spots. It took a while but eventually Neill got into a nice fish directly in front of the cars. Nick soon followed suit with a couple of fish of his own. And then it was Neill's turn again with a few more fish.
A couple of these fish were released into a cage floating in the water and were later used to harvest eggs for a small hatchery located on the farm. It's always good to help out these initiatives so hopefully these fish were put to good use. Sadly however, with just one cage on the water, it was often difficult to reach and therefore most fish were released where they were caught.
Alan and I meanwhile kicked around the dam trying every fly in our boxes with no success. Eventually, at around 11am, Alan finally got into a fish. Sadly however it was not my morning and I was eventually forced to paddle to the bank fishless, hoping I'd have more luck on our afternoon water.
We enjoyed a quick roll or two from the fantastic lunch packs provided (which also included muffins, fruit, yogurt, chocolate, water, coke and a panado which I think a few of the fishermen were very happy to find) before shoving our still inflated float tubes into the vehicles and packing up the rest of our kit.
The trip to Tillietudlem, our afternoon water, took 20 odd minutes on very dusty roads with our tackle rattling around in the back of the bakkie. It was a pleasure to finally enter the estate and to drive through the local and international game including eland, wildebeest, nguni cattle, and what appeared to be imported deer with their proud antlers.
It took us a while to locate the parking spot for the dam but, once we'd found it, we were got quickly onto the water. I was incredibly relieved when I hooked into a 45cm rainbow on just my third cast. The pressure was finally off.
Tillietudlem 2 was a lot smaller than our morning dam with a lot of underwater structure in the form of sunken trees. This resulted in a lot of lost flies but thankfully we also landed a fair number of fish so this wasn't really an issue in our lives. Flies that worked for me were Kamberg nymphs, Mrs Simpsons, and the ever deadly wooly bugger.
When the sun dropped below the treeline the temperature once again plummeted but we continued fishing until 5pm when our time was up. Us youngsters then enjoyed a few beers on the water's edge while our team's ballies poured themselves a cup of steaming coffee. Perhaps they were more experienced than us after all?
From Tillietudlem we headed back to our farm where we enjoyed a hot shower (in an outdoor room with around 8 gas heated showers) and a nip or two of Jägermeister to keep the heat in. Then it was back to the Boston Club to catch up on the "friendly" banter and log our day's catches. As per usual the reports varied from some very good waters to some which produced no fish. On a whole though everyone had caught and the fish were generally in the 40cm+ range and in good condition.
After a few beers we all enjoyed a fantastic chicken casserole, courtesy of the very hardworking farmer's wives, and then headed back into the pub for further lubrication of fatigued casting arms. The bar-ladies were friendly and the drinks reasonably priced so before we knew it far too much fun was being had.
It was at around this point that Nick continued his self-appointed role as fire master and warmed the bar area to an "acceptable" level. This did of course involve using up the majority of what was a rather large wood pile. I meanwhile took up a few coinage challenges at the bar which should perhaps go unmentioned in this blog.
Eventually however, thanks to our older and wiser team mates, we were ushered from the bar for a few hours rest before the final day's fishing.
The following morning once again began with coffee and rusks in bed courtesy of Alan. We then rushed over to our morning water, Neil McKenzies, which had been changed the night before. It was a lot closer than our previous day's waters so we made good time and arrived shortly after 7am.
Thankfully there was cell phone reception at the water and I took the opportunity to phone my wife and wish her a happy 1 year wedding anniversary. Simply put, my wife rocks!
Despite the relatively late start there was a lot of frost around and a beautiful steam rising off the water. Neil McKenzies is apparently a private (potentially syndicated) water and was a lot larger than our previous waters. This made it a little intimidating as there was far more surface area to cover. It would also be difficult to fish the inlet due to the sheer distance required to paddle there.
Nick and I quickly jumped into the water and began fishing a bay close to the parking area. Almost immediately Nick got into a fish and I managed to hook into one while he was still enjoying the fight. Sadly I lost mine as I was in the process of trying to film his fight, but at least it was a good start and the water immediately seemed less intimidating.
Alan and Neill then joined us and opted to fish along the wall while Nick and I decided to take on the mammoth paddle to the inlet. Pretty soon we'd all landed fish and things were looking up for a great morning.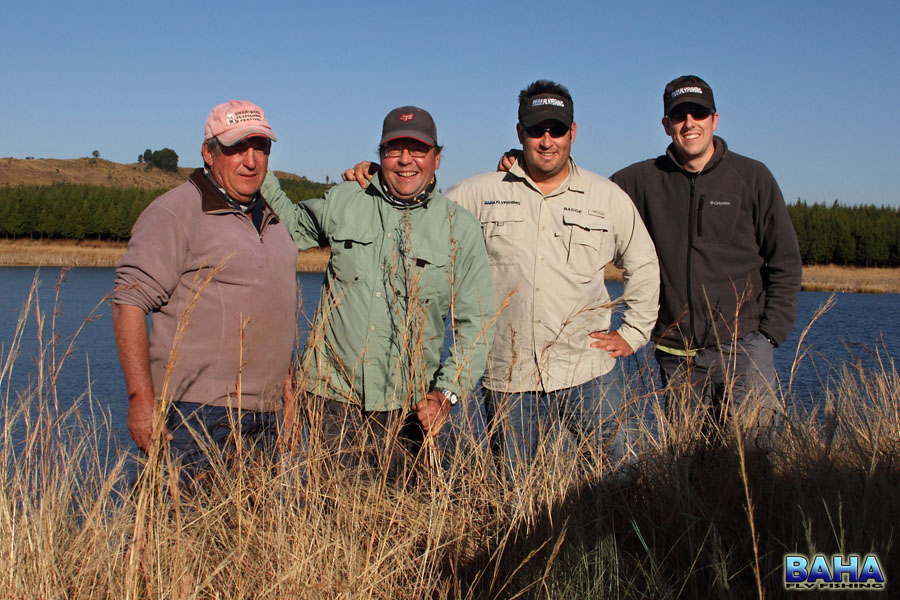 The morning was then made even better when we discovered that the small cottage on the side of the water was occupied by a group of young ladies celebrating a birthday. As we fished the fringes near to the cottage the ladies could be seen running down the cottage's jetty and jumping into the icy water, much to our amusement. So if the fishing ever slowed down there was plenty to occupy our time. Thankfully the fishing never even hinted as slowing.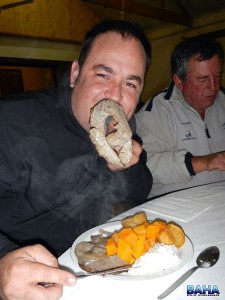 During the morning I picked up 8 fish, mostly at the top end of the dam, on a small minnow pattern. Neill and Alan each picked up a similar number of fish along the wall while fishing orange flies. In general the fish along the wall were slightly longer than those at the inlet, and Alan picked up a nice 62cm rainbow in the corner. Nick meanwhile moved around a fair bit and picked up 7 fish all around the dam.
By the time 12pm rolled around and we started packing up we'd picked up over 30 fish as a team. It must be said that, chatting to the other teams, Neil McKenzies may well have been the water of the festival with all teams producing good catches on this water.
After a quick roll and Bar-One (while chatting to the team taking over the water) we jumped into our cars and headed for our final water, Good Hope Dam.
Good Hope was one of the waters in the competition that is managed by The Natal Fly Fishing Club (NFFC). It had recently been taken over from the old Mondi Fly Fishing Club and had apparently had 2 good stockings since then. As such we were hoping to get a few more fish in the afternoon. After all, our morning session had been great and for a moment we thought we may be in with a chance of picking up a prize.
We quickly got onto the water and soon discovered that the dam was quite heavily weeded. The wall provided some good weed free water but, as you moved away from it, it quickly got shallow and weeded. This isn't necessarily a bad thing as weeds provide a good source of food for the fish. That said, you do still need to find some holes or channels in the weed beds, and these seemed few and far between.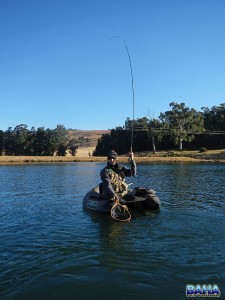 We fished the water for around an hour without any of us seeing the slightest hint of a fish. At that point we decided to fish the lower dam (as Good Hope apparently offered 2 dams) and packed our tubes into the car. It was only then that we discovered that the bottom dam had no road access or paths. It was also surrounded by reeds and would mean carrying our tubes long distances though the bush to fish it.
At this point, have not seen any signs of fish, we opted to call it a day. We sat on the side of the dam and enjoyed a few cold beers while watching the water in hope of spotting a fish. Nothing. We then headed back to the farm and repeated the process of a hot shower and a few shots of Jägermeister before shooting over to the club.
As expected the evening began in the pub and tales of a 70cm fish being caught quickly spread through the room. But once dinner was announced the stories were quickly forgotten and there was a sudden rush for the roast consisting of a horde of famished anglers. And then…once everyone had enjoyed their fill of meet and apple pudding…prize giving began.
One of the nice things about the Boston Dargle Fly Fishing Festival is that there is not a lot of emphasis on the prizes. In fact a lot of the better prizes are either lucky draw prizes or for strange categories such as the smallest fish (which was apparently 10 cms).
After the initial thank-yous, lucky draws, and individual prizes they finally got to announcing the team prizes. At this point we were really hoping for a third place finish after our good morning on the water. But when third place was called, it wasn't us. Then second place was called – also not us. And finally first place was called – Team Baha Fly Fishing! There was cheering and screams of delight, although admittedly it was all from us.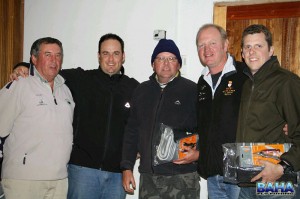 We proudly collected our prizes and retook our seats. Neill then managed to sneak in another prize when he won one of Mario Geldenhuys' hand-made nets (http://www.customflyrods.co.za/) – and an absolute beauty at that – for the second longest bag.
With prize giving out of the way there was just one more formality, a talk by Mario Geldenhuys on the intelligence of trout. The talk was based largely on Bob Wyatt's books  and his theories on the selective feeding habits of trout. It was a fantastic presentation and got most, if not all, of the fly fisherman in the room thinking seriously about their past beliefs in fly selection.
From there our celebrations began in the bar as the festival came to a close and fisherman slowly said goodbyes to friends old and new.
We will definitely be back next year to defend our title.