The Merrell Durban Winter Night Run
The Merrell Durban Winter Night Run
Events with a difference always interest me, which is exactly how I came to take part in the Merrell Durban Winter Night Run. It popped up last minute on my Facebook feed (ah, the joys of social media) and I quickly went in search of a running buddy to join me for the adventure.
Lyall took up the challenge and we met at Giba Gorge on a chilly winter's evening. Only two things were asked of us. One, wear bright colours. And 2, bring a headlamp. For us the bright clothes came in the form of yellow shirts and knee high socks. We did less well on the headlamps however with my battery running low and Lyall deciding not to bring one thanks to his "black ops eyes" (as he called them).
After a chilly 30 minute wait we got off to a good start. Lyall was setting the pace and, having not run with him before, I was impressed (and puffing) with his speed and agility. A kilometer in and I was left wondering whether we could maintain this speed for the full 8 kilometers?
Sadly, at the 2km mark, Lyall's hammy started to give problems and he told me to carry on while he slowed his pace. Initially I hung back as I was worried about him running through the dark forests without a light. This however didn't seem to worry him and he kept telling me to go on ahead as he'd be fine thanks to his "black ops eyes." Eventually I succumbed to his pleas and ran on ahead. For a brief moment I turned off my fading beam to see the world through his eyes. This however did little to ease my concerns as I could see sweet f$%& all. I slowed one final time to wait for Lyall only to find out he was still going on about "black ops eyes", and so I sped off up the trail leaving him in the dark.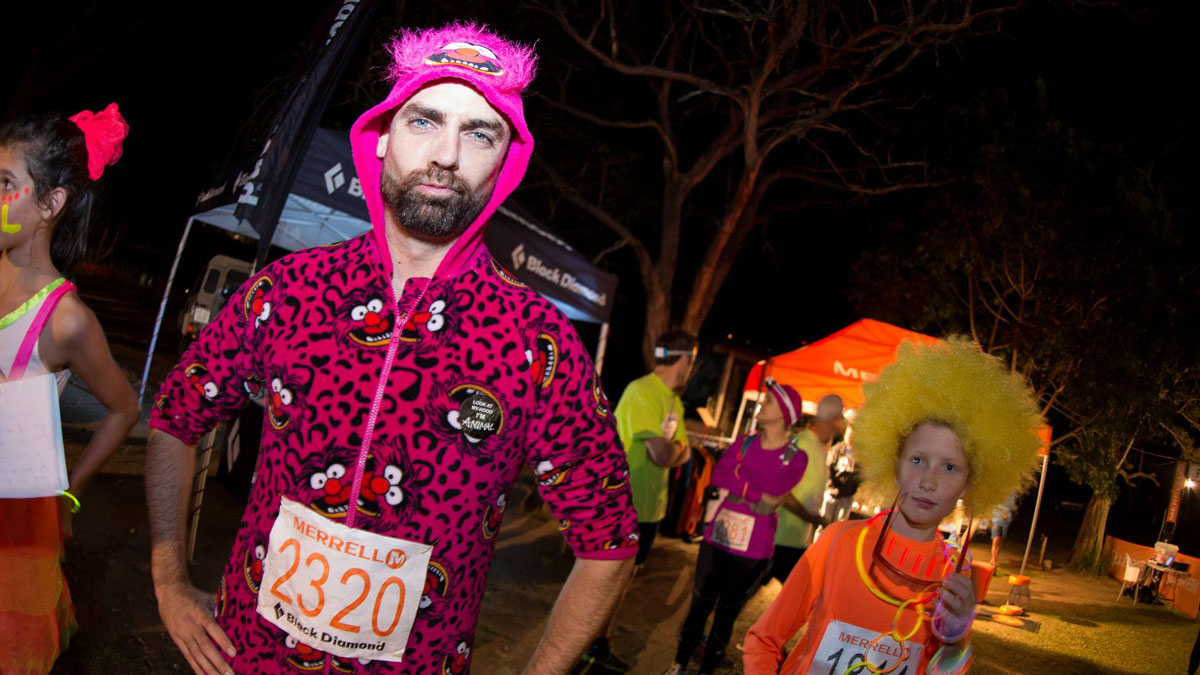 I eventually joined up with a group of runners going at a good pace along the dark, windy tracks. We crossed rivers, ran through forests, powered up hills, ran past waterfalls, and sped alongside small cliffs. At one point, while going down particularly steep hill, the runner in front of me took a tumble and rolled down the hill head first. Amazingly, at the bottom, he merely rolled onto his feet like a true black ops soldier and kept running as if nothing had happened. Other than impressed, it left me wondering how Lyall was doing in the dark, hoping he'd decided to turn back.
After crossing the finish line I grabbed a water and took a walk around looking for my running buddy. He was nowhere to be seen and was clearly still on the trail. I headed back to the finish expecting a long wait, but a few minutes later Lyall powered over the line. I was impressed to say the least.
A quick chat to him revealed his strategy. After I'd sped off Lyall noticed a girl up ahead and decided to run with her to "share her light". As he sped up to catch her she mistook him for a stalker and sped up herself. This game continued for some time before he was forced to explain the situation. After that they ran together and and became good friends.
"Black ops eyes" my ass, those were "player eyes!"