Underberg Fly Fishing, September 2014
Underberg Fly Fishing, September 2014
Having been far too long since I'd visited the trout bliss of Underberg I decided to put a quick trip together to right the wrongs. Sadly my trusty sidekick (Nick) was unable to join the adventure, so I headed up alone at lunch time on Friday. The plan was to meet up with Neill, Alan and Wayne for a weekend's fishing. I battled through the Durban traffic, making the mistake of stopping at McDonalds for a quick bite (which was anything but quick), and thankfully still reached Underberg just after 3pm.
Neill was on his was to Trelevans II so I quickly caught up with Alan before heading across to the water where I joined Alan and Wayne. The level was good despite the dry winter, and before I knew it I could feel the cold water through my waders. It was pure ecstasy!
In my hands I was holding a brand new Horizon XRS 5 wt, courtesy of Africa's Original Fly Fishing magazine. It had arrived at the perfect time as my Orvis' ferules had worn out, and my old Dean was a little slow for long periods of usage off a float tube. I also had my brand new, custom made net with me on it's maiden voyage. All in all I was beaming from ear to ear.
The conditions were good and I had high hopes as I worked my way around the dam. Neill lost a large fish in the first half an hour, but other than that fishing was slow. Then, as the sun dipped towards the horizon, I connected with an awesome fish. After a good fight I landed my first fish with both my new rod as well as my new net – a fat 2.9kg rainbow trout hen. What a fish to start the weekend with! After that Neill and I landed a few stockies while Wayne dropped just a single fish.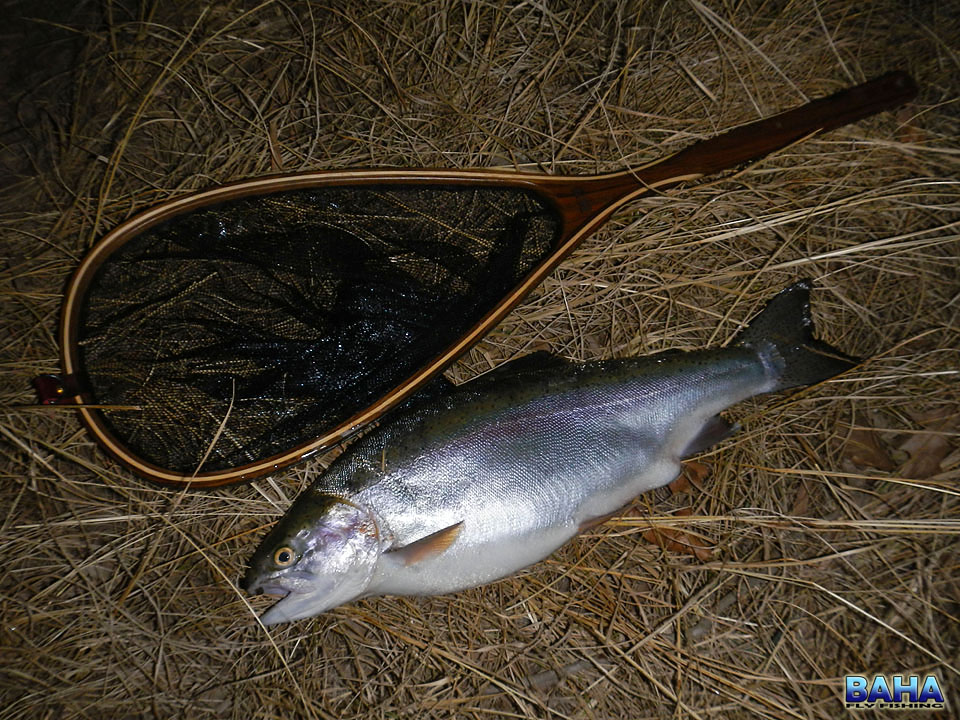 The rod casts exceptionally well and made fishing off the tube effortless. It's action is relatively fast, but it still had a lot of play for fighting fish and maintaining touch with the fly.
After the sun had dipped behind the mountains we kicked back to our cars where I got some bad news. Neill had quit drinking for the month! I was on a boy's weekend with a non drinker. WTF?! That said Wayne came to the party, pulled out an ice cold bottle of chocolate tequilla, and we celebrated the fish we'd caught.
Back at Alan's place we relaxed around a roaring fire, until I realised I'd left my brand new net next to the dam. I quickly climbed into the car, returned to the dam, found my net, and saved my marriage. Close call!
The next morning we headed to Trelevans 4 for an early session. I've got mixed feelings about this dam since they pump from it in the dry winter months for irrigation. The level therefore fluctuates hugely, as does the water clarity, which must have an effect on the fish. That said it's a lovely dam with great weed beds and drop offs, and it has produced some good fish for me in the past.
As expected the levels were low and the water was murky. So murky in fact that I could barely see my fins. None the less we opted to fish it and the three of us kicked out onto the dam. Fishing was slow with nobody getting into a fish for the first two hours. I covered all the usually flies, focusing on those that push a lot of water. Finally I opted to dredge the bottom with a large brown woolly bugger, and immediately I got into a lovely fish. The other two changed their rigs and soon Neill and I had landed several fish each. Wayne was once again unlucky dropping the only fish he managed to connect with.
At around lunch time we climbed out of the water and headed for Eagles' Rock. I hadn't been there before but Neill knew the owners so we decided to give it a try. We were put into one of the larger cottages on top of a hill with spectacular views. It slept 8, and had a beautiful lounge, dinning room and kitchen, as well as a fantastic balcony, braai area and boma. We were in heaven.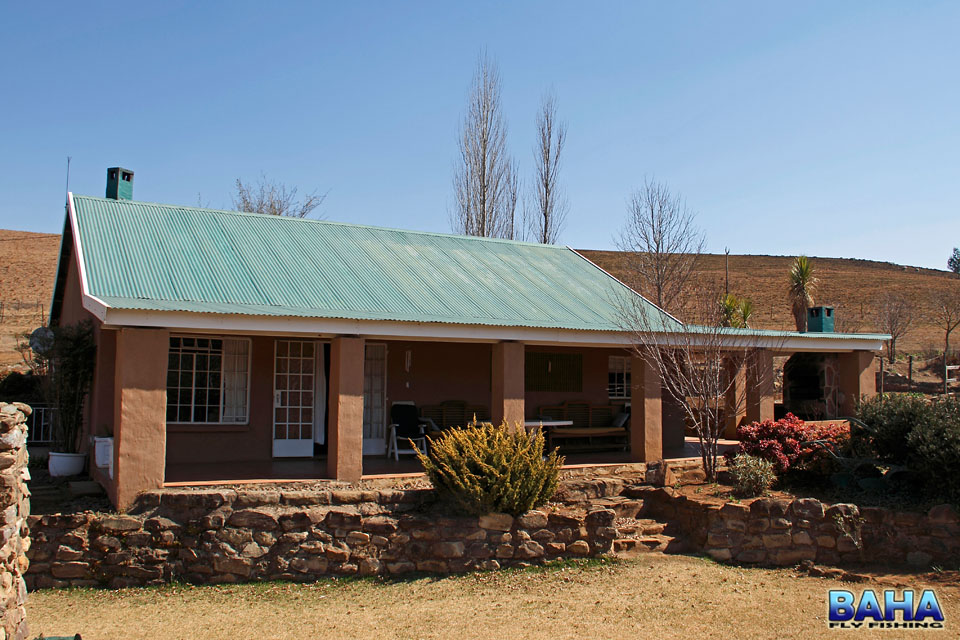 After unpacking and having a quick lunch we headed out for our afternoon session. Sadly Wayne wasn't able to join us so it was just Neill and I. We headed for North End which is perhaps Neill's favorite dam, despite seeming to have a North End curse. Twice his pontoons have burst, mid winter, and he's been left scrambling for the shore. On the flip side, he's also lost some amazing fish there, which he's still hoping to land in the future.
As per usual I launched 10 minutes before Neill and had both missed and landed a fish before he'd even touched the water. This left us in high spirits expecting the fishing to improve as the temperature dropped and the sun began to set. Amazingly this wasn't the case and neither of us had another knock for the remainder of the afternoon. That said there were fish rising everywhere as darkness fell, but neither of us managed to crack the code and connect with one of these elusive trout.
That evening we braaied chicken wings at our cottage, and had a relatively early night thanks to Neill's unswaying commitment to his no drinking policy.
Sunday morning was to be our final session. We opted to fish one of my favourite dams, Turner's Cottage, and were once again joined by Wayne who still needed to pick up a fish. The water was a good 14 degrees with decent visibility. The weed beds had also died back over the winter months opening up more of the dam to fishing.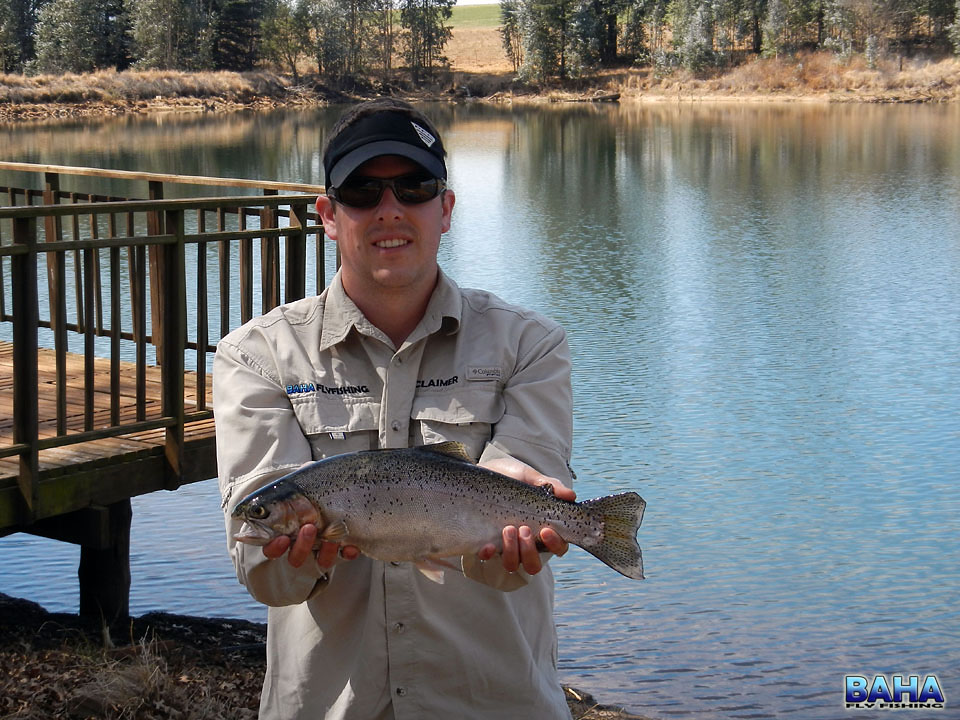 I launched first and headed for the wall where I connected with a lunker on my second or third cast. Sadly maintenance of my gear let me down as my old braided leader snapped on a long run. Both excited and upset, I kicked back to the bank to redo my leader. Amazingly I still beat the other two back onto the water and landed a smaller fish in roughly the same area.
Fishing was good for the remainder of the morning with Neill and I both landing in the region of 10 fish. Wayne also broke his slump and landed a few fish of his own. Conditions were near perfect and it was a spectacular morning on the water.
With everyone's craving for trout satisfied we gathered on the bank and packed away our kit for the final time. Another successful weekend in Underberg. I can't wait to get back for the AGM in a few weeks time.