UHTFC AGM And Fishing Festival 2014
UHTFC AGM And Fishing Festival 2014
A few months ago I received a phone call from Alan asking me to be the guest speaker at the UHTFC AGM. I happily accepted, feeling honoured that I'd been asked, and began planning my speech. The months flew by and before I knew it I was packing my bags (and laptop) for the trip up to Underberg, hoping my talk would be well received.
I arrived at Twin Springs, just outside Underberg, at around 3 in the afternoon. It was overcast and misty, with temps in the single digits, and sporadic drizzle passing in waves. Neill and Derek had spent the morning on the water and were looking a little worse for wear, although they had picked up some lovely fish for their effort. We therefore decided to relax around a roaring fire for the remainder of the afternoon, before heading down to the Himeville Arms to register for the fishing festival.
When we walked into the pub shortly after 5pm we were happy to find it packed with fisherman. As is the tradition with fishing festivals, we quickly made new friends and were soon discussing the various dams in the area (as well as which flies had been working in the previous weeks). Spring is always a great time of the year with water temperatures rising, additional insects in the water, and hungry fish ready to feed post spawning season. Everyone was therefore excited and optimistic as they sucked down a few ice cold beers.
After registration, and back at Twin Springs, we had a quick braai and then stoked up the fire in the cottage for the evening's banter. Our conversation continued late into the night as we went through fly boxes and charged our camera's batteries for the upcoming fishing.
The next morning we arrived at our first water, Trelevans 2, at a lazy 7am. The skies were beautifully blue, although we could see some ominous clouds in the distance, which were fast approaching. Fishing was sadly slow, with only 2 fish coming out in the first few hours. Derek landed a strong 2.5kg rainbow, while I picked up just a single stockie.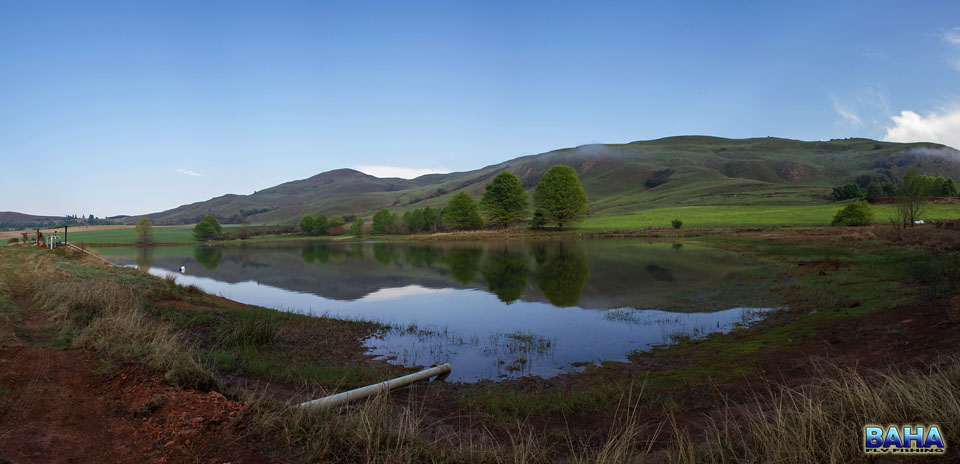 By this stage the wind was howling and the skies had darkened. Neill and Derek had therefore gathered on the bank for a snack while I was searching the far corning of the dam for a bigger fish. Sudden a bolt of lightning split the sky and the heavens opened in an almighty downpour. I quickly got my rod low to the water and began fighting the wind and waves to return to the car. When I finally reached the shore my legs were burning, the rain had subsided, and the lightning had mostly moved off. Thankfully due to my Columbia Sportswear gear I was still warm and dry, and itching to get back onto the water.
Just to be safe we stayed out of the water and waited for the storm to pass fully. At this point Derek sadly had to head home, so Neill and I kicked back onto the dam alone. The wind amazingly continued to pick and eventually we were forced off the water, having landed just one more stockie.
We made a quick phone call to the locals and we told to head over to Turner's Cottage where the trees and wall would offer some protection. Thankfully it wasn't far away so we packed up our tubes, had a quick lunch, and then headed over. We were grateful to see that the locals had called it correctly and, despite the wind, we were able to fish the section of Turner's up against the wall.
Immediately we both got into fish, and landed in the region of 6 stockies in less than 30 minutes. Fishing then slowed for a while, forcing Neill into making the comment, "I'll bet a big brown is cruising the area and has scared them off." This got a chuckle out of both of us as we continued fishing.
A fly change and a few casts later I got a big hit and thankfully connected with the fish. I could immediately feel that my stockie run was over as I carefully fought the fish. When it finally surfaced for a fraction of a second Neill and I saw a flash of buttery brown, and my heart quickened. Could it be my first still water brown?
I played the fish carefully until I finally managed to bring it to net. It was indeed a large brown and, as I lifted it from the water, my net tore and it fell through the bottom. This put me in an awkward situation as I was left fighting the fish through a hole in my net. It was at this point that I also remembered a wind knot in my tippet that I'd been too lazy to replace. This got my heart racing faster as I once again tried to net the fish, while holding the hole shut. Thankfully Neill was close by and threw me his net, allowing me to double net the fish. The battle was finally over, and I let out a small (but manly) scream of joy.
It was my first still water brown, measuring 65cm and weighing in at 2.4kg. What a beauty!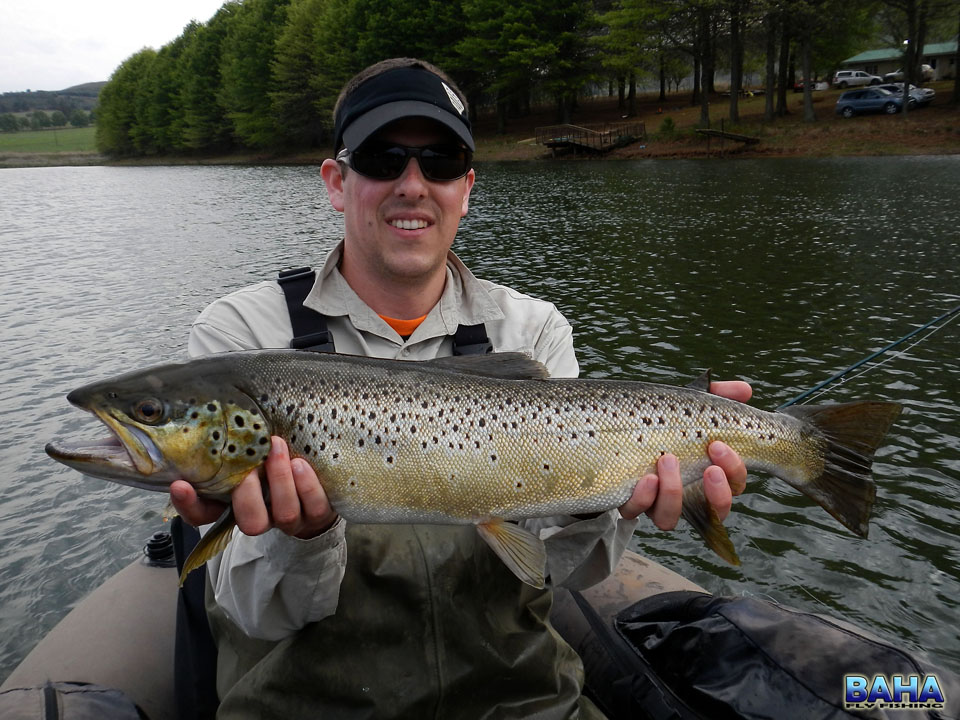 With my heart racing I decided to quit while I was ahead and kicked back to the shore for a celebratory snack (since I'd forgotten to pack a few beers). Neill also decided to call it a day and followed me back to the shore to pack up.
Back at the cottage I managed to sneak in my celebratory beer, as well a quick shower, before heading back to the Himeville Arms. The AGM began at 6pm and was thankfully short and sweet. Neill and I had the pleasure of being elected onto the committee to serve remotely from Durban when needed. We then refreshed our drinks before gathering in the dinning room for dinner and the prize giving.
Starters consisted of a fantastic home-made mushroom soup. It suited the weather perfectly and was very welcome after a cold day n the water. Starters was followed by my speech which was entitled, "Sea To Sani," and was a play on the Sani To Sea race hosted by Underberg each year. Knowing the majority of the people attending the dinner focused primarily on trout fishing, my talk served to inform them of the other fly fishing disciplines available to them in KwaZulu-Natal. This included salt water fly fishing, bass, Natal yellowfish (aka scalies), tigerfish, and of course trout. Thankfully the talk was well received and spurred a tirade of questions and conversations over dinner and late into the evening.
With my talk out of the way we all enjoyed a fantastic meal of roast beef and chicken, accompanied by potatoes, rice, vegetables, and every other side you can imagine. Dinner was then followed by prize giving for both the fishing festival and the season.
In terms of the festival Derek Saltzman picked up the biggest fish with myself in second and Craig Simpson in third. There was also a prize for the most fish of the festival which I was lucky enough to receive.
Season wise Steve Brooks picked up the still water fish of the season, weighing in at an impressive 4.2kg. Lance Bainbridge meanwhile walked away with the biggest river fish, which weighed a stunning 1.8kg. And the riparean owner of the year was Trace Pricemoor of Finelands. So a big congratulations to all of them.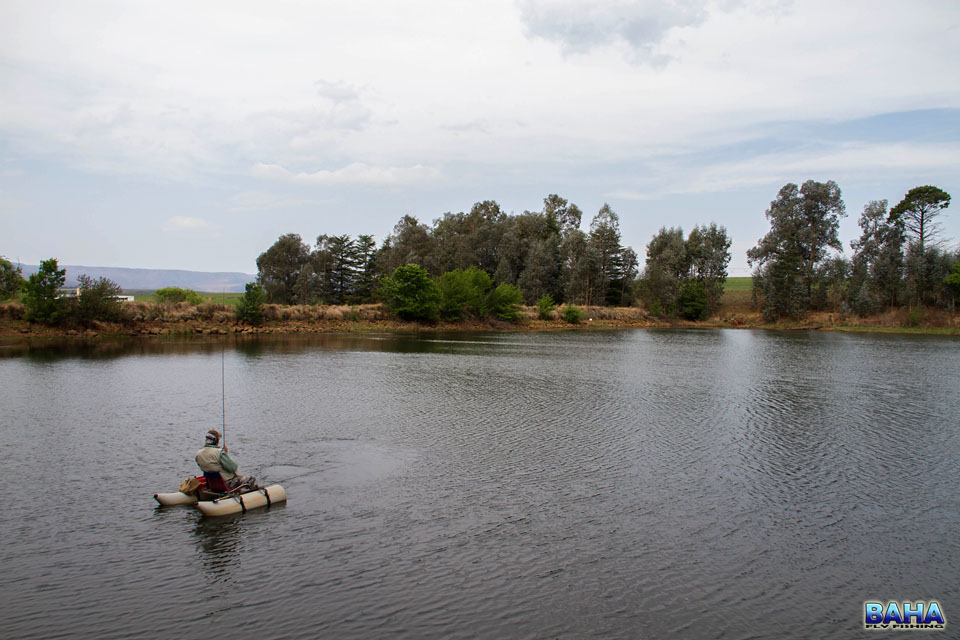 Finally dessert was served which consisted of a fantastic apple crumble, ice cream and custard. With dinner complete people started to move back to the pub for a few more drinks and to shoot the breeze about the day's fishing.  I'm sure conversations continued well into the night, but we opted to head back to the cottage where we gathered around a roaring fire and discussed our plans for the next day. Eventually, after much deliberation, we decided to try a new water in Trelevans 6.
The next morning we headed over to Alan's house where we enjoyed a pre-fishing cup of coffee. As planned we then headed over to Trelevans 6, only to find the water low and relatively weeded. This was rather disappointing as there was a flurry of activity on the surface. But logic eventually prevailed and we decided to head to a private water in the area rather than wresting the weed.
At the private dam Alan and Neill headed out on a boat while I opted to kick out on my float tube. Fishing was good with all of us getting into fish within our first few casts. We also enjoyed double ups on multiple occasions. Although the majority of the fish were around 1kg, we did manage to pick up two trout of roughly 2kgs each. All in all it was a very productive morning session, albeit not too long, as we had to be out of the cottage by 11am.
With the weekend all but over I packed up my kit, said my goodbyes, and began dreaming of Turner's Cottage and when I could return for another shot at a majestic brown.
For those members out there who didn't attend the weekend, I'd highly recommend it for next year. And for those of you who aren't members of the UHTFC, I'd definitely recommend joining today.