Zulu Hut (And My New Jeep)
Zulu Hut (And My New Jeep)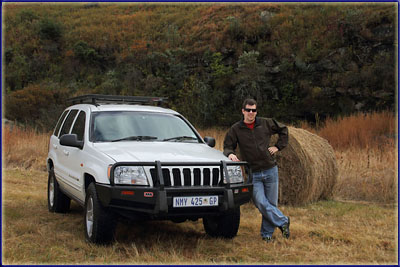 It was a somewhat exciting weekend for me since it started with the hope of me finally getting a car, and a manly one at that.
Sharon and I climbed out of bed at 4:30am, had a quick shower, and then headed for the airport. I'd found a car in Joburg which had gone through all the necessary inspections and all that remained was to look at it and hopefully drive it back.
After the mandatory cup of Wimpy coffee I bought a copy of "The Elephant Whisperer" at Exclusive Books and we boarded the plane. Now I know it's not the most exciting thing to discuss and that this isn't Oprah's Book Club, but for anyone with a love of the bush do yourself a favour and grab a copy of this book. It's well written and is certainly an eye opener with regard to life in the bush.
Anyway, moving on, we landed at the O R Thambo and were met by Raymond who was selling the vehicle. He walked us out to the parking area and I instantly fell in love with the beauty. For her age she looked brand new and was certainly everything he said she was. None the less, I still needed to drive it.
Thankfully the drive to Raymond's offices went well and, other than the extra noise of the diesel, she performed well. We spent the next hour doing a few more inspections, drawing up the necessary paperwork, filling in forms and transferring money.
I'm now the proud owner of a Jeep Grand Cherokee 2.7 CRD Limited (A). Hell yes!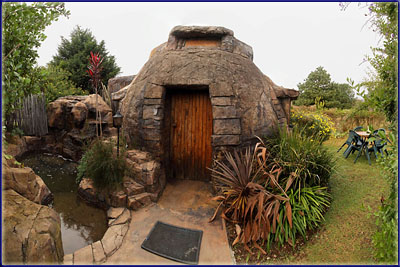 By the time we left the office it was nearing lunch time but we decided to push through to Harrismith. The original plan was to go down Oliviershoek Pass and to eat lunch at Little Switzerland, but by the time we got to Harrismith we were both ravenous and ended up eating at the local garage Spur. It was far from glamorous, and call me crazy, but I still love a Spur pepper sauce burger and onion rings.
One of the things I know about diesels is that they run better (and last longer) on a good quality diesel. This saw us bouncing between three fuel stations in order to find a low sulphur diesel. It was a bit of a pain but I suppose in time I'll learn which garages stock the good stuff.
Car and stomachs fuelled up we pushed on to the Zulu Hut in Champagne Valley where we would be spending the night. Listening to Mr. Garmin meant we accidentally ended up on a dirt road for 20 odd kilometers. This was a blessing in disguise as I was absolutely amazed by the vehicle's handling and comport on dirt. Had we been in the Pajero we would've been bounced around to the detriment of our kidneys. In the Jeep however it almost felt like we were riding on tar.
After stopping to buy a few dinner items from the local OK (yes they still exist) in Winterton we arrived at the Zulu it. I must admit, I really was expecting it to be gimmicky, but I was instantly blown away. His huts and caves were awesome, well designed, and incredibly artistic. He walked us around the property and even showed us the cave he was building for his neighbour.
The neighbour's cave took the form of a pub complete with big screen TV and fridges, looking out through a waterfall over the mountains. WOW! But don't take my word for it, I suggest you all go and spend a night there. The only downside is that you need to get into your car if you wish to do anything like hiking, fishing, etc. But for a nights romantic stay it certainly works.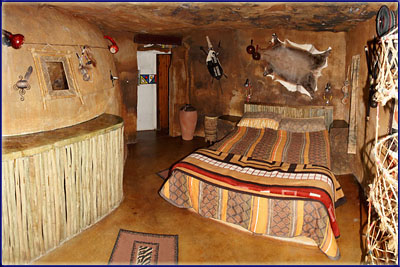 Our hut was fantastic but what impressed me the most was the shower which was a large room (read cave) that when you turned out the taps the water just fell from the ceiling onto the floor.
After cooking an easy meal we drank red wine and finally fell asleep in front of the "fire". I say "fire" because it was in fact a gas heater with flapping cloth designed to look like flames. Either way it was warm and went well with red wine.
The next morning was chilly which I suppose was expected due to the snowfall two days earlier. For once we relaxed in bed and I made my way through more of The Elephant Whisperer.
Eventually it was time to move on and we packed up and headed for home. We did of course stop at the Waffle Hut for breakfast. I begrudgingly ordered a toasted sandwich so as to not feel quite as guilty about what was in fact waffles and ice cream for breakfast. I suppose I should've felt somewhat better since the guy sitting next to me was sipping on a Black Label breakfast.
Having just eaten waffles and sucked down a chocolate milkshake it was time for some sport. So Sharon and I headed for the putt-putt course behind the Waffle House where she quickly taught me a lesson. Damn her! Not again?!
Now sulking I climbed back into the Jeep, which instantly lifted my mood, and we headed home (cruise control and all). We stopped briefly at my mom's to show her the car, did the shopping, drove up the steepest hill we could find and then arrived at Plantations.
Still feeling guilty about the waffle breakfast Sharon and I headed out for a quick 6km run before relaxing for the rest of the afternoon and processing a few photos.
Fingers are crossed that this car lasts better than the X Trail.