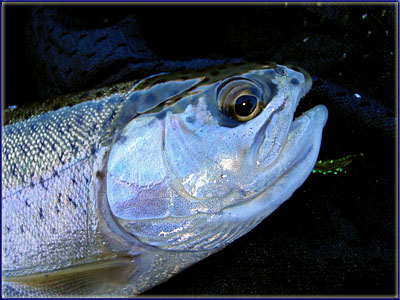 Sunday's fishing was as exciting as always. Nick's (read Tarryn's) Terios had gone in to have the tow bar changed but he had luckily been lent another Terios. After picking me up we stopped for the usual cup of coffee before heading for Uitzicht in the Kamberg area.
The temperature was -1 when we passed through Nottingham Road which always makes me feel a little manlier. We set up the tubes, sipped down that final cup of coffee and kicked out onto the dam in what seemed like pristine conditions.
The water was a chilly 9 degrees, crystal clear and looked like a mirror. My only real concern was that the fish would see us coming from a mile away, and for some strange reason Nick's tube has a huge orange section on it. For safety maybe…but surely catching fish is more important than that?
The morning session was somewhat disappointing. Neither of us landed a fish and I'd had only one small knock. Was it just too clear? Could the fish see us coming?
After meeting back on the bank and reassessing the situation over a delicious roll we headed back out more determined than ever. I opted to fish the opposite bank which had always looked good but had never produced for us. Nick fished the deep water once again.
Thankfully this session was far more productive for me. While making my way up the far bank to the inlet I got into two small fish within 5 casts of each other. Sadly both were stockies but hey, anything is better than nothing.
Nick had a somewhat different experience in this second session. During our little break he'd been complaining about the Fluro he was using. His loop to loop knots kept breaking and we thought it might be due to the specific knot he was tying. I took the liberty of showing him how I tied the knot and, after a few pulls, it seemed strong enough and hadn't broken. He headed out on his tube and got into just one fish in the session. Sadly for him, and me who has had to endure the mockery, he lost the fish when it broke off on my knot. FAIL!
Lesson learned; don't trust your friend's knots.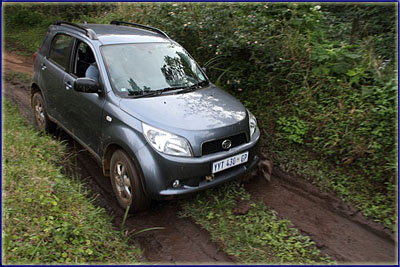 Having fished two sessions in the bottom dam we opted to head up to the top dam to see how it was fishing. On a previous trip it had looked decent but was muddy due to cows drinking in the small water. We decided it needed another look.
Sadly when we got there the water was in a similar state; it was muddy with a lot of algae on the surface. We gave it a few casts but it really didn't look worth the effort and we left shortly after this.
The only good thing that came out of the top dam was a small stretch of relatively deep mud which we got to test the Terios in. Other than the clearance issue it went through well and looked far manlier for it.
So for anyone heading to Uitzicht, the bottom dam is an awesome water which definitely holds some big fish. The top dam however does seem to battle with weed, algae and clarity issues. From now on I'm sure we'll stick to the bottom.
Leaving Uitzicht we took some time to reattach one of the club signs which had been ripped from a pole and thrown into the bushes. Clearly we need to take some tools with us from now onwards to ensure we can do this properly.
On route home we stopped for a chat at the Fly Shop in Nottingham Road. We discussed some of the waters they had which we had fished in the past and ended up going in search of Holly Farms. Having not been there for around 5 years we drove a fair number of farm roads before deciding we had found it. We did need to open a farm gate to get to the water itself and as such did not get the close look we desired. None the less it may be worth a future visit.
Alas the day was not over yet. On route home we stopped off at the Land Rover Experience driver training course to do a little investigation. We were hoping to chat to someone about how the course worked but being late afternoon on a Sunday nobody was around.
It was just too tempting for us and since the Terios was already covered in mud we made a quick pass through the course which was great fun. The Terios did well bar battling to climb one of the trickier hills where it got cross axled and lost traction. But I'm sure with a better line it would've made it up.
All in all it was a great weekend ending in the best possible way…with pizza!