A Weekend at Lake Macquarie and Blacksmiths Beach
A Weekend at Lake Macquarie and Blacksmiths Beach
After months in quasi-lockdown, getting used to the new normal imposed on us by Covid-19, we finally managed to get away for 5 days of bliss at Lake Macquarie. We'd never been to the area before, but chose it for a handful of reasons. Firstly, it offered a great selection of both fishing and family friendly activities. Secondly, it's close to home, and wouldn't require hours of driving to get there, eating up valuable fun time. And thirdly, they had availability (yes, the majority of Australians were as eager to get outdoors as we were, post lockdown).
We drove up on Friday, taking a quick detour via Hunter Water Sports to pick up a fish finder mount for my kayak. We also stopped off at Woolworths to stock up on food (and booze) for the weekend. Hunter Water Sports turned out to be a great find, and I highly recommend them to anyone looking for a Hobie, or any other (kayak) fishing related products. Their service is first class, and they have an amazing selection of products on offer.
Big 4 Lake Macquarie was a surprisingly good little park. Perched on the water's edge, at the southern end of the lake, it offers easy access to the lake via it's own private jetty and boat ramp. We had booked a poolside villa (despite it being winter, and having no plans to swim), which proved to be a great choice as it also turned out to also be park-side. In fact, our balcony looked straight onto the park, which meant the kids could spend hours on the jumping castle and jungle gym, without us having to leave the comfort of our cabin to supervise them. What a win! Beware the noise if you don't have kids.
The villa itself was fairly standard, but did have a few downsides. Firstly, unlike other holiday resorts, the kid's bedroom only had 1 bottom bunk (instead of the usual 2), and no railings on the top bunks. While this layout was far more visually attractive, it did mean that neither kid could sleep on the top bunk, and as such we had only 1 bed for 2 kids. The end result was that I spent the weekend sleeping on the top bunk, while Katie shared the master bedroom with Sharon, and Emma slept on the bottom bunk. The second downside was that the villa was fairly dirty in places. The couch was specifically bad and, despite having spent half my life sitting on rocks in the bush, I decided to cover it with a sheet before going anywhere near it.
With the 2 problems solved, the cabin was fantastic, featuring a small kitchenette (including a dishwasher), a cosy living space with a TV, couch and dining room table, a great deck, two bedrooms, and a bathroom with a shower.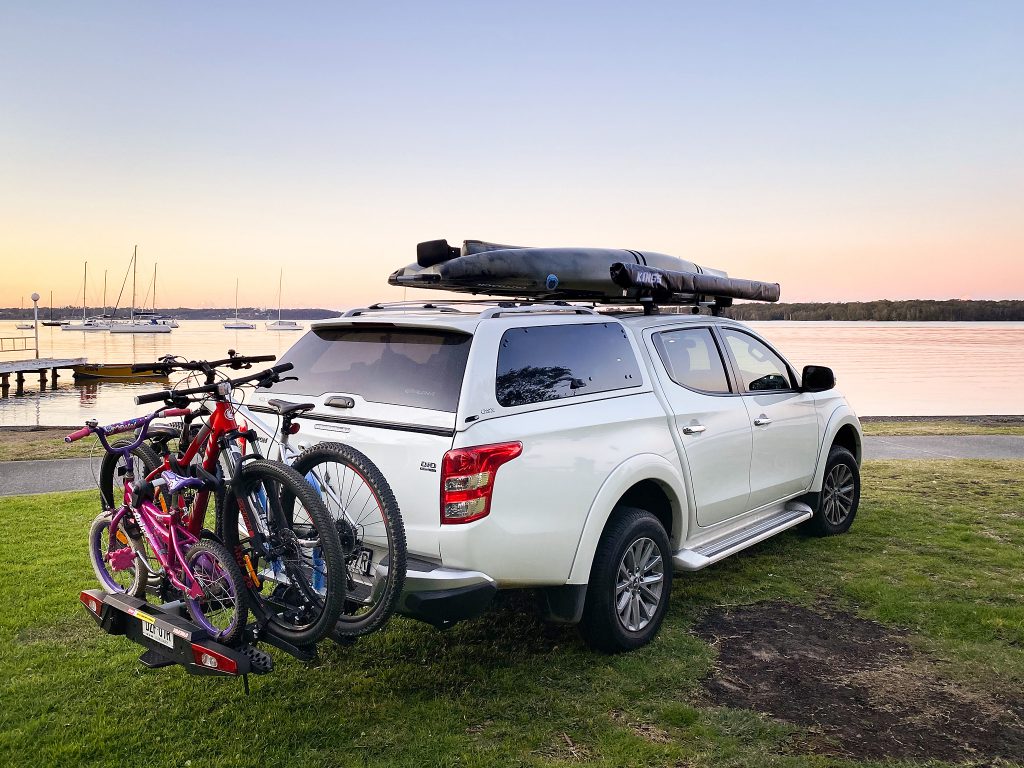 Since we arrived late on Friday, our first evening was spent unpacking the car, while the kids played in the park in the dark. This was followed by some time on the deck, enjoying a (semi) cold beer, as the sun dipped below the horizon.
The real fun started on day 1. We kicked things off with a family trip to Speers Point Park. The famous park was a 30 minute drive away, at the northern end of Lake Macquarie, but was well worth the trip. It boasted the largest, spiralling slide I've ever seen at a public park, as well as swings, flying foxes, multiple jungle gyms (including one shaped like a ship), climbing nets, and so much more. It even offered a specially fenced off section for kids with special needs.
We spent hours climbing the tower and shooting down the slide, playing on the swings, and playing hide and seek amidst the various jungle gyms. It was a strange experience trying to socially distance amidst the chaos, and we couldn't purchase a coffee, but we were having enough fun to make any worries vanish into the background.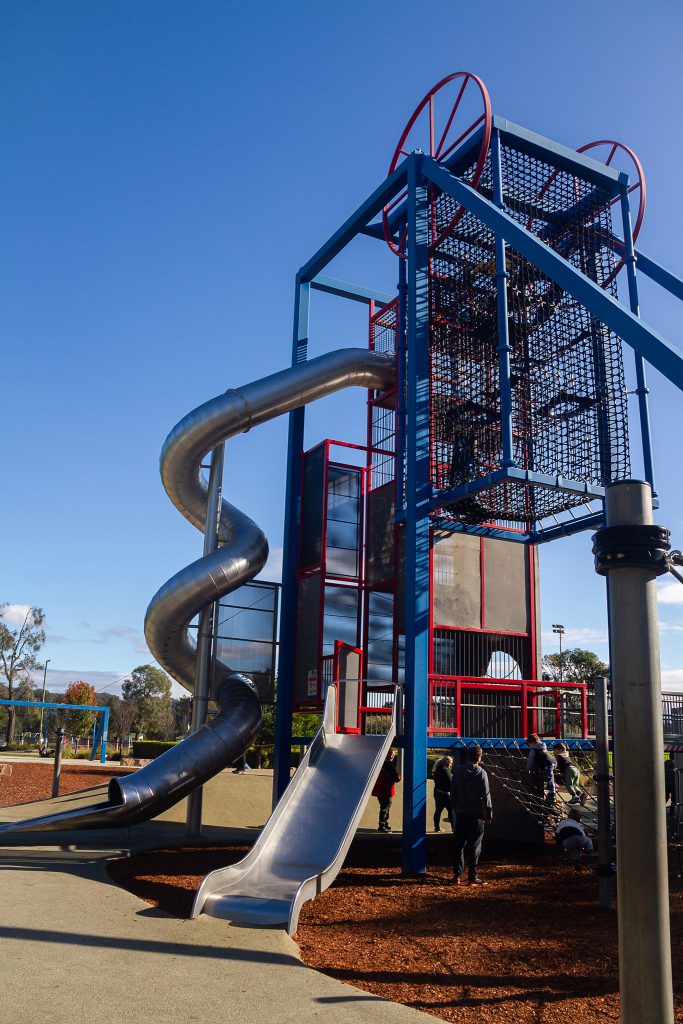 That afternoon I headed out for my first session on the kayak on Lake Macquarie. Things got off to a bad start when my new, self installed, fish finder didn't power up. Without the proper tools to fault find, I ended up rewiring the entire setup, fearing one of my joins was to blame. When this didn't solve the issue, my frustration peaked, until Sharon pointed out I just hadn't pushed the connector in hard enough. Aaaaagh!
Problem solved, and finally on the water, I decided to head for Wyee Bay. This idea ended quickly as I rounded the point, and was hit in the face by a blistering south-wester. As such I turned around and headed for Chain Valley Bay, which was far more likely to be more protected from the wind.
My newly installed Lowrance Hook Reveal did an astounding job, although the majority of the lake's bottom was structureless, which limited my enjoyment of the side imaging. I was able to easily locate schools of baitfish, which I'd been unable to do before. Sadly, I didn't locate any gamefish following these schools around, but they were there none the less.
I started the session by fly fishing the shallows, focusing on some partially sunken structure along the fringes, in the hope of picking up a bream or two. When this proved unsuccessful I changed tactics, and started targeting flathead (also in the shallows). Still fishless, and with evening fast approaching, I moved out of the shallows and into deeper water, hoping to find schools of Aussie salmon, or at the very least, some tailor. Again, closely eyeing the finder, I found some schools of baitfish, but sadly no predators. I did pick up one small tailor while trolling a lure, and quickly started flicking a fly in the hope it was schooling, it seemed to be a loner.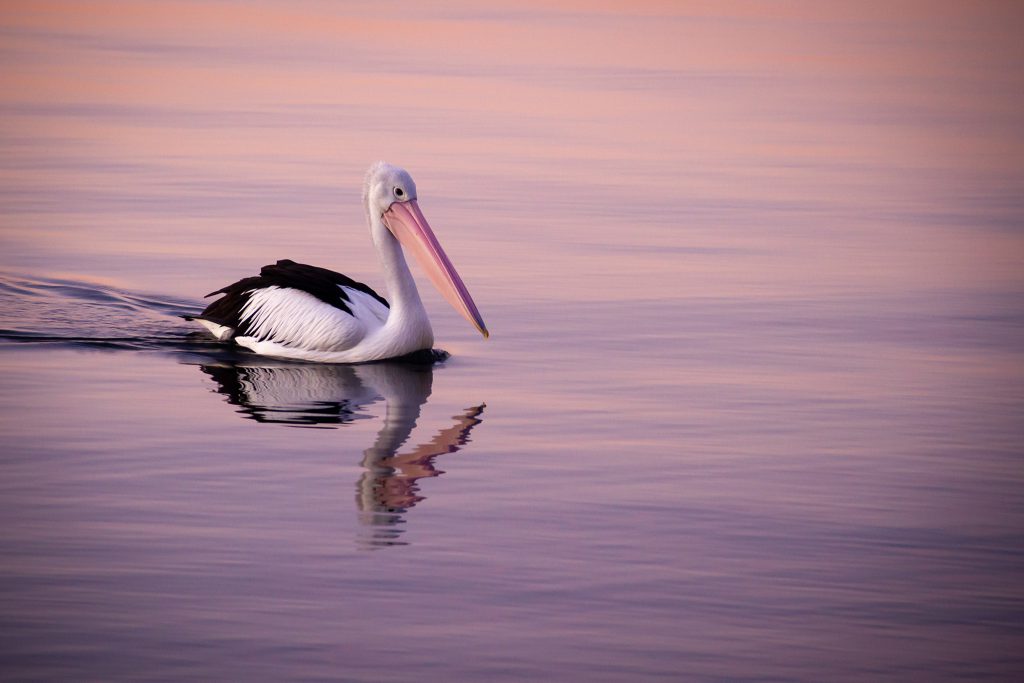 Back at camp, we enjoyed a (real) braai on the deck, while the kids played on the jumping castle with some newly made friends.
Day 2 started with an adventure – some beach driving on Blacksmith's Beach. We purchased a 7 day permit for $33 (from the Swansea Caltex Star Mart), and then headed for beach.
After dropping the tyre pressure to 16psi, we drove onto the sand and headed north, looking for a little seclusion. Sharon was decidedly nervous, possibly due to days of me taunting her with stories about how soft the sand was, how likely we were to get stuck, and how quickly we could lose a car to an incoming tide. Although this was all in jest, and I'd taken all the necessary precautions (including travelling with recovery gear and sand tracks, and planning the trip on an outgoing tide), even I was caught off guard by just how soft the sand was on Blacksmiths Beach. Thankfully however, there were plenty of other cars on the beach, so finding somebody to assist with a recovery would not be a problem. That said, most of the other cars were already bogged, so maybe it would be up to us.
We eventually found a quieter spot on the beach, and tucked in behind a sand dune to get out of the wind. After quickly setting up the awning, I grabbed my spinning rod and headed down to the waters edge for a quick few flicks. The plan was to check the conditions prior to setting up my fly rod, since there was both a strong onshore wind, as well as a large shore-break, which I knew would make fly fishing tough.
Amazingly, on just my second cast, my line went tight, and I was in to a good sized fish. It was great to have Emma with me, as she screamed in delight as I fought and landed my first ever Australian Salmon. Somewhat annoyed it wasn't on fly, I snapped a few photos before releasing it to fight another day. Knowing that the salmon usually shoal, I quickly threw out my next cast, hoping to get into another fish for Emma to fight. Sadly it was not to be, and I seem to have caught the only salmon in the area. That, or he told all of his mates that I was around and dangerous.
Back at the car we played with the girls, throwing and kicking balls, and generally getting covered in sand. The fun and games were followed by a new tradition, started during our previous year's Easter holiday with Nick and Tazz – braaied sausages (preferably boerewors) in naan.
Belies full, and with the shorebreak having calmed down, I grabbed my fly stick and headed back down to the water in the hope of picking up a salmon on fly. Sadly it was not to be, and my quick 30 minutes session produced no fish.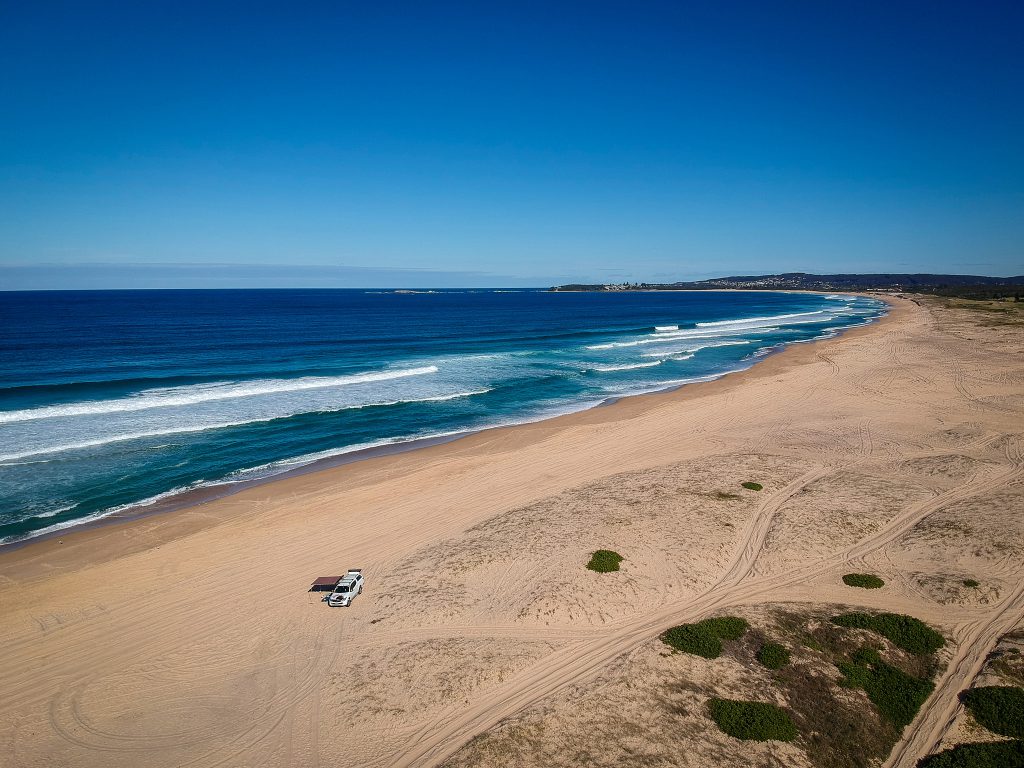 With the day getting on, we packed up and headed out for our next adventure at Caves Beach. Having not gotten stuck on the way in, Sharon was far now more relaxed, and actually enjoyed the drive off of the beach.
Back on the road I pulled out my trusty, old compressor to re-inflate the ute's tyres. Amazingly, despite being 15 years old, and having travelled across the ocean from South Africa, it still worked (albeit slowly), and we were soon back on the road.
Caves Beach was far busier than expected, but was well worth the visit. The girls absolutely loved exploring the caves, sneaking through all the tunnels, and ducking in and out of any hidey hole they could find. They could have played there for hours but, considering the Covid pandemic on the go, we didn't want to hang around the crowds for too long. Instead we headed to the nearest cafe for ice-creams, before finally heading back to the holiday park after a long day.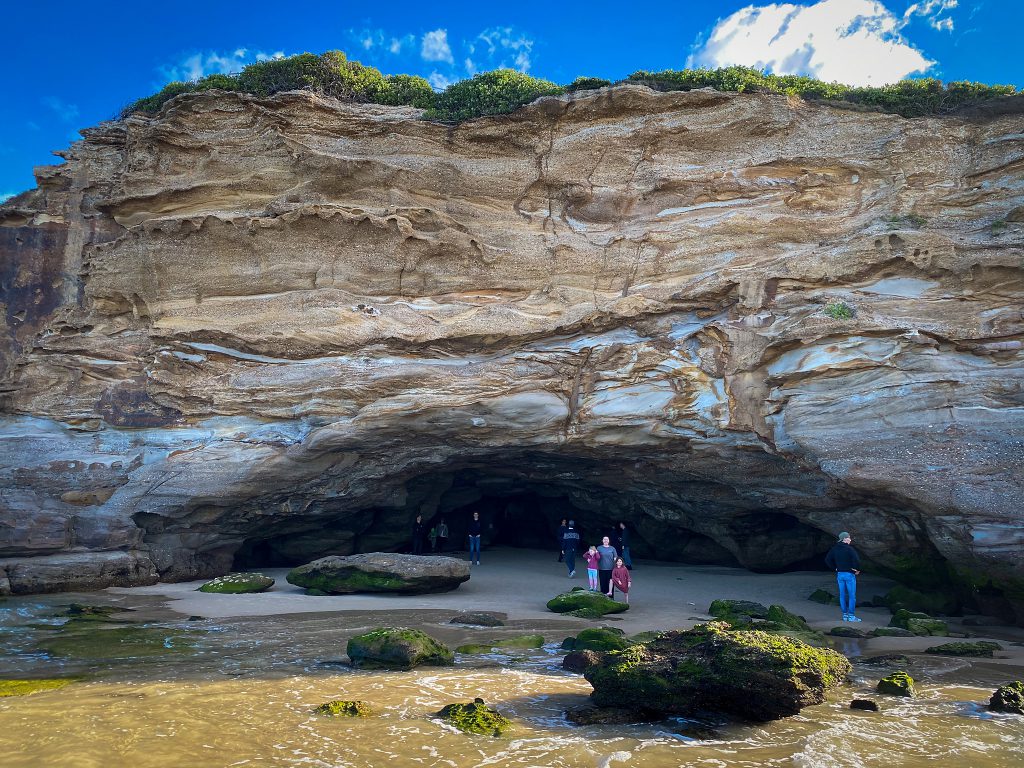 The girls once again spent the afternoon in the playground with their friends, while Sharon and I relaxed on the deck with yet another fire.
The next morning I headed back out on the kayak, hoping to get a few more fish than on the previous outing. I headed across the lake to Bardens Bay, hoping to pick up some fish while trolling the deeper water, and then fish the shallows of the bay. Things got off to a decent start as I picked up a few tailor on both fly as well as lure, although they were all relatively small. The shallows also produced, as I hooked into a small barracuda around one of the buoys.
The wind then picked up, leaving me with a substantial 5km paddle, directly into a strong wind, with a sizeable chop on the water. In fact, the chop was so large that it knocked my paddle out of it's holder, tangling it in my lines, and leaving me scrambling and reorganising for a good 10 minutes.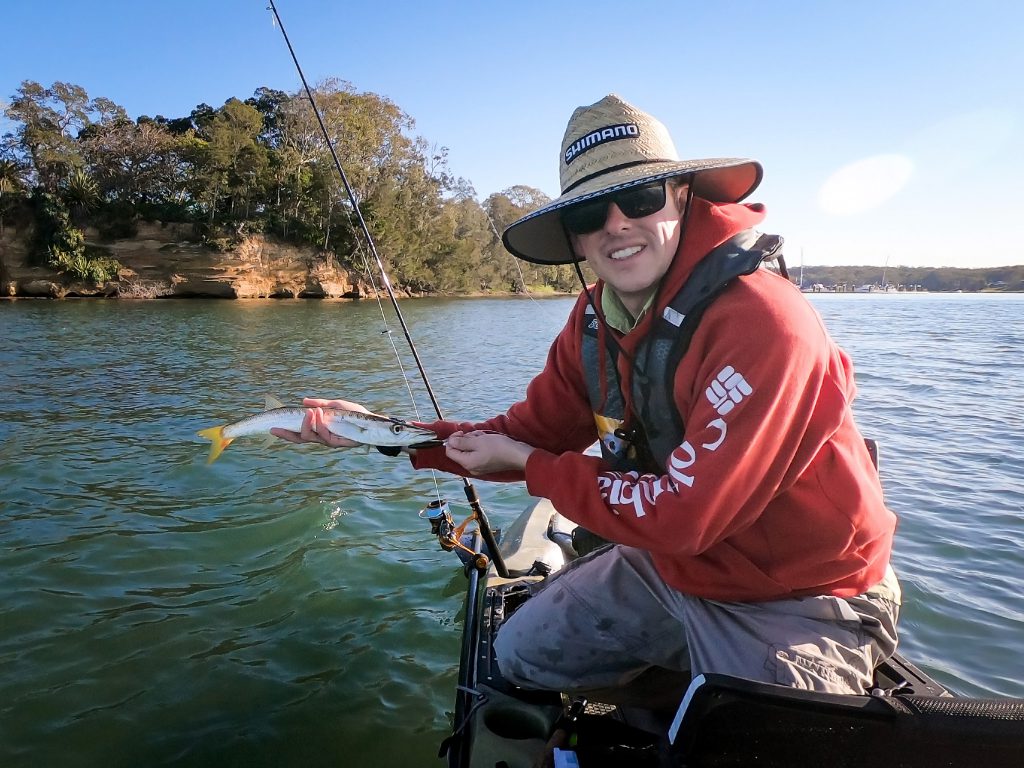 Back at camp we spent the rest of the day relaxing around the chalet, riding bikes, playing in the playground, and fishing off the jetty.
And that was it. Adventure over! The next morning we packed up and headed home. Although Big 4 Lake Macquarie was one of the smaller holiday parks we've stayed in, with fewer facilities, the area and local activities more than made up for it. It offered everything from beach driving to fishing, exploring to kayaking, and multiple activities for the kids. We'll definitely be back, but may try another park, closer to the Swansea Channel, which I really want to fish.