Occasionally fishing the Boston Fly Fishing Festival on my wedding anniversary pays off. Last year was one such time when I came away with a prize of a week long trip for 6 to Castleburn, beautifully nestled in the in the Drakensberg foothills.
After much deliberation Sharon and I decided to invite my dad and Cassia along as they were dying to spend time with both Emma and us. Being a midweek trip we headed up leisurely on the Monday morning, well aware that we could only check in at 2pm.
Upon arrival we were treated to sherry while we checked in. Although the prize was for a 6 sleeper, we had downsized to a 4 sleeper in order to be allowed to stay over a week which included a public holiday (which was not meant to be covered). However despite being in the smaller 4 bed flatlets, I was far from dissapointed.
Our unit was on the ground floor which was ideal for Emma who had an open lawn in front of the unit to play on. It consisted of two bedrooms, one of which was en-suite, as well as a living area and a kitchenette. There was of course a glorious fireplace, which is a must for any Drakensberg holiday destination. The unit also boasted several DSTV channels, including the all important sports channels, and several series and movie channels. Finally there was an outside patio complete with a weber. In short the unit was small, yet comfortable, and exactly what we needed.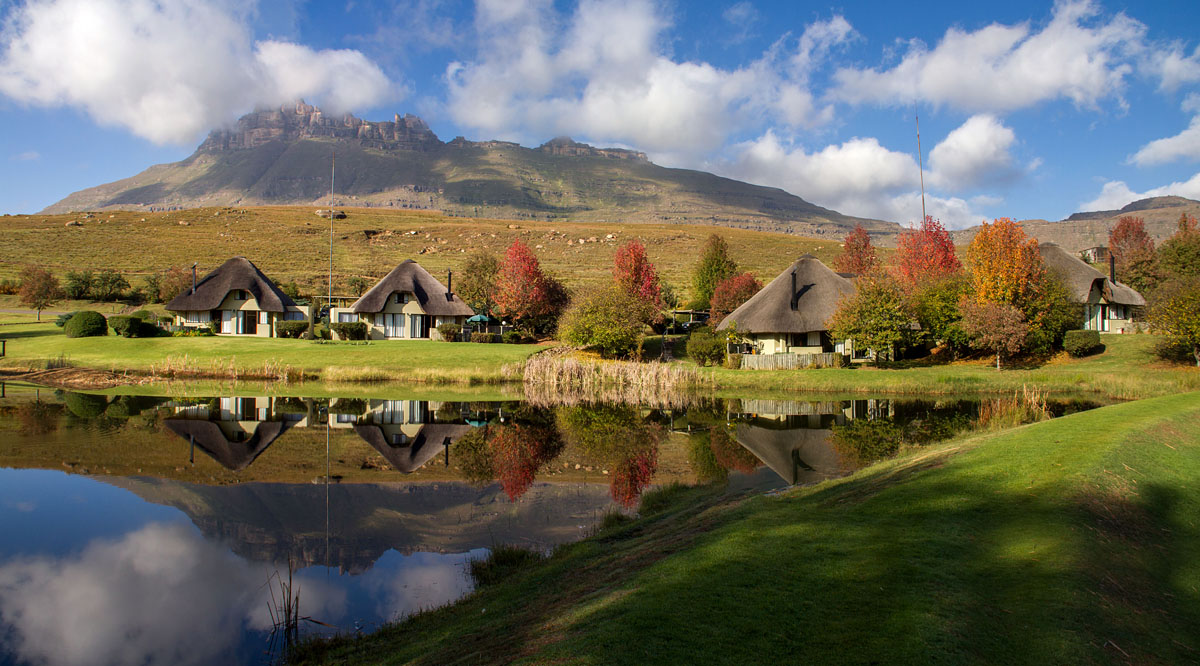 The resort itself is beautifully located and has an incredible amount on offer. Their are several smaller dams, perfect for beginners looking to learn to fly fish. They are stocked regularly and anglers are allowed to keep the fish from these dams. Then there is the large Lake Madingofani which holds both brown and rainbow trout, and is meant to be a catch and release venue. There are boats on site that can be used to fish this water if you haven't brought your own float tube. And if you prefer the bank there are also several well maintained jetties, beautiful grass banks, and a lovely wall to fish from. The manager Dave also offers small clinics and lessons for beginners.
Ignoring the fishing the resort also has many other activities on offer from hiking to mountain biking, and games on the lawn. Castleburn also boasts tennis courts, table tennis, croquet, putt-putt, jungle gyms for the kids, trampolines and more. They also have on site horses for the adults, as well as free, daily horse rides for the kiddies. And for the adults there's a well stocked bar as well as a restuarant.
Finally the resort offers a daily activity schedule with everything from bring and braais to bingo and quiz evenings, and archery. If you find yourself bored at Castleburn you truly are doing something wrong.
One of the first activities we involved ourselves in (other than a few rounds of putt putt) was the bring and braai. It was a great event allowing us to meet a few of the staff as well as several other guests. The soup was amazing, the salads were salads, and the dessert was exceptional. But perhaps the best part of the lunch was the fly fishing demo on the lawn. While it was certainly targeted at the beginner fisherman it did offer a few tips, and updated me on the lie of the land in terms of the various dams, the lake, and the river beats.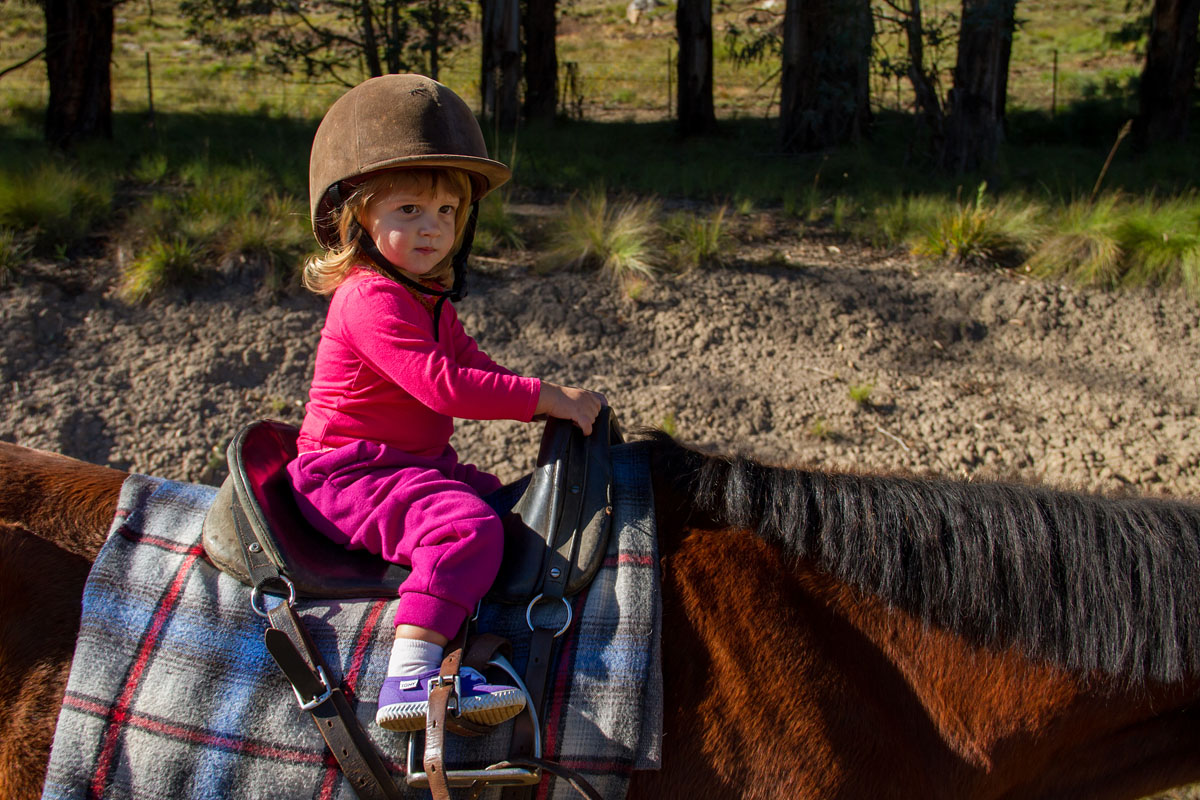 Fishing was a mixed bag as my dad and I only made it onto the water twice over the course of the week. Our first attempt saw us heading down to Lake Madingofani (Castleburn Lake) for a late afternoon session. On the walk down we fished a few of the smaller dams, more out of curiosity than due to their potential. I assume these dams are targeted at beginners as we were easily able to cast across them. We could also easily see all the fish in these dams as they are extremely shallow. However, despite all of this, we were still unable to land any fish (I guess they could see us too) and therefore continued down to the lake.
Lake Madingofani is large and looks extremely promising. I opted to take a row boat out while my dad fished off the mowed banks and convenient jetties. He therefore slowly made his way to the wall while I headed for the reeded areas closer to the inlet, as well as the far bank which isn't fishable from the shore. Over the next hour or two I slowly fished my way around the dam until I met up with my dad who was now fishing the wall.
Neither of us had had so much as a touch despite the hundreds of fish rising around us (so many in fact that it almost sounded like rain). That said, they appeared to be stokies in the 4 – 5 inch range with no bigger fish in sight. Strange, since the manager swore blind that they hadn't stocked fish that small. Could the fish be breeding despite no river flowing into the dam?
As night fell I finally managed to hook one of the small stockies. My dad meanwhile had a promising knock from a larger fish but sadly didn't manage to connect.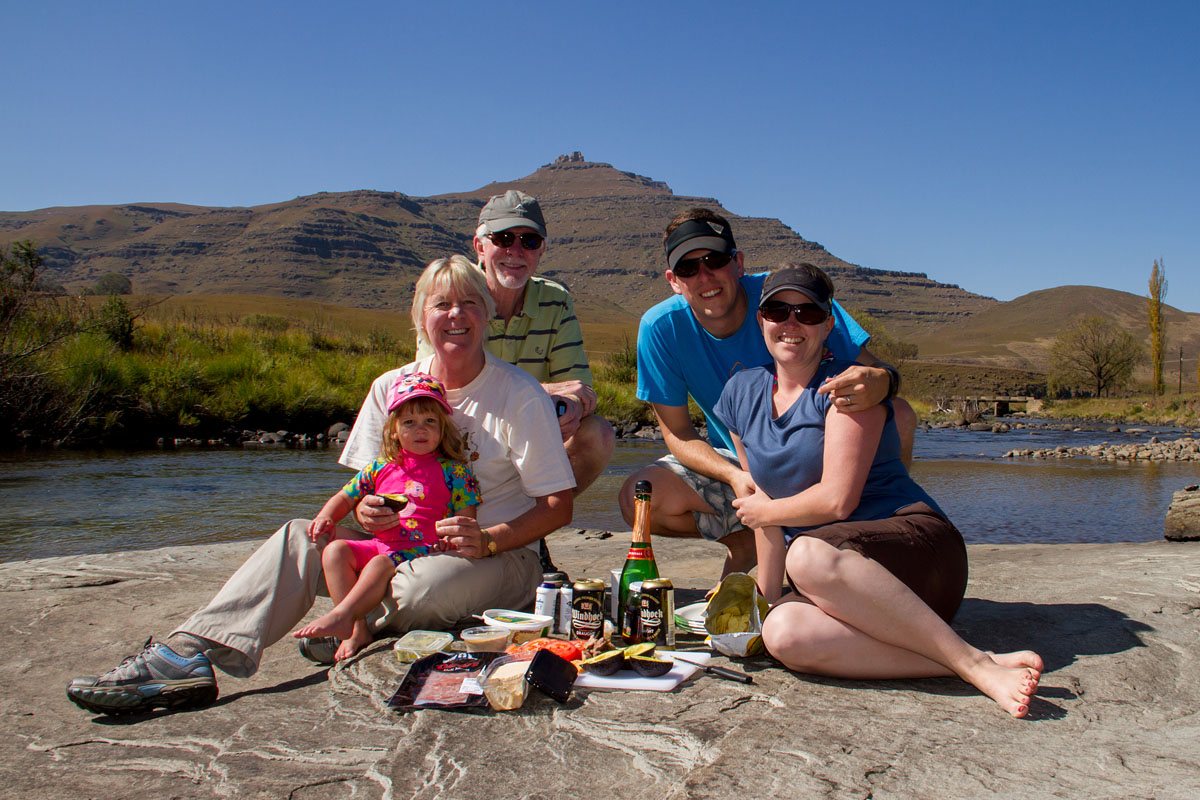 Our second attempt saw us heading down to the Umzimkulu River the following afternoon. My dad climbed in at the pools while I jumped in further downstream at the bridge. On just my second cast I landed a beautiful brown trout of about a hand-span. Shortly afterwards I spooked a second fish, which was probably around a kilogram in size and a beaut of a brown. Slowly we made our way upstream, but the water was thin and for the next hour neither of us spotted a fish. Our luck then took a turn for the better, either because of the longer runs or perhaps due to the evening rise. Either way, the fish suddenly came alive and both of us landed several small browns, all in spectacular condition.
Eventually, fearing we'd finished our beat and were now trespassing, we climbed out of the water and waded through thick grass back to the main road for the walk home. It had been a successful session in my preferred type of water, crystal clear mountain streams. It's tough to say how well the lake usually fishes, but either way, I definitely preferred (and would recommend) the river.
Other than the fishing the Umzimkulu River is also a great place for picnicking and swimming. The resort has managed to acquire a small private section which they maintain for guests making it the perfect spot.
We headed down there one lunch time, picnic basket in hand, ready for some fun. Our original plan was to sit on the mowed grassy banks of the river, but a group of guests fleeing the scene quickly warned us they'd seen a snake on the lawn. We therefore setup our blanket on a nearby rocky section which proved to be less than ideal for Emma as we were a meter or two above the water with no easy access. I therefore decided to head off across the lawn to another rocky area on the far side where Emma would be able to wade in and out of the river at will. This of course meant crossing the snake infested section in my meager slops. Despite secretly hoping to see the snake it was nowhere to be seen. I therefore headed back, called the family, picked up Emma, and we all headed for the better section. However, despite watching my every step as we crossed the lawn, I ended up less than a meter from the rinkhals, almost stepping directly onto it. It was a bit of a shock, but Emma loved seeing the snake and we managed to safely back off while the snake continued lazily on it's path and into some thick grass.
With that out of the way we once again setup our blanket and had a fantastic time at the river enjoying some fine food and ice cold champagne.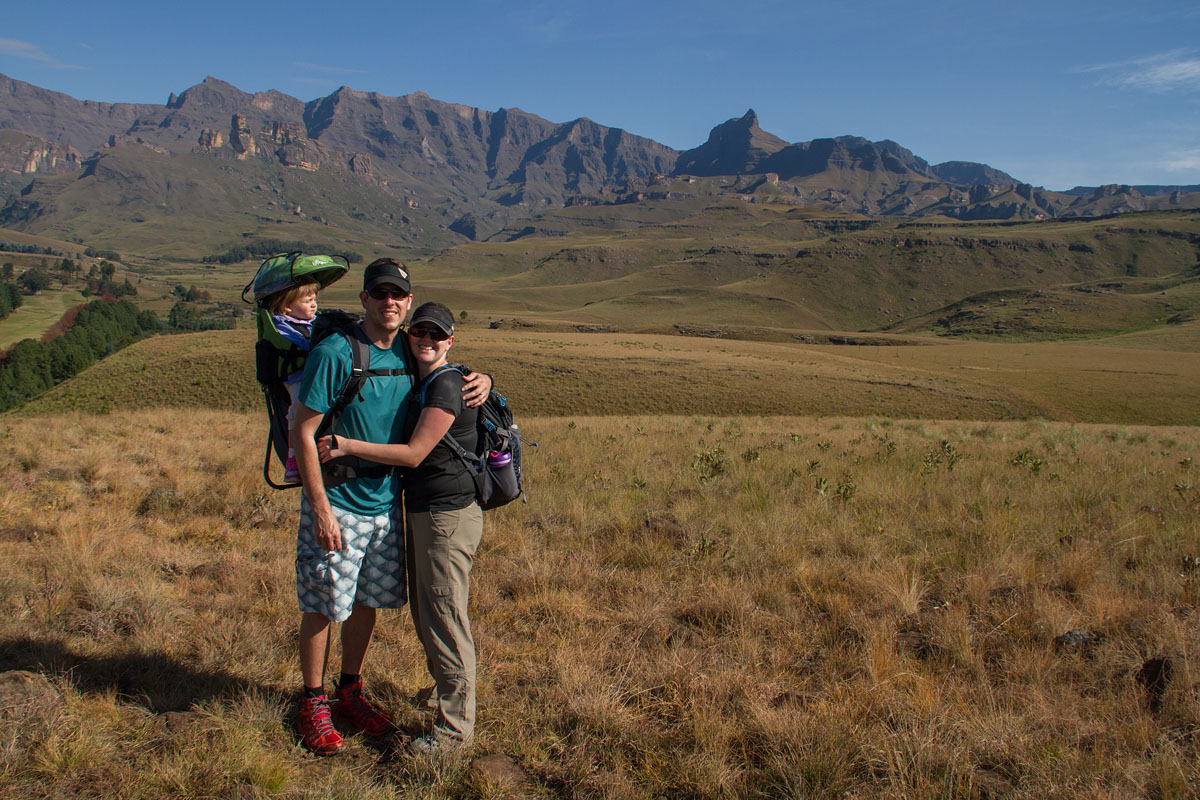 Another great activity on site are the daily free horse rides for children. We were nervous at first since we'd tried to get Emma onto a horse at her first birthday with limited success. This time however she took to it like a fish to water and it soon became the activity of the trip. In fact she couldn't stop talking about Goofy and every time we left the cabin she tried dragging us off in the direction of the paddocks.
During our stay we also took a day trip to the Drakensberg Gardens where we went for a shot hike in the foothills of the Drakensberg below Rhino Peak. This of course included a fresh swim in the Umzimkulu for Emma and I, while the rest of the family skipped the dip in the icy water.
All the all Castleburn is a venue I'd defintiely recommend to anyone, whether its for a relaxing weekend or a fishing trip. Although if you're there for the fishing I'd recommend targetting the river and trying some of the Underberg Himeville Trout Fishing Club waters.