Clansthal Problems And 4x4ing
Clansthal Problems And 4x4ing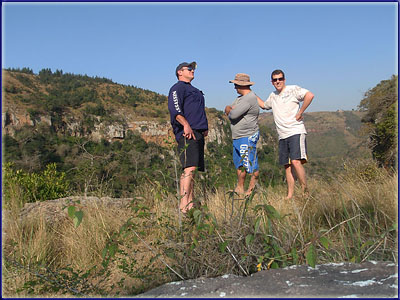 I was up early on Sunday and Nick, Clinton, Neville and I headed down to Clansthal to try and bash a few Wave Garrick. After diverting our route to pick up a garage pie we got somewhat lost and ended up discovering that Clansthal has more than just a beach and campsite.
Sadly the shore break was massive and fly fishing was just not an option. Clinton slid out a bait while the rest of us chilled on the beach. We did also take a walk north where we found some nice ledges for fly fishing at low tide.
While exploring we also stopped to chat to a group of fisherman who'd been there since 3am. Turns out that in 8 hours they'd caught not one fish and were busy packing up.
It also turned out the Russel and Olivia Symcox lived on the beach so we had a cup of coffee with them and chatted for a while.
By 11am we were over it and Clinton pulled in his bait. Something had ripped the body off his Mackerel but considering the size of the hooks he was using he wasn't going to get into anything smaller than a Shark.
We headed for the campsite where our cheap R6 draughts now cost R13 (I suppose that's still reasonable). It was around 11:30 and we were told that the kitchen only opened at 12pm so we chilled on the deck and enjoyed a beer.
At 12pm we called over the waitress and tried to order pies, chips and gravy. FAIL! Turns out that although the kitchen opens at 12pm they only serve their buffet. If you want to order off the menu you need to wait until 2pm. As such we packed up and headed for Sebastians, a pub just down the road where the local divers all hang out.
The food at Sebastians was great and about averagely priced. So after enjoying a few baskets and beers we said goodbye to Neville and headed back towards Durban.
Nick then decided that he needed to show us the Toti waterfall since he'd finally picked up the replacement Terios. We skipped most of the 4×4 route and joined it around 1km before the waterfall. The waterfall itself is fantastic other than the fact that you park at the top and not the bottom. We chilled there for a short time while I admired the water and wondered how many Yellows were lurking in the river…it looked prime.
Finally we called it a day and headed home. The Terios struggled a little for power trying to get out but it was nothing than a little run up couldn't solve.
All in all it had been a great day out on the beach, 4x4ing and just enjoying the outdoors. Pity we didn't actually get to fish. Oh well, maybe next weekend…