Cobham Camping
Cobham Camping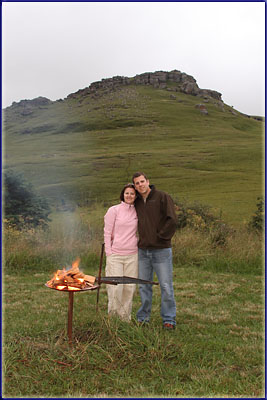 With Monday being a public holiday Sharon and I made a last minute decision to head to Cobham for the long weekend. Why Cobham? Well I wanted to fish a river and Cobham was the only campsite with accommodation available so last minute.
So on Saturday morning Sharon and I packed the final items into the car and headed for Cobham at a leisurely pace. We stopped for a late breakfast at the Pickle Pot where I ran into an old school mate. So after a brief catch-up we ordered breakfast. Surprisingly Sharon went for the scone while I went for egg and bacon…talk about a personality switch.
Breakfast was fantastic and after stocking up on some fudge and something called Mazavaroo we continued on our way.
The campsite was far busier than expected (Cobham is usually rather quiet) but we managed to get a decent site. After quickly setting up camp we headed down to the river to cool off in a very fast flowing Pholela (I've got to start packing tubes).
At around 3:30pm I grabbed my fly stick and headed for the river. Sharon opted to relax in camp rather than trudging behind me in the water. It was probably a wise call in retrospect as I got absolutely pissed on twice. Fishing was tough but I did manage to land one small Rainbow Trout in what was mostly a short, exploratory mission.
Thankfully the rain was intermittent and we managed to braai ourselves a few burgers for dinner. I have just one thing to say, "Mazavaroo cheese burgers ROCK!" And for those of you who don't know what Mazavaroo is (like I didn't), it's a chili, garlic and ginger paste.
Sunday morning started with another short fishing trip up the Pholela. I started higher upstream and again fished a dry fly rather than a nymph. In this short session I managed to pick up another 2 wild Rainbows. Not bad considering just how difficult a river it is to fish.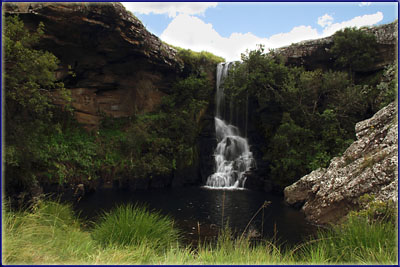 After the fish Sharon and I headed out on an 8km hike. It was a fantastic route running up the smaller Troutbek River, across a plateau, and then down past a small waterfall. We picked the waterfall as a picnic spotted and relaxed there for an hour or so enjoying a few hotdogs and swimming in the frigid water.
When we got back to camp it was just after lunch and we decided to head in Himeville to get some ice. This of course involved a "compulsory" stop at the Himeville Arms for a cold draught. Amazingly the only beer on tap was Hansa, but I wasn't complaining.
Back at camp we chilled away the rest of the afternoon as a storm passed overhead. Again we were lucky and had a long enough break to slap some chicken on the braai.
Sunday night got somewhat exciting when a massive storm passed overhead at around 11pm. I was woken by loud flapping sounds, howling wind and pouring rain. As such I was forced to run around the campsite wearing nothing but my boxers, in the pouring rain, collecting everything than was being blown away.
When we got up on Monday morning we were both rather tired from a disrupted night's sleep. Sharon was also feeling a little sick and so we decided to pack up early and head home. We stopped briefly in Underberg for a quick breakfast and cup of coffee.
By lunch time we were back at home and had fully unpacked. Sharon was still a little under the weather so we spent the rest of the day relaxing in front of the TV. All in all a good, last minute weekend away.