Exploring the Hunter Valley
Exploring the Hunter Valley
With granny leaving Australia in early February, we decided to do a last minute camping trip to the Hunter Valley. After all, who doesn't love a good wine region?
We set off early on Friday afternoon, shortly after I landed back in Aus from San Fransisco. Getting out of Sydney was a nightmare, easily adding an hour to the journey. You really think we'd have worked this out by now.
Despite being a hot day in Sydney, we were surprised when we opened the car doors in Cessnock as it was well over 40 degrees, and it felt like we were stepping into an oven. I immediately upgraded our campsite to an air-conned cabin, and then parked our trailer of camping gear under a nearby tree, hoping it wouldn't catch fire, not to be used again on this trip.
The Hunter Valley Holiday Park is located in the small town of Cessnock, 2 hours north of Sydney (unless of course you leave on a Friday afternoon, when it'll take you over 3 hours). The park is small (as are the campsites themselves – even by Australian standards), but has all the must haves including 2 (semi-shaded) swimming pools, a spa, a jumping pillow, a restaurant, a cafe, a pizza oven, and a camp kitchen. Outside of the camp the region boasts over 150 wineries, a wide selection of restaurants, fromageries, distilleries, and more, meaning there's plenty to do for both the adults and kids.
Our cabin was ageing, but comfortable, had all the essentials, and the air-conditioner was a godsend. It consisted of a living area with a small kitchenette, a couch, a dining room table, and a TV, as well as two bedrooms (one with a double bed, and the other two singles) and a small bathroom. The cabin quickly became our solace from the midday heat,when we weren't in one of the swimming pools, or out exploring.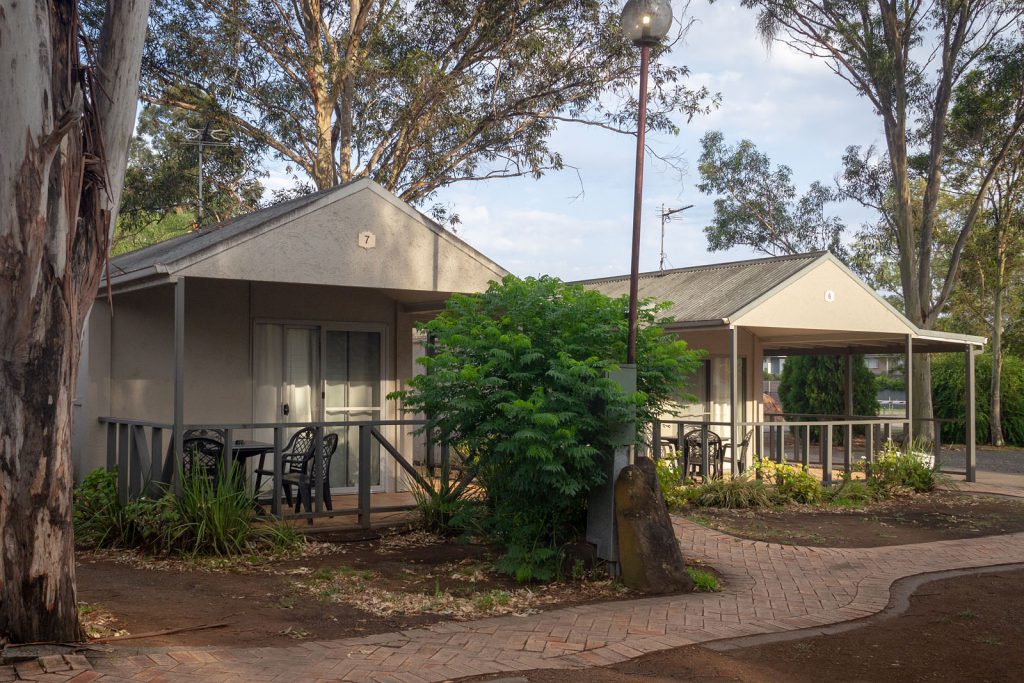 Day one started with a visit to the Hunter Valley Cheese Factory, where we enjoyed some of their cheeses and olives, and spent far too much money. This was followed by a trip to the Hunter Valley Chocolate Company to appease the kid's (and Sharon's) sweet tooth, and my need for a coffee. Both venues were well worth a visit, and I'll definitely head back when I'm next in the area.
We spent midday relaxing back at the park, planning further activities, and swimming in the pool. It was so hot that the pool felt more like a bath than a pool, and the jumping pillow was only usable in the early morning and late afternoon, when it wouldn't blister your feet.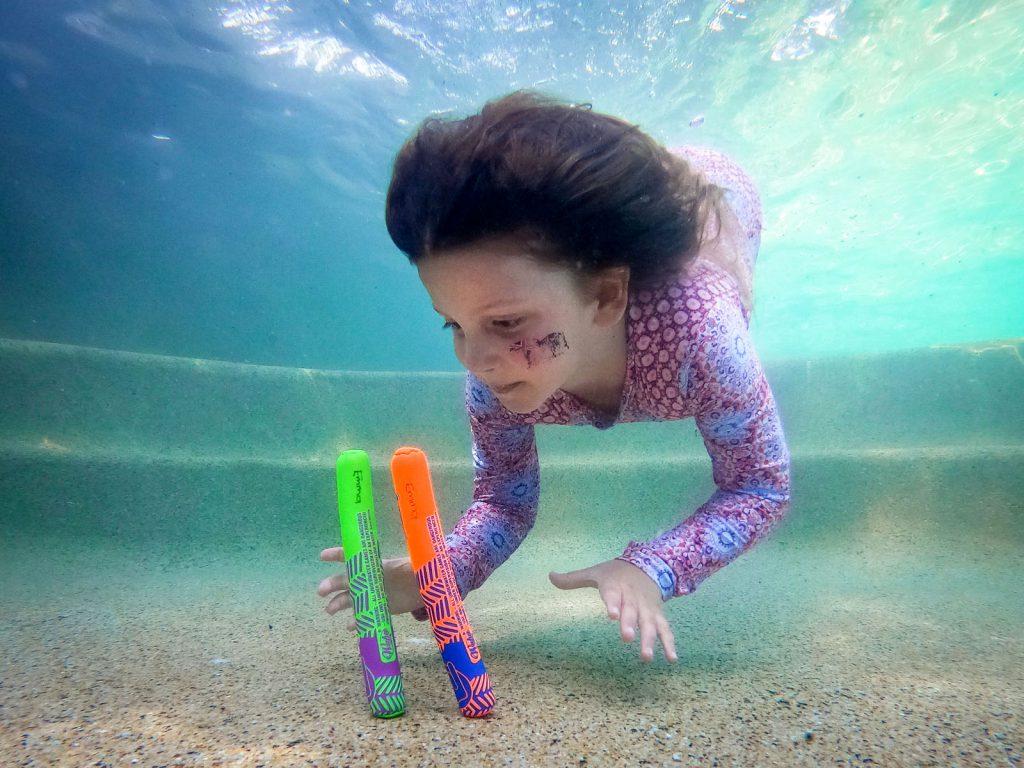 That afternoon we enjoyed our first ever Australia Day (in Australia). The holiday park threw a party, which was a unique experience. Ingenia Lifestyle put up it's local band, the Geriatrics, and organised a free sausage sizzle. All we needed to bring was drinks. We spent the afternoon jamming to some old classics from the Geriatrics while sipping on beer and wine. They ever took a request for "Ring of Fire" from Katie and Emma, who impressed everyone with their dance moves.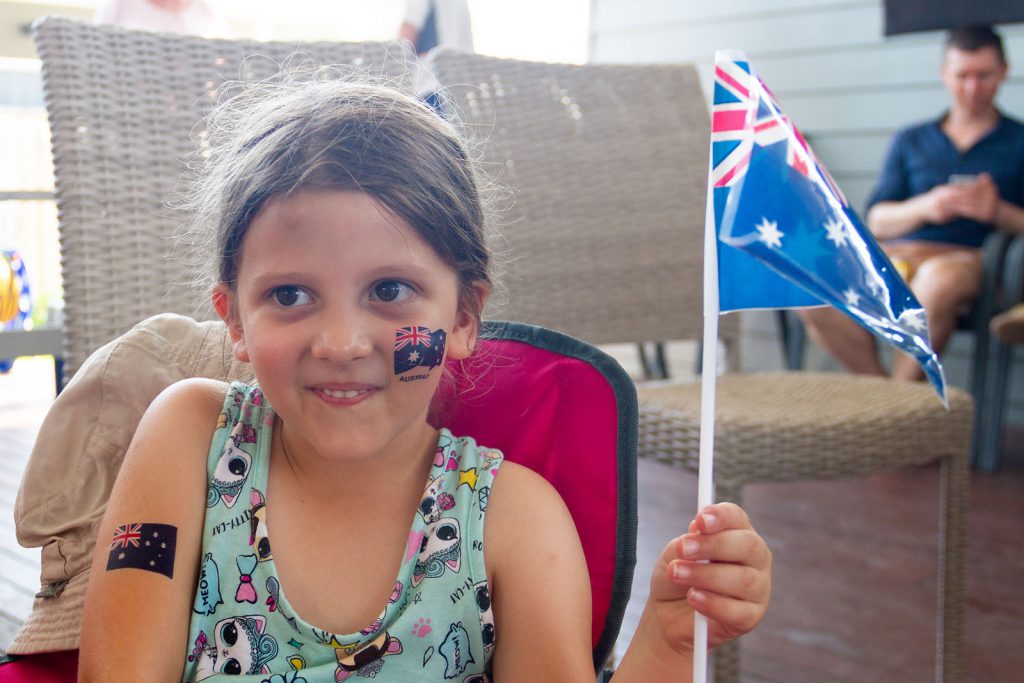 Day two was all about the wine farms. We visited the Hunter's Dream Estate, Mount Pleasant Wines, and Tamburlaine Organic Wines, amongst others. Most of the wine tasting was done by Sharon and my mom, so I have very little to say here. That said, the few sips I had here and there were all spectacular, as were the bottles we bought. I've got to admit it, I'm slowly warming up to this concept of Australian wines.
One of the things that amazed me about the region, was that there were very few visible vineyards in the area. I'm used to the horizon to horizon vineyards of Stellenbosch, back in South Africa, whereas in the Hunter the vineyards appeared to be more for aesthetic appeal than actual wine production.
I was also amazed to see multiple bike tours on the go while we drove the region (in our air conditioned car). It certainly looks like an amazing way to experience the area, but maybe not in the summer months when temperatures sour into the 40s. That said, at least most of the groups were on e-bikes, and not sweating away on their more manual cousins.
We ended the day with a trip to the Hunter Distillery, where we tried some of the local gins, vodkas, and schnapps' (out of test tubes as is the tradition here). Once again we spent far too much money, but it was well worth it. The gins were exquisite, and could easily be drunk neat, and the liqueurs were to die for. The distillery was definitely a highlight of the trip for me, and a place that I'm itching to get back to already.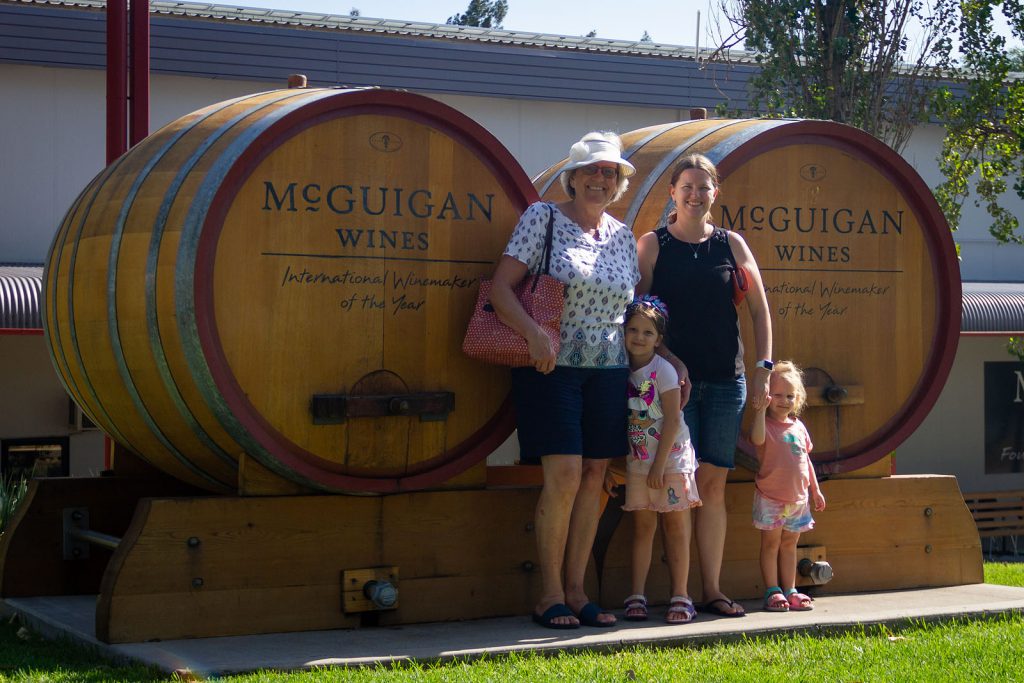 I'll definitely head back to the Hunter Valley, although probably in the cooler months, when it would feel far more like a wine region than a desert. The wine was great, as was the distillery and the fromagerie. And even though the kids were often stuck in the car or at wine farms, they also loved the trip – probably because of the large amount of time we spent in the pool.