Family Fun at Gooderson Monk's Cowl
Family Fun at Gooderson Monk's Cowl
Being the queen of FOMO, my sister made a last minute decision to fly out to South Africa to meet her niece (or perhaps visit her mother, who knows). We therefore decided to treat her to a weekend away, Prior-family style. Sadly my attempt to turn this into a fishing trip failed and we chose Gooderson Monk's Cowl as the venue. On paper (aka the web) they promised a lot including swimming pools, a 9 hole golf course, 4 star accommodation, Berg views, a spa, adventure golf, a restaurant, children play areas, and more.
I took the Friday off and we made a leisurely event of the drive to Monk's Cowl, stopping at a few well known Midlands venues. Our main stop was at Piggly Wiggly where we did a little shopping and dipped a few candles. This proved to be somewhat awkward as Emma's candle turned out a fair bit better than aunty Kerry's.
To be fair, Emma did "help" Kerry with her elephant, while the shop assistant gave Emma a hand. That said, I'm not sure Kerry's attempt at painting her elephant in the hope of salvaging it did it an favours.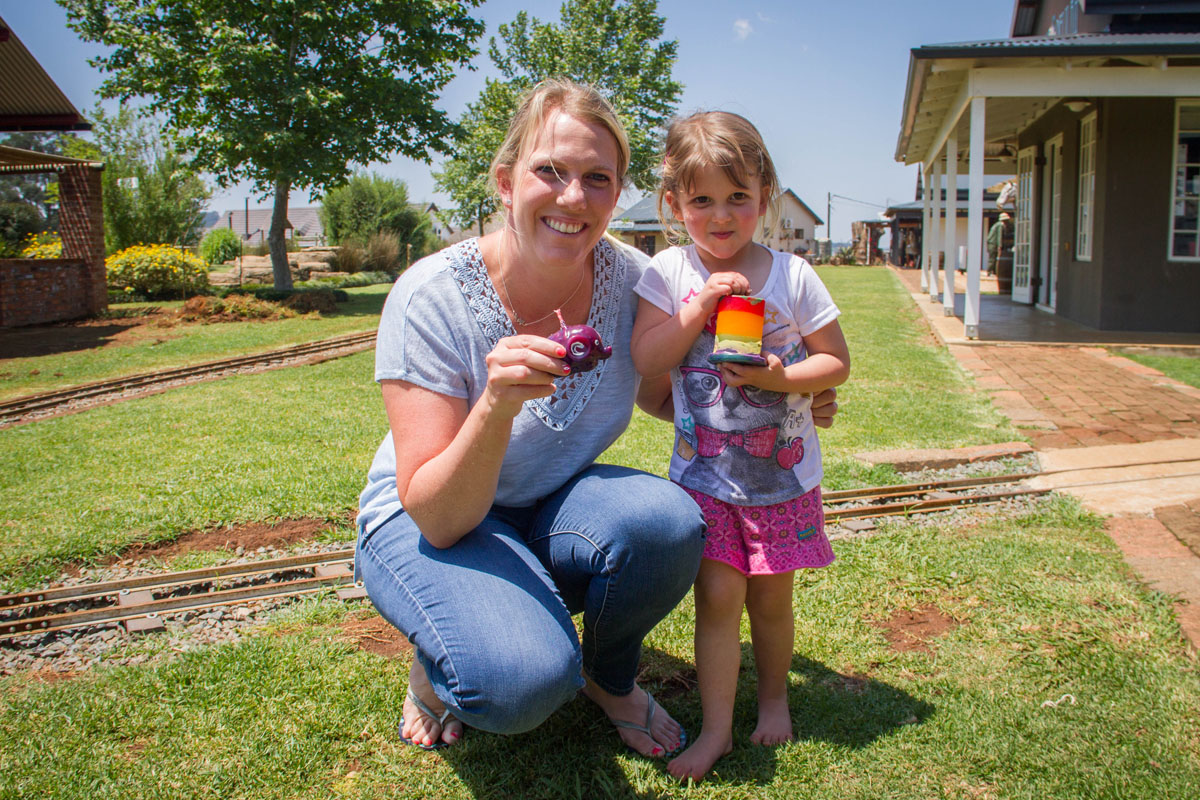 Despite the suspect looking candles we ended up with, we had a great time and then sat down to an early lunch. Again I was vetoed and instead of delicious wood fired pizza we ate at Piggly Wiggly itself. I've eaten there on several occasions and am sadly yet to enjoy a meal. It's not that they don't have good food, as everyone at the tables around me seemed to be loving it, but rather that I don't seem to know how to order.
On this occasion I was going to order a wrap with chicken, avo and basil pesto. Last minute however, Kerry talked me into getting an open faced brown bread sandwich, topped with chicken mayo, bacon, and melted cheddar cheese. Sadly, as good as it sounds, the cheddar cheese was overdone and it ruined the whole meal. Kerry's Salmon salad looked good, but was 90% lettuce, which knocked it down a few pegs. Sharon did do slightly better with her chicken tramezzini, so perhaps that was our only win.
Refusing to end my meal on a negative note, I threw caution to the wind and ordered a slice of baked cheesecake which was absolutely amazing!
From Piggly Wiggly we continued our drive to Monk's Cowl, where we arrived shortly after 2pm. Check in was painless and soon we were in our home for the weekend, which was fantastic. We lucked out and were put in a more isolated chalet amidst the golf course, although we did have a neighbour. It was however far better than the other chalets which were located alongside the road.
Our chalet consisted of a small lounge with 2 sleeper couches and a TV, an open plan kitchen and dining room, and two bedrooms – one of which was en suite. One of the bedrooms had a double bed while the other had two singles. And there was of course a guest bathroom. The chalet also had a balcony with a braai overlooking the golf course and the towering mountains, and was 100 meters from the kiddies play area and the swimming pool.
Being a hot day we headed straight to the kiddie's pool where we swam with Emma. Despite the heat the water was ice cold. This did little to deter our three year old, meaning we all had to get in as well. The pool itself is designed to look like multiple interlinking rock pools, complete with a few waterfalls, a cave, and a slide. We had great fun and it was awesome to see Emma swimming on her own (with armbands of course).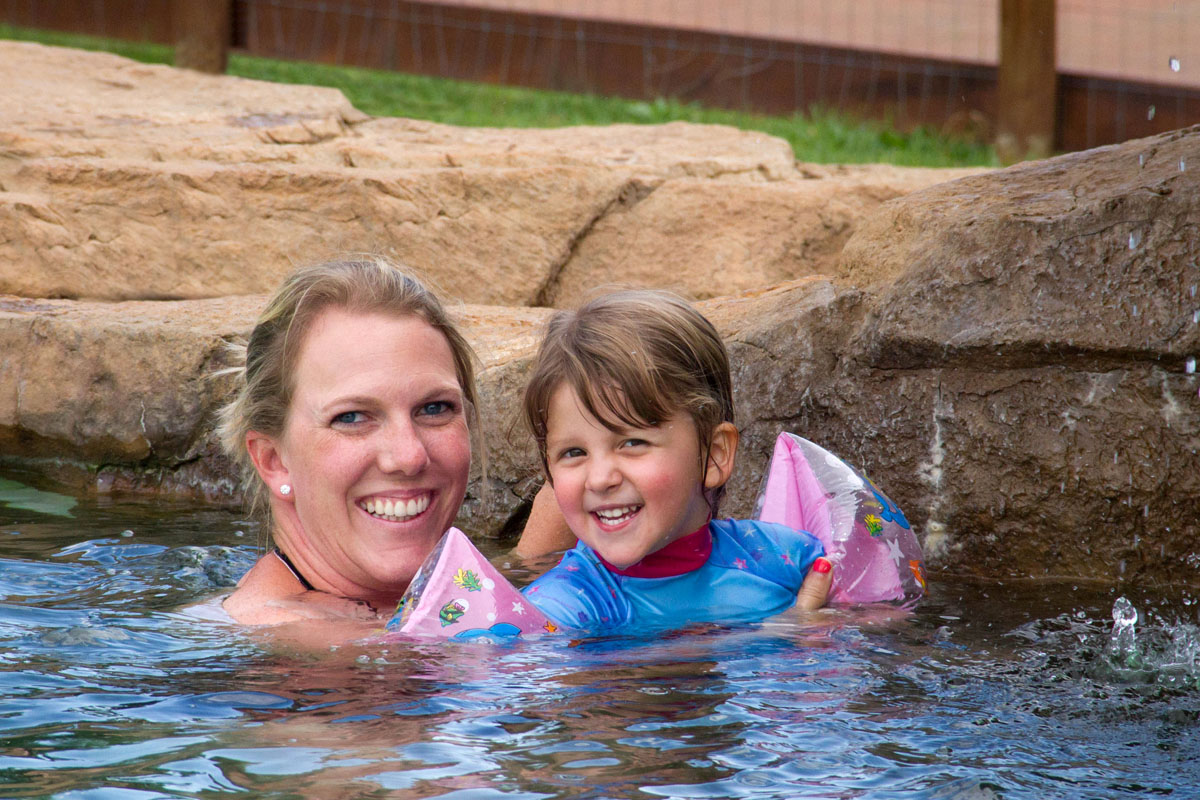 The next day we headed to Falcon Ridge to watch the raptor show. Falcon Ridge is a raptor rehabilitation centre and they do incredible work in returning birds of prey to the wild. They do have some permanent residents, but they are generally injured too badly to ever make a full recovery. The show lasted around an hour and was both incredibly entertaining as well as informative – it must be to have kept Emma still for the full 60 minutes.
I've been to the show a few times and am always impressed. It is worth noting that the birds do change, depending on which birds they are rehabilitating at the time. In this instance we had the privilege of watching them fly a black eagle, fish eagle, several falcons, owls, and a few others.
It was great to see the growth Falcon Ridge have experienced, which is helping both the facility as well as the birds. A good example of this is the pond they've built which they used to demonstrate how a fish eagle hunts. They've also started building some accommodation which should be great in the future. Sadly the prices have also grown and were sitting at R80 per adult at the time of writing. That said, it's well worth the money and I'd definitely recommend it – it is going to a great cause after all.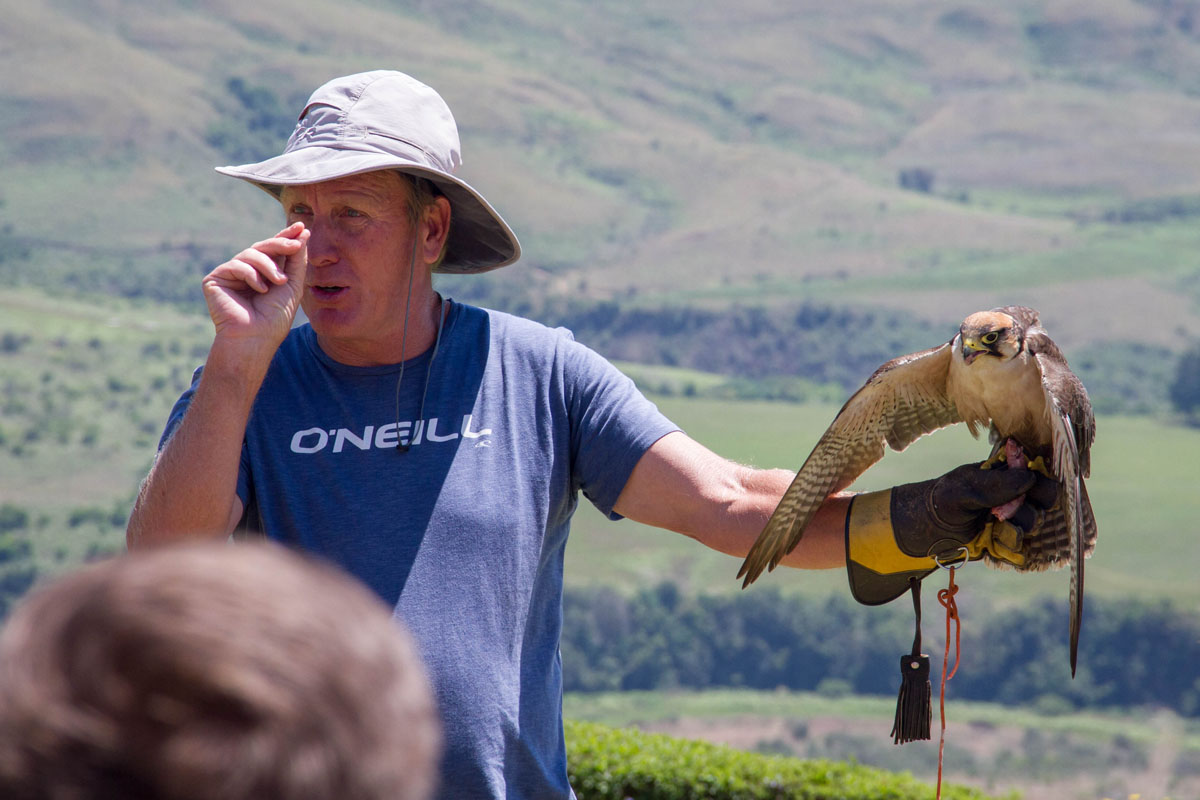 With the bird show done we headed back to the resort for our 1:30pm tee off time on the golf course. Having some free time I did sneak in a quick swim with Emma, which proved to be a somewhat bad decision. The swim itself was great, but Emma had to have one more slide (of course) and as she walked up the rocks she slipped, splitting open her chin. It was tough to assess the damage through all the blood so I carried her back to the cottage.
We'd forgotten to pack our medical kit (parent fail) and only had some cotton wool and a few plasters on hand. After giving it a clean it was obvious that it was a wide cut, but it wasn't very deep. Stitches or no stitches? That was the question. We called the resort manager who brought through his kit and some antiseptic. He was convinced it was fine, but we were less certain. That said we were also unsure as to whether Winterton Hospital was the best place to go. Eventually we decided to clean it, pull the edges together, and tape it as best we could to be reassessed that evening.
Although it was just Kerry and I playing golf, Sharon and Emma were meant to join us in the cart. Emma was however tired from all the drama and so we left her in front of the TV to relax (while mom tried to sneak in a nap).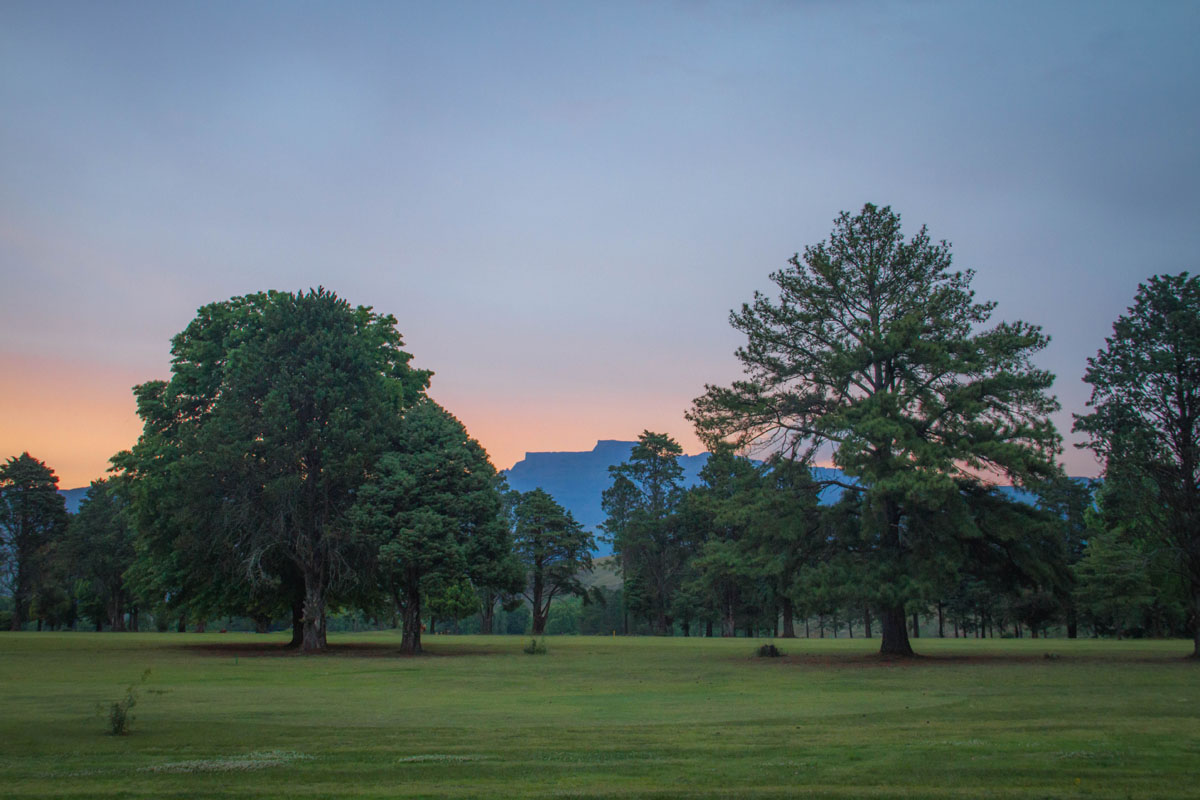 Kerry and I were soon on the first tee and rearing to go. Kerry's first drive was decent, drawing slightly left into the rough. Mine was less ideal, being a classic head up, and not the greatest start to my round. Thankfully however, soon we both got into the swing of things and I managed to par the second hole thanks to a good chip and a one putt.
When we passed our chalet we stopped to pick up a cold beer – um – I mean Emma. She was however fast asleep and so we carried on to the next hole.
The nine hole course is immensely pleasant and was a great (forgiving) course for a first round back. The fairways are wide and the rough is short and well maintained, meaning you've usually got a good approach, even if you've missed the fairway. The greens are small but generally open with very few bunkers protecting them. And then of course there's the fact that you're playing under the looming mountains of the Drakensberg.
At the end of it all I shot a 47 which I was happy with. Truth be told, I was saved by 3 pars and a missed birdie, otherwise I was on track for a 50. Amazingly I enjoyed the round and lost only 1 ball, which is not usually the case for a first round back.
With the golf over we drove the cart back to our chalet where I dropped off Kerry and picked up Sharon and Emma. We then drove the course again, giving Emma a chance on a few of the greens with her new golf set. That said, all she really wanted to do through was to drive the "Jeep" (as she called it), so that's what we did.
The plan was to then watch the Currie Cup final but Emma had other ideas. So instead we headed back to the kiddies play area for some fun on the swings, slides and trampolines. I'm not sure this was the best idea as once we got back to the chalet I took off Emma's chin plasters to check her cut, and there was a lot of blood. It was now too late to drive to the hospital and so we cleaned it again, and closed it with some new plasters. Fingers crossed.
The next morning we packed up slowly after another great cooked breakfast. We then meandered home stopping first at Thokozisa for a little shopping. This was followed by a stop at the Waffle Hut where Kerry taught Sharon and I a lesson on the adventure golf course. This was followed by a fantastic waffle and cup of coffee.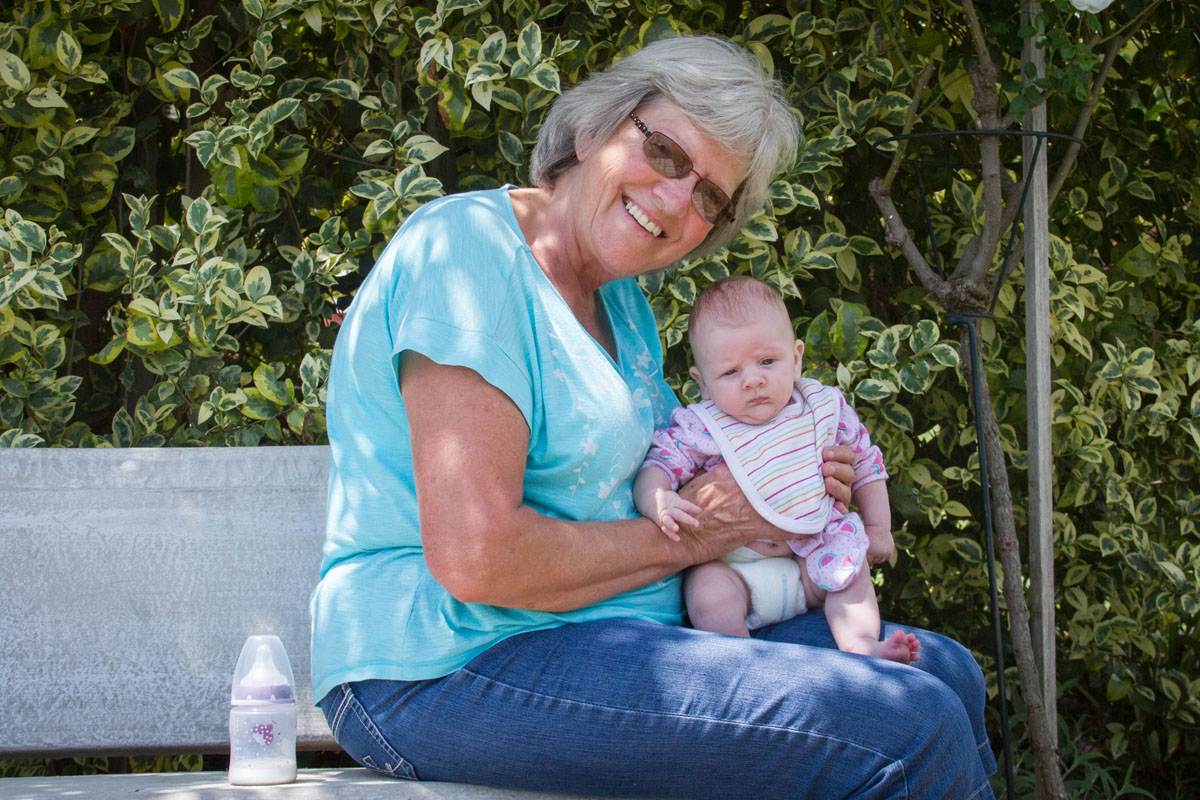 At this point the holiday should have been over, but sadly there was one thing left to do. Instead of going straight home we headed to the emergency room at Hillcrest Hospital to have Emma's chin checked. The doc said that if we left it it would heal, however there would be a big scar. He therefore suggested that he clean it and close it. Best case he could glue it, worst case he would need to stitch. It all depended on whether he could align the edges of the cut correctly.
The process started by him numbing the area with a cream to allow him to clean and mobilise the cut. Sadly after 30 minutes of trying (to align the edges) he was no closer to succeeding, and as such we were much closer to needing to stitch. This was mostly due to us having waited 24 hours, thus allowing the gash time to start healing. He therefore moved onto phase 2. This meant numbing the area with injections so that he could reopen the sore by removing the areas which had started to heal out of place.
This was a less than pleasant experience and began with him telling us we'd have to hold Emma down, and that if she started screaming he'd carry on as he needed to complete the procedure as quickly as possible. We wrapped Emma in a blanket to stop her arms from flailing around, and then we began.
Up until now Emma had been really brave, but once he started to inject she began screaming and crying. The most heartbreaking moment was when Emma looked up at me through teary eyes and said, "help me daddy."
Thankfully the doctor was incredibly efficient and complete the procedure exceptionally quickly. Emma calmed down and the doctor managed to properly clean out and reopen the wound. It took another 30 minutes but he finally got it lined up beautifully and we managed to glue the wound rather than stitch it. By the time we got home Emma was already back to her normal self. Despite having waited 24 hours to get Emma's cut looked at, I was so impressed with the doctor's work that I was glad we went to him rather than Winterton. A happy ending to a great weekend with mostly ups and one down.