Fly Fishing In A Cast
Fly Fishing In A Cast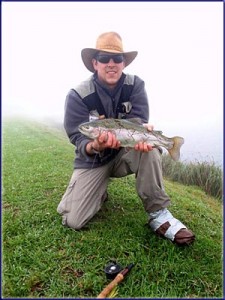 The weekend started with a bang for me as I headed for my first fishing trip in months. I headed up early on the Saturday morning only to discover I'd left my gate key at the house. Luckily for me Western was joining me a few hours later, so I gave him a call and he brought the key with him. Sadly this meant I missed out on 3 hours in the water, but hey, anything was better than nothing.
When he finally arrived with the key we were onto the water quickly. It was a cold and misty morning, but I quickly forgot that when I landed a decent rainbow trout on my third cast. Sadly it was all downhill from there and we didn't manage another fish all day. Having said that, who can complain about being out in the quasi-mountains with a good mate, a fishing rod, and a few beers.
Just as we were packing away and getting ready to head home the mist lifted. This gave Western the opportunity to whip out his 7D and snap away for a short while. I eagerly await the results.
I got home from Colmonell at around 6pm and after a quick shower headed straight for Briggsy's place for what turned into an evening of beers and board games.