Goodbye South Africa, and Hello Australia!
Goodbye South Africa, and Hello Australia!
This post doesn't fall in line with my usual blog entries, and is probably of little interest to anyone other than my family and closest friends. That said, being such a monumental event in my family's life, it seems amiss to not have at least a small mention of it on my website.
On the morning of the 18th February 2018, Sharon and I made our final trip to our family home in Plantations. It was partially to collect the last few bits an pieces we hadn't sold (or shipped), and partially to say our final goodbyes to our South African home. It was an emotional visit to say the least!
Knowing we had a long flight ahead of us I took the opportunity to stretch my legs by jogging back to my mom's house through some of the local bush.
After a rushed last minute pack, which left my mom's house in a state of disarray, a family friend picked us up, and drove us and our mountain of luggage to uShaka International.
The airport goodbyes were easier than expected, predominantly because my mom was flying out to join us the following day. We'd also already said our goodbyes to Sharon's family, who were unable to join us at the airport from the South Coast.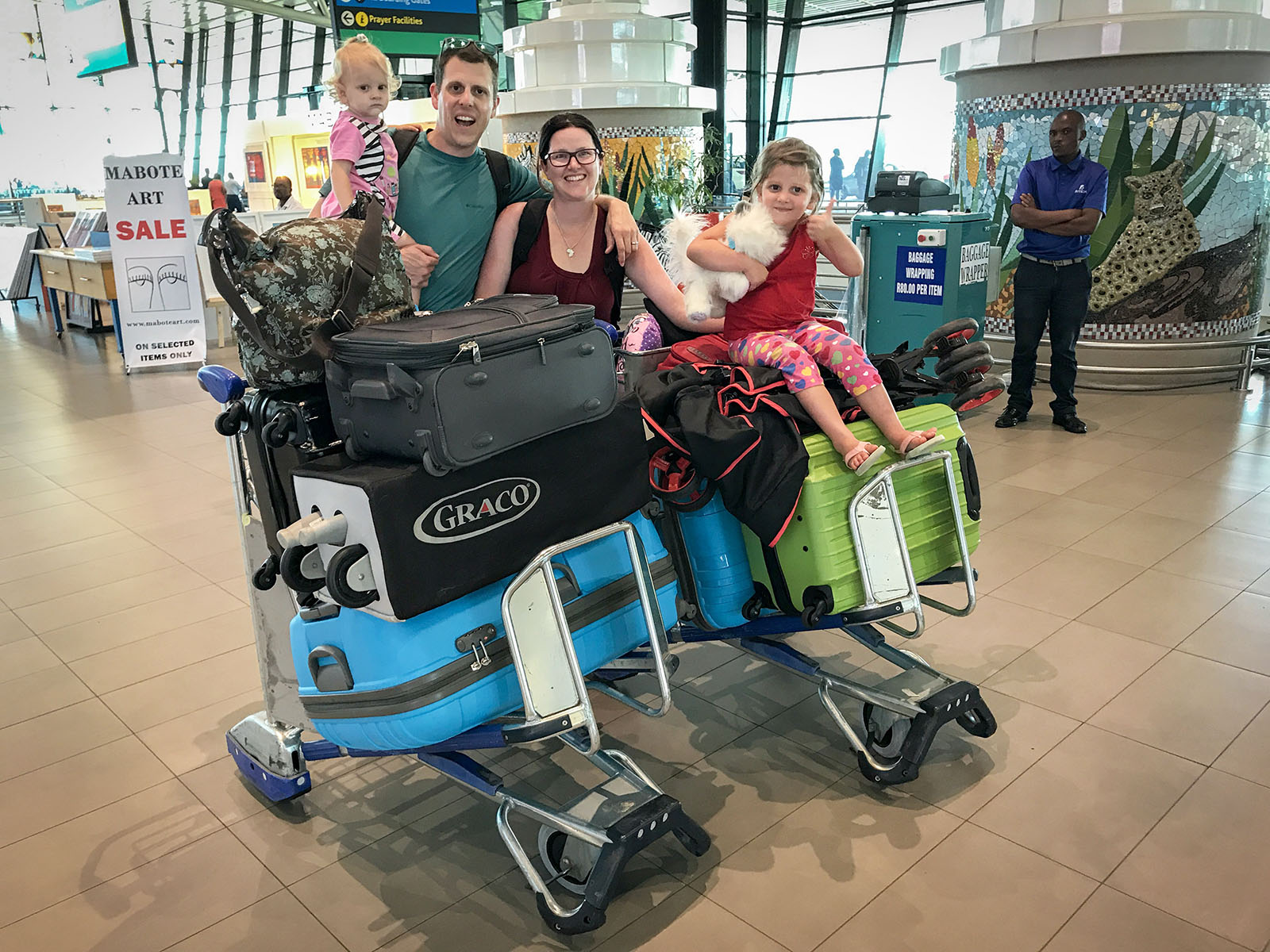 After a quick repacking of bags at the check-in counter, since one individual bag was over 30kgs, we headed through security and boarded our hour long flight to Joburg.
Once we'd cleared customs in Joburg we made 2 key purchases in duty free. The first was bucketful of South African to Australian adapter plugs, and the second was some African themed, warm clothing for the kids to wear on the flight.
Thankfully our journey from Durban (Joburg) to Sydney was far less painful than our previous experience of travelling to Brisbane. This was predominantly thanks to our chosen route, which flew directly from Joburg to Sydney, rather than via Dubai. As a result our door to door travel time was cut down from 28 hours to around 16 hours. Our longest flight was also reduced from 14 hours to 12 hours. And, as an added bonus, the kids slept for most of the flight.
Ironically our only real hiccups occurred in Sydney. Qantas managed to lose Emma's suitcase which, thanks to our rushed repacking in Durban, contained my prize possession of 2 jars of Bovril and most of Emma's clothes.
After reporting the lost bag we cleared customs and immigration (far more easily than in Brisbane) and headed out into the main airport building, expecting a transfer to be waiting for us. Awkwardly this was not the case, and all that greeted us was the sound of crickets.
Sharon sprung into action and got us onto a shared shuttle bus to the Meriton. It was a little tricky considering the number of bags we were carrying, but we someone managed to squeeze all of our luggage into the boot, barely crushing the other passenger's bags.
Thirty minutes later we arrived at the Meriton Suites on Pitt Street. After off loading our luggage onto the pavement, Sharon waited with the kids and bags while I tried to work out how to carry our abundance of luggage inside without leaving either kids or bags unattended.
The check in process was quick and painless, and before we knew it we exploring in our 42nd floor suite, which was absolutely incredible. A modern, 3 bedroom apartment (including a walk in closet), with 2 bathrooms, a lounge come dining room, small kitchenette, laundry, and a balcony with views of the Sydney city centre, Town Hall, the Queen Victoria Building, the Sydney Harbour Bridge and Darling Harbour.

We took a few moments to enjoy the occasion, soaking it all in, and then headed out to purchase some dinner. Perhaps it was my frugal nature, or the fact that we were still converting to Rands, but we decided to head to Woolworths rather than ordering room service or grabbing a quick take away.
Our closest Woolworths was located at Town Hall Station, which meant little to me until we stepped into it. As it turns out, visiting a grocery store located at one of the Sydney's busiest stations, at peak hour, on a Monday, is CHAOTIC! Gone were the wide open spaces and slow pace of Brisbane's Woolworths. Instead they were replaced with cramped aisles, filled with manic Sydneysiders doing their last minute shopping on route home. And, being in a station, the store was spread over 4 floors instead of just one, making navigation with a pram near impossible.
Almost immediately Katie and I lost Sharon and Emma, and spent the next 10 minutes trying to find them as we illegally navigated the multiple escalators with a pram (unable to find an elevator). When we eventually found them we were both in a mild state of shell shock, stressing about what would happen if we ever lost Emma in this swarm of people like this.
With a few pizzas (and other essentials) in our basket, we headed through the self checkout, and walked the 200 meters back to our suite.
After a little unpacking, and a few slices of pizza, we made the grim discovery that we had no toiletries (as they were packed in Emma's lost suitcase). Thankfully I'd picked up a few spare toothbrushes on the aeroplane, and the hotel provided the rest.
Fed and clean we headed to bed. Amazingly we all fell asleep relatively easily, although the kids didn't sleep particularly well.
It had been a long, exciting journey. And, for me at least, work began in the morning.
Goodbye South Africa…and hello Australia…