Nitida Wines, Durbanville
Nitida Wines, Durbanville
During a recent trip to Cape Town we visited Nitida wine farm, Durbanville, for a quiet lunch with some friends and family. During the build up to our Cape visit we'd suggested that one of the activities we'd like to do was a lunch at a wine farm. Cassia was kind enough to put in the leg work and chose the venue for us, for two reasons. Firstly it was located in Durbanville, closer to town than the Stellenbosch and Paarl routes. And secondly it appeared to be one of the more child friendly wine farms.
Nitida offers two restaurants on site, Cassia and Tables at Nitida. We chose Tables at Nitida, their cafe, due to it's relaxed setting and vibes. They describe the small, mostly outdoor, venue as being "founded on the idea that food should be natural, healthy and delicious. The Café is a remarkable eatery that caters for those who adore food and care about their environment." I'm glad to say that this statement certainly held true.
The venue was extremely relaxed, with lots of families enjoying the farm and the sun while their children played on the lawn, jungle gym, and swings. I was also happy to find a box of mega blocks for my daughter which she played with next to the table while we ate. Despite the relaxed demeanor service was excellent, even though we occupied a table of 12 adults plus children. Our waiter was fast, friendly and efficient. He always boasted a smile and was quick with a joke. He also read the table well and we were never without wine. No complaints there.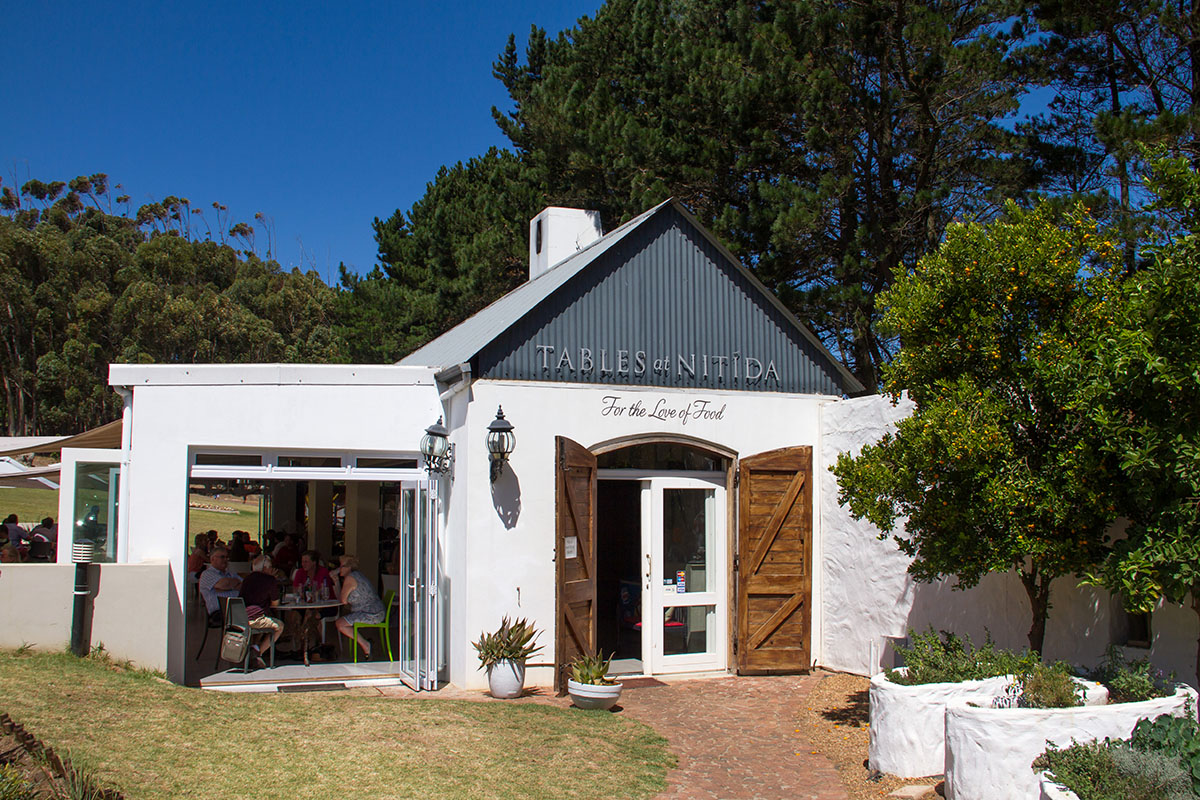 The menu was short, but offered something for everyone. And despite the limited number of options I battled to make a choice since everything sounded excellent. For starters we ordered a few crispy flatbread style pizzas. These were topped with tea smoked chicken, rocket, toasted pecan nuts, pickled cucumber and a balsamic reduction. Amazing! And definitely something I'll be trying at home. In fact they were so good that my dad ordered another as his main course.
For mains I ordered the BBQ pulled pork and caramelized apple ciabatta. The toasted ciabatta with red cabbage, horseradish mayo, Colby cheddar, tomato and rocket was once again incredible. The meat was tender, the ciabatta crispy, and the toppings inspired. The side of chips was also fantastic. Sharon ordered the chicken waffle which I established was equally as good when I snuck a bite. Unfortunately I can't remember exactly it's magic ingredients were.
In terms of wine we focused our attention on the Semillon. I'm not going to claim to know wines but it's crisp, refreshing flavours paired perfectly with our light meal. Before leaving we also sampled a glass or two of the 2015 Cabernet Sauvignon which was equally as good.
Their second restaurant, Cassia, is described by Nitida as follows, "Named Cassia after the bold and intriguing spice also known as Asian cinnamon. Here simplicity reigns supreme, and so do seasonal ingredients. The pared-down approach says 'let's eat, not fuss'. All this can be accompanied by one of Nitida's award winning wines in a unique setting of Cape vernacular architecture set over the farm dam with sweeping views across the Durbanville vineyards. Allow yourself to relax and feel inspired by the marvelous textures of this experience of food, wine and environment."
Nitida also offer wine tasting on site, which we sadly didn't get to experience. There is also a small shop where we bought a few of their fine wines to accompany us back to Durban as gifts.
In summary Nitida was a great, child-friendly, venue close to Cape Town. The setting was picturesque, the food was top-class, and the wine didn't disappoint. With so many farms to choose from, I'd still recommend Nitida as a relaxed lunch time venue.