Squidding 101 – Catch and Cook
Squidding 101 – Catch and Cook
Of late I've been spending far too much time watching YouTube and, as a result, got an itch to catch and cook some squid from the Sydney Harbour.
Before hitting the water I visited BCF and purchased a lightweight rod (which I could use for squidding as well as light plastics), along with a handful of squid jigs. I opted for the 2-5kg 7ft Shimano Sienna HD spinning combo, spooled with 10lb braid.
My mini adventure started off with me loading the yak onto the ute at 5:30am. I then cautiously awoke my wife, armed with a cup of coffee to minimise the risk of injury, before getting the girls into their dressing gowns. Since the family needed the car for the day, they unfortunately had to endure my early morning start, and drop me off at the boat ramp.
I was on the water by 7am, slightly later than planned, after battling to find a servo with ice in stock. The wind was scheduled to pick up at around 11am, so I knew I had limited time to work this squidding thing out. I'd found some good info online regarding strategies and habitat, but hadn't managed to get anyone to give up their hard earned honey holes, so it was all up to me!
My new fish finder proved invaluable in locating the structure, specifically the kelp beds which squid are known to congregate around. That said, being on a kayak, it still took me close to 3 hours to find a decent spot. A little more time with Google Maps may have helped shorten this down.
I started off the day throwing brightly coloured jigs, letting them sink down to a meter or so above the kelp, and then twitching them before starting a slow retrieve. This proved unsuccessful, so I switched to a larger, more natural coloured jig, and repeated the process. This turned out to be a good call, as the change produced immediate results, and I proudly landed my first ever southern calamari on my first cast with the new jig. Having found the right lure and spot, I landed several more squid over the next 20 minutes, keeping 2 of them for a late lunch.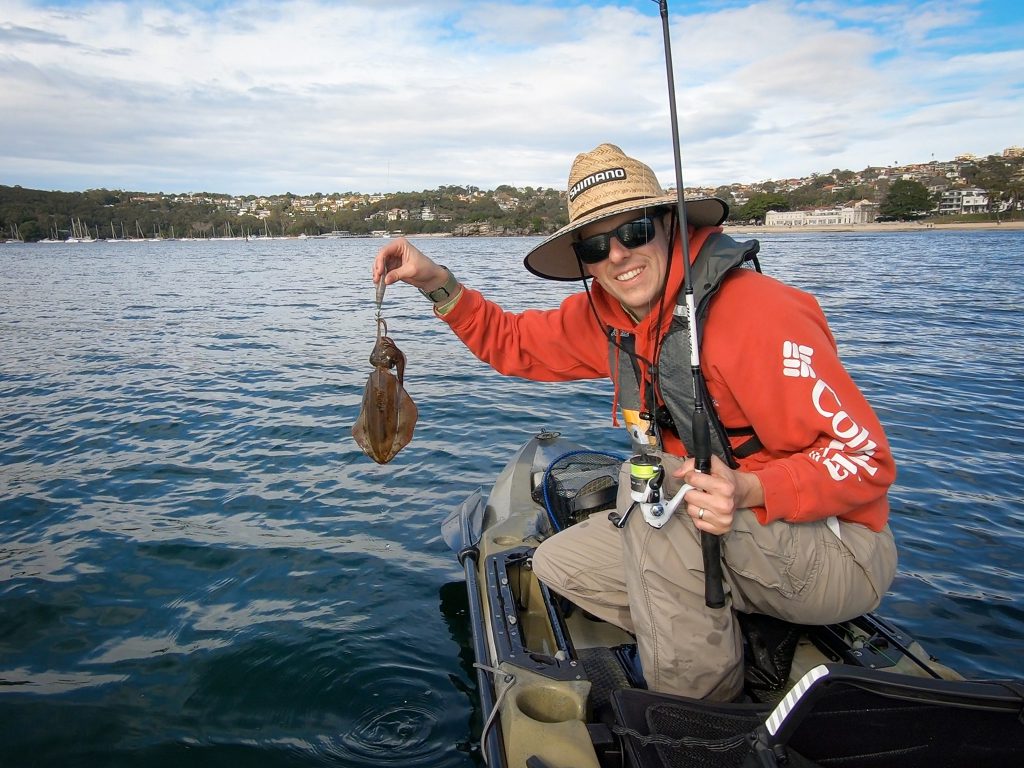 With my esky "full" of squid, I headed off to flick a fly in the shallows while I waited for my family to return. Sadly, as I rounded the headland, I was hit by a strong westerly wind and a large chop on the water. This destroyed any chance of me wetting a fly, so I changed tactics and flicked a soft plastic around in the shallows for the next 30 minutes, sadly without so much as a bump.
Back at home I got straight down to cleaning the squid. Although it's a relatively simple process, there's definitely some skill involved and it requires some amount of practice. Being new to this I managed to puncture the ink sacks in both of my calamari, which resulted in me having to do a lot more cleaning of both the squid, as well as the wife's kitchen.
With the squid cleaned and cut into rings, I battered the calamari using a combination of flour, cornflour, salt, pepper, and cayenne pepper. I then threw it into hot oil, and shallow fried it for around 2 minutes, before removing the rings and placing them onto a paper towel to absorb any excess oil.
The end result – golden, crispy, perfection! In fact, they were so good that my wife even scoffed them down, and she's not the biggest lover of seafood. Trip 1 was a success, so there'll likely be many more similar trips in the future.