The Tough Man Series
The Tough Man Series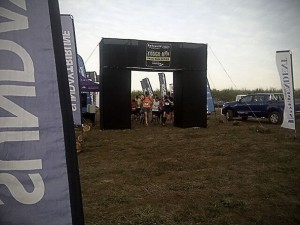 Another weekend and another race; this time a trail run starting at Freedom Trails, and running down into Giba Gorge and back out. It was called the Tough Man Series and certainly promised to live up to it's name.
Living less than a kilometer from the start I arrived bright and early, only to discover I was the second car to arrive. I registered in the dark and collected my race pack. Thankfully it contained some fantastic items including a few magazines which gave me something to read while I waited for the start. Fires had been lit and soon people began gathering around them for warmth on a chilly winters morning.
The numbers were looking slim so I was glad when a mate arrived and we lined up at the start together. The main (16km) event had only 20 entrants which was sure to make things interesting as coming last is not something I aspire to.
The first 7kms of the route was fantastic. We headed straight for Giba Gorge and within a kilometer were running through thick, indigenous forests. At the 5km mark we stood at the base of a mammoth, single drop waterfall, and then a kilometer later we found a second. So far the route had been entirely downhill, but not for long.
After losing the trail near the second waterfall, we eventually got back on track and ran along the base of cliffs before climbing a chain ladder hanging from a lower section. And then the hill climbing began. Up, up and more up to the 7km mark where we popped back out at Freedom Trails. By this stage I was incredibly thankful for my Columbia Omni-Freeze shirt which was doing an incredible job of keeping me cool.
This led to the second half of the race which was relatively flat and was run almost entirely through cane fields. It was far less exciting but the initial 7kms of trail had made it all worth it.
The finish line eventually popper into site well before 16kms. Apparently they'd cut out part of the middle section since they'd decided the original course was a little too tough.
My family were waiting for me at the finish so we spent the next couple of hours in the playground letting our daughter enjoy the outdoors and run amok. Thanks B-Active for a great day out. I'll be back for the next event.