Wild Berry And Giants Castle
Wild Berry And Giants Castle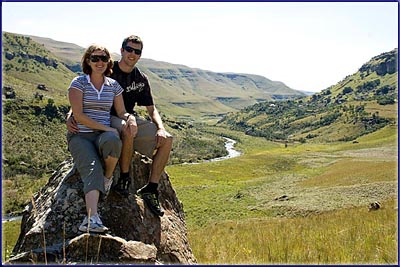 Finally Friday morning arrived and we teamed up with my dad and Cassia, and headed for the berg. We arrived prior to check in, so we headed for the Midlands Meander where we bought some cheese and wine, and then had a great lunch at the Lavender Trout, which I would highly recommend.
Sadly we couldn't get accomodation at Giant's Castle for Friday night, so we stayed about 50kms away at a guest house called Wild Berry. It was a great little place to spend a night, but I wouldn't stay any longer than that, since there's not much to do in the area. The best part of Wild Berry, was that it came with a games room. So after dinner that evening we all enjoyed a few brandy and cokes, while playing pool and darts. I'm not sure if it had anything to do with the wine and brandy…but Sharon took what was to be the first of the holiday's falls. So if anyone sees a bruise on her bum, it wasn't me…and what the hell are you doing looking at her bum!! Grrr!!
The next morning we took a leisurely drive up to Giant's Castle where we were greated by the worlds worste receptionist. This ended up working in our favour, since another staff member, noticing her attitude, gave us the best 2 chalets in the park. YeeHaa! Thanks wench.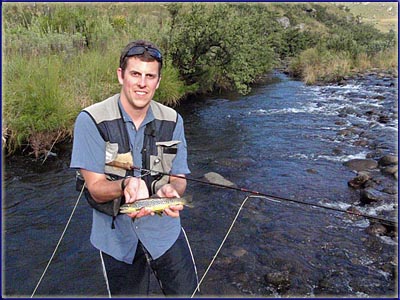 Once again we were too early to check in, so we had a drink on the deck, and then hiked to the bushman paintings. It was interesting to compare them to those at Kamberg. There are a lot more of them, and the talk, and area, were better prepared, but they don't have the same diversity as Kamberg.
While checking into our chalets dad had the second fall of the holiday. It was by far the most daring, since he was carrying his camera, and a very expensive lens. This meant he flailed around acrobatically, trying not to drop the camera, and ended up tangled in the stairs. This was most entertaining.
That evening we pulled out dad's new scope, and we all did some star gazing. All in all another great day.
Sunday was to be the day of fishing. Since I'm not going to type this all out twice, you can read about it in my fly fishing blog in detail. The long and short of it is that I landed 16 brown trout, and dad got about the same, after sorting out some initial equipment failure. It was a great day, other than my two falls, dad's one fall, and another for Sharon. Sadly in my one fall I damaged my real, but it looks fixable…we'll see when we get home.
Sadly all good things come to an end, and at 6:30am dad knocked on my window to say cheers. Cassia and him had to leave for the airport. Sharon and I spent the morning relaxing around the chalet, and packing up, before heading home at about 10:30. We (okay, I) got lucky and SA was playing the 4th one dayer against Australia, so I had something to listed to on the drive home.