A Few Nights in Seattle
A Few Nights in Seattle
I was recently privileged to visit Seattle on business. It was a quick in and out trip, landing in the USA on Sunday morning, and flying out on Thursday.
Flying out of Sydney and crossing the IDL (International Date Line) was a whole new experience. It felt distinctly strange to take off from Sydney at 9am on Sunday morning, and then to land in Los Angeles 3 hours before taking off (well, on paper anyway).
The finishings on the Qantas A380 were not of the same calibre as those on the Emirates A380s. The entertainment system's hardware was older, with a more limited selection of content. The seats appeared older, and didn't have the same bells and whistles in terms of plug points (for laptops) and phone chargers. That said, I preferred Qantas' food and service, and the seats were just as comfortable despite their appearance. 
I only had 2 hours in Los Angeles which, due to the size of the airport, was a tough ask. I dashed through the badly labelled tunnels between the international terminal and terminal 6, where Alaska Air was located, making it just in time for my flight to Seattle.
My first impression of Seattle (from the inside of an Uber, en-route to my hotel) was a good one. We were greeted by blue skies and warm weather. And amazingly, despite being summer, there were still scatterings of snow on the peaks of the mountains in Olympic National Park.
I stayed in the Mayflower Park Hotel, which I have mixed feelings about. The hotel was built in 1927, and the decor was designed to maintain that feeling, with large crystal chandeliers, and entirely too much floral print. That said, it was beautifully maintained, and did have a certain quaintness to it, which was a pleasant break from the cookie cutter hotels I'm used to. Other than the decor, the main downside for me was that there was no gym or pool onsite, which is a must for me while travelling, and a great way to get over jet lag.
As I love to do (and because there was no gym), I instantly took to the streets of Seattle in my running shoes, ready to explore a few of the famous landmarks. I planned a route that ran through Denny Park, past the Space Needle and the Pacific Science Centre, and then down to Myrtle Edwards Park at Elliot Bay. I then ran the Elliot Bay Trail, through the Olympic Sculpture Park, to the Waterfront Park and the Seattle Great Wheel, before heading back to the hotel through the Pike Place Market.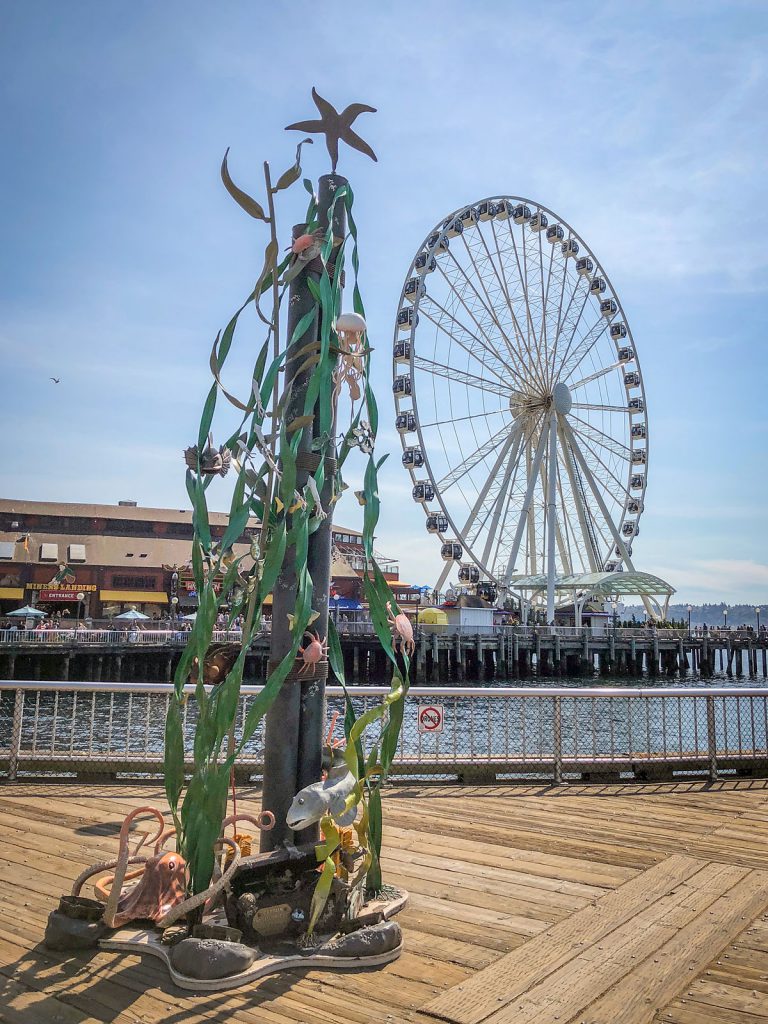 Having left my diet (I mean lifestyle) back in Sydney, I convinced my colleagues to join me for dinner at Belltown Pizza. I was hoping for an epic American pizza – the type you see in movies with massively oversized, floppy slices. Unfortunately, this was not what we received, as I quickly realised that this is a New York phenomenon. That said, the pizza was large and delicious, and the beers ice cold, which was all we really needed.
The weather in Seattle was amazing for my entire visit, a far cry from the gloomy, rainy city I believed Seattle to be. Apparently the summer weather is Seattle's best kept secret, and I can see why. In fact, the weather was so good that we even spent one afternoon jumping off Lake Union Park Bridge into the warm waters of Lake Union (as did many others).
One of the highlights of my trip was exploring the Amazon Spheres. The Spheres were opened in January 2018, and include 40,000 plants from the cloud forest regions of over 30 countries. They were built to provide Amazon employees with a place to both relax and work, and drive the innovative thinking Amazon is famous for. Inside the domes the walkways snake through various habitats, over water, and past living walls. It was impressive to say the least.
We took the opportunity to eat our lunch in the Spheres, after purchasing it at Amazon Go – a fully automated shop with no cashiers. You simply walk in, pick up your food/groceries, and then walk out, only to be billed via credit card shortly after leaving the store. Another impressive feat.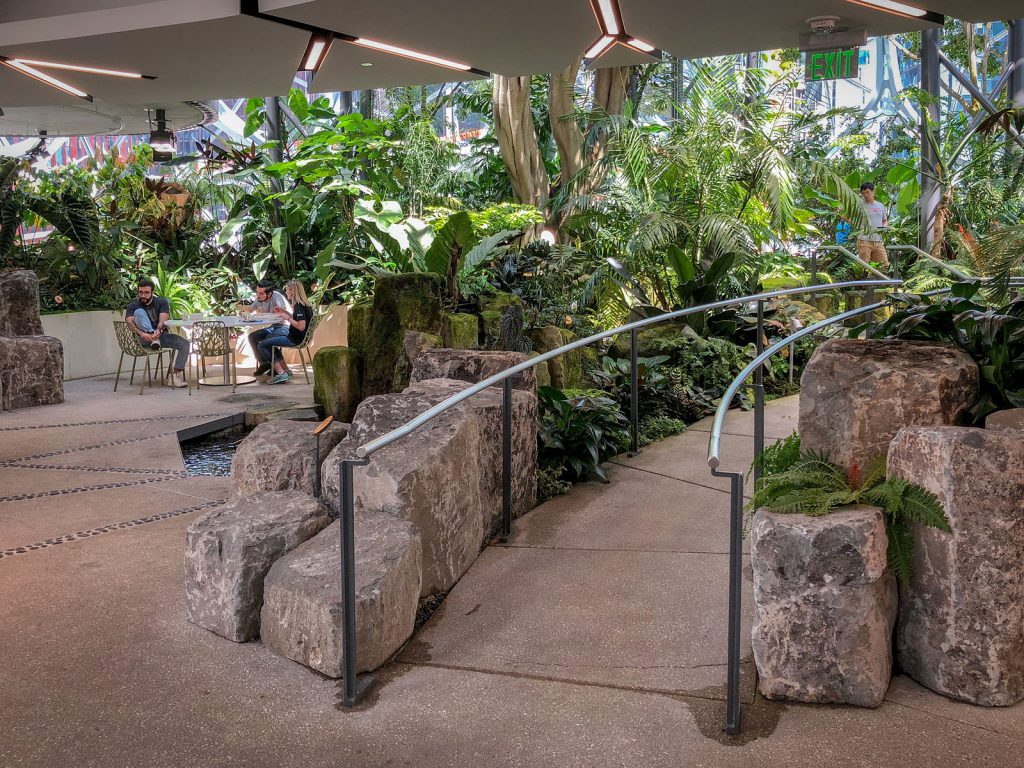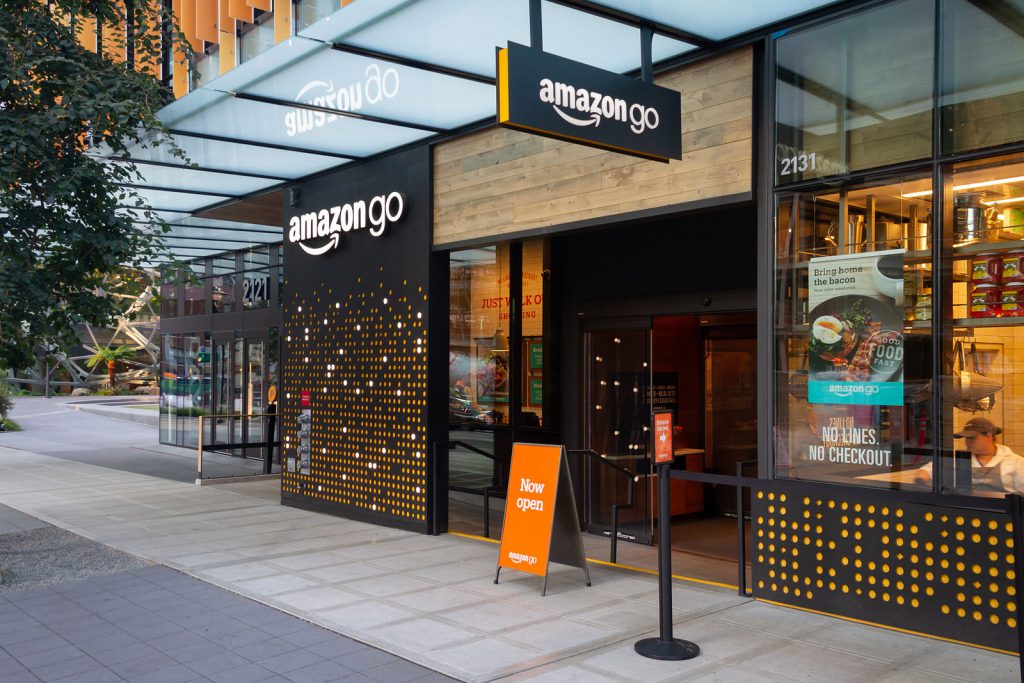 The streets of Seattle were interesting and caught me a little off guard. While they were completely safe (in most areas), there were a fair number of unique characters roaming them day and night – intriguing to say the least.
Being on a business trip, most of my meals were eaten in restaurants. I got to experience everything from Radiator Whisky, which served incredible pork shank in a unique steam punk setting, to dry rub smoked chicken wings at the Cask and Trotter, and burgers at the Brave Horse Tavern, while playing shuffleboard. All of the food fantastic, and portion sizes were large.
I also had the privilege of catching up with Russell, an old mate who I hadn't seen in over 10 years, over a few beers. It was great to 'talk kak' with a fellow South African, and reminisce over our school days back in Durban. There's something special about spending time with people from a common background.
On my last evening I was invited for a BBQ at a colleagues house in the suburbs. Leaving the city turned out to be more of a treat than I expected, as the suburbs were stunning. I can certainly see why people chose to live in Seattle. As for the BBQ, it rivalled a South African braai both in terms of quality and quantity (don't kill me Saffas). It's been a while since I've seen such a large pile of meat left over after a meal.
All in all a great first trip to Seattle. I'll certainly be looking forward to many more, possibly in winter, so I can see the 'true', wet Seattle. Oh, and what would a trip have been without a visit to Amazon's banana stand?