Corin Forest Snow Advenure
Corin Forest Snow Advenure
Since I was sadly going to be in Seattle for Katie's 2nd birthday, we decided to celebrate it early, together with Sharon's birthday, by having a family snow adventure in the mountains. We spent quite some time pondering a venue – Perisher, Selwyn, and Thredbo were the obvious choices. They were however all well over 5 hours away, and relatively costly considering it would be Emma's first time on skis, and Katie was only 1 (so tobogganing and snowmen were her only options). After a bit of research we finally settled on Corin Forest, which is located 340km from our doorstep, and hash-tagged #MyFirstSnow.
With the venue chosen we moved on to accomodation. There wasn't much on offer at, or close to, Corin Forest, and so we started to look in and around Canberra. We finally settled on Capital Country Holiday Park, which is ironically not in ACT at all, but rather a kilometre before you enter the capital from the north.
We chose this venue over multiple hotels primarily for it's facilities. While at a hotel we may have had access to a pool, which is not all that useful on a cold, snowy retreat, Capital Country offered a jumbo jumping pillow, BBQ's, a swimming pool (okay, I did just say we didn't need this), a tennis court, a volley ball court, a basketball court, and mini golf.
We drove down at a leisurely pace on Saturday morning, since we were only able to check in from 2pm. For me the most amazing part of the drive was passing Lake George, originally named Lake Werriwa by the locals. For well over 30 minutes I'd been excitedly staring at the GPS, eagerly awaiting the arrival of the large, roadside mass of water (which in my mind, was a potential future fishing venue). My excitement grew as we got closer and closer, with the lake eventually appearing to be around the next corner. But as we sided up next to it (according to the GPS) there was no water to be seen.
A quick Google indicated that Lake George has been dry since 1971. It was once the planned location for Canberra, with artists impressions depicting a Venice-like city nestled on the water's edge. Lake George's flood plain was massively impressive, but perhaps the most impressive feature was the large wind farm, with it's giant turbines, located on the far "bank".
Having made good time, we headed into Gungahlin to do some shopping, prior to checking into our accomodation – snacks for the slopes, the essential coffee, as well as breakfast, lunch and dinner.
With the shopping done we headed for our villa. With the landscape looking so rural, I decided to challenge the family to spotting our first kangaroo. Despite having lived in Australia for over 5 months, we were yet to see a wild kangaroo. It didn't take long for Sharon to point out the window excitedly, at a field filled with hungry kangaroos. From that moment onwards, we were hard pressed not to see a kangaroo, both on the road and in the holiday park.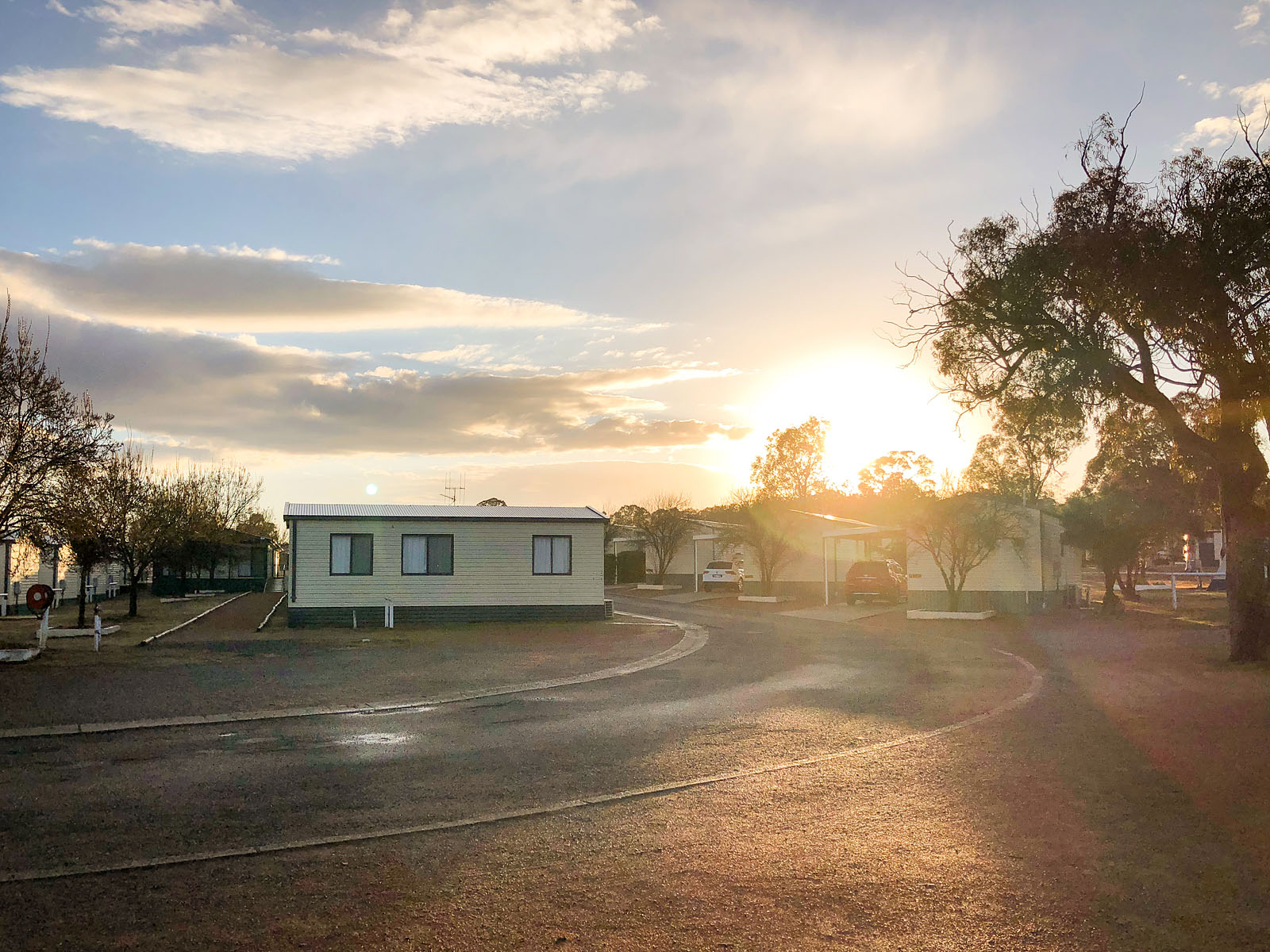 Our park villa consisted of a large living area with a 4 seater dining room table, a TV and couch, and a small kitchenette containing a fridge, cooker top, sink, and microwave. There was however no oven, which was somewhat problematic considering our recently purchased dinner choices. Adjacent to the living area was a small bathroom with a shower, sink, and toilet, and 2 bedrooms – one with a double bed and the other with 2 single beds. The unit was cosy, and heated via an air conditioner which made it incredibly comfortable.
After unpacking the car, we had a tough decision to make; Sharon had won a pair of night skiing tickets, which we were itching to use, but the weather was looking rather ominous as it was raining on and off. While pondering whether to drive the 45 minutes to Corin Forest, we made the kids hotdogs, and microwaved ourselves a non-microwaveable pizza. It was a fail to say the least, and perhaps the only time in my life I haven't enjoyed a pizza.
Needing an upper after the lunchtime disaster, we decided to risk it, and climbed back into the car for the 45 minute drive to Corin Forest. We arrived with just enough time to spare to take in the surroundings, before night fell.
Corin Forest was far smaller that expected. Directly next to the parking lot was a small building consisting predominantly of one large room, with a fireplace in the centre, acting as a coffee shop (the room, not the fireplace). Outside the coffee shop were 2 large containers, which had been converted to bathrooms. In the front of the building was a long deck, which overlooked a small dam (used for blowing snow I'd imagine), the snow play area, and the ski slope. The slopes were nestled in a eucalyptus forest, and the snow was clearly blown since the rest of the hillside was devoid of any natural snow. I could also see the Alpine Slide to the left, winding it's way down the hill, but it was closed for winter.
We stepped off the deck and walked the 100 meters to 2 smaller buildings. The first was the ticketing office, where we collected our free tickets. The second was far more exciting, and was used for ski hire.
As much as we wanted to get Emma onto the slope, we decided that learning to ski, in the dark, with a dad who hadn't been on skis in well over 20 years, probably wasn't the best plan. As such decided it would be best for me to ski on my own, while Sharon and the kids relaxed in the coffee shop. This would give me some time to refamiliarise myself with skis, so that I could teach Emma the following day.
I chose to get back onto skis, rather than my usual snowboard, since it would allow me to hold Emma's waist and ski down the slope with her (rather than chasing her down the snow in panic on my snowboard). It did however rely on my being able to ski, relatively competently, which I had no idea if I could do.
Stepping out of the rental building, the ski slope was on the right, and the snow play area (and training slope) was on the left. I stepped onto the snow in the dark, clipped into my skis, and slid onto the carpet lift which took me up the 200m long slope – verrrry slowly. On the ride up I passed the giant snow cannons, as well as the generator (which was being worked on) used to power the massive spotlights, gleaming down from the top of the slope.
Sharon, Emma and Katie stood and waited at the bottom, eager to watch me descend under the lights. My first run down the slope was a little rocky, albeit successful. I wasn't leaning far enough forward, and my turns were suspect at best. But I made it down without falling, which gave me a boost in confidence.
Having had a good laugh at my wobbly decent, Sharon, Emma and Katie headed back to the coffee shop to enjoy a hot chocolate and the warm fire. I meanwhile headed back up the slope, and did run after run, slowly growing in confidence. Eventually, after a multitude of successful runs, I decided I was adequately prepared to get Emma onto a pair of skis, even in the dark.
I clipped out of my skis, and headed back to the coffee shop where I found my family alone, on the dark, cold balcony. Looking inside I could see why. As warm as the fire was, it wasn't drawing correctly and the coffee shop was completely filled with smoke, making it uninhabitable.
Emma was massively excited to be unexpectedly invited to the slope. I, on the other hand, was still nervous that attempting her first ski in the dark could set us back a season, especially if she struggled, or had a bad fall.
I kitted Emma up in her new ski suite, as well as ski boots, and the cutest pair of skis I've ever seen. She was beaming from ear to ear the entire time, and didn't even complain about how tight the boots were.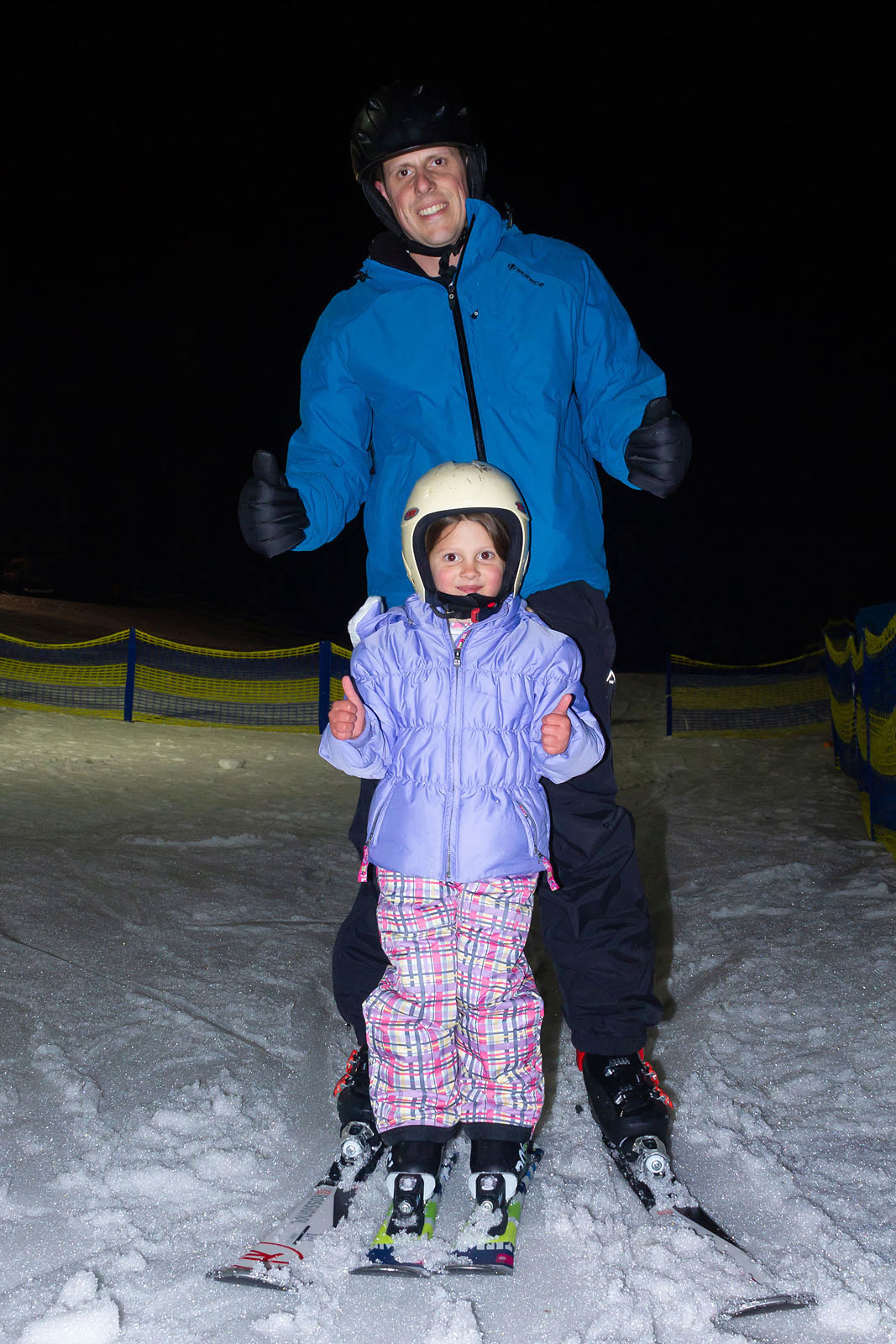 We hobbled up the stairs together, in our rigid boots, and stepped onto the snow. I clipped Emma into her skis for the very first time and, amazingly, she remained standing. We spent a short while at the bottom of the slope, practicing snow ploughs by walking up a few meters and then skiing back down. Eventually, either because we felt ready, or because we were bored of the relatively flat section at the bottom of the slope, we climbed onto the carpet lift and headed for the top.
Emma did well on the lift, and we made it up with ease. Then came the interesting part, getting back down. I got Emma to stand between my skis, held her under her arms, and we "shot" down the slope. Amazingly we made it to the bottom, with Emma screeching with joy the whole way down to Sharon and Katie. And so we headed back up and did it again, and again, and again. Emma absolutely loved it!
Slowly I got braver and braver, and so we'd stop midway down the slope and I'd let her finish the run on her own. With each passing attempt she started higher and higher, until she eventually did a run, on her own, from the top. Admittedly, I had to catch her a few times on the way down, when I deemed her to be going to fast. And she did tend to favour the straight line approach over traversing the slope. But she did amazingly well, and loved every minute. Yes, she had a few falls, but these didn't slow her enthusiasm.
Midway through our session, while we were heading up the slope on the carpet lift, the generator died and the lights went out. Amazingly the lift kept working, so we made it to the top in the dark. Emma immediately turned to the man next to us and said, "Do you know that werewolves come out in the dark?" He absolutely hosed himself.
We waited a few minutes for the lights to come back on, but eventually gave up and skied down in the dark. As any child would, Emma thought this even more fun, and we did many more runs in the dark.
Eventually we decided to call it a a day, and headed back to the coffee shop to relieve Sharon and Katie from the smoke. Thankfully things had improved, and the fire was drawing correctly, so they were sitting inside, all warm and toasty.
We climbed into car and had one of our more peaceful journeys, with both the girls passed out in the back.
The next morning we got off to an early start as we had to be back at Corin Forest by 8am, for our Snow Play session. Sharon made us some delicious egg and bacon rolls, before we kitted up the kids in their snow suites. We were eager to get Katie onto the snow, and Emma was trying to work out whether she wanted to toboggan or ski.
We timed it well and got to Corin Forest at exactly 8am. Thankfully the rain was holding out, so we set about checking in and getting our wrist bands.
The snow play area was wider, but far shorter, than the ski slope. It was divided into 2 halves, with people tobogganing on each side, while the middle section was being used to build small snow and have the odd snowball fight.
Before we knew it we were sitting in our toboggans, Katie with Sharon and Emma with me, ready to head down the slope for the first time. We pushed off and flew down the short slope at speed. Since the run ends abruptly with a row of yellow foam bumpers, Sharon had her feet on the snow to slow Katie and her down. As successful approach as this was, all it ended up doing was covering Katie's face in an abundance of ice cold snow. And that was the end of that for Katie. "No toboggan!" was all she would say for most of the rest of the morning.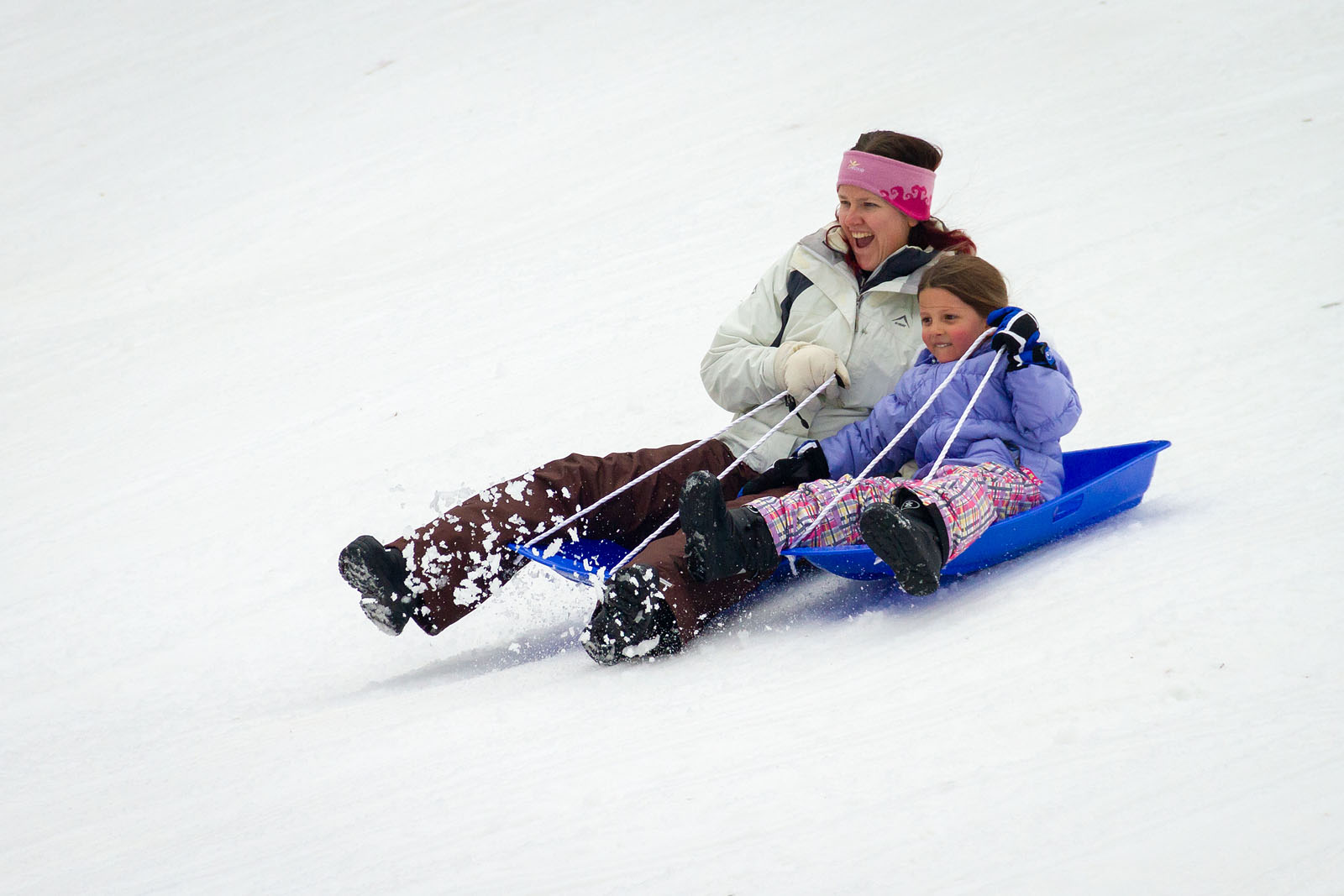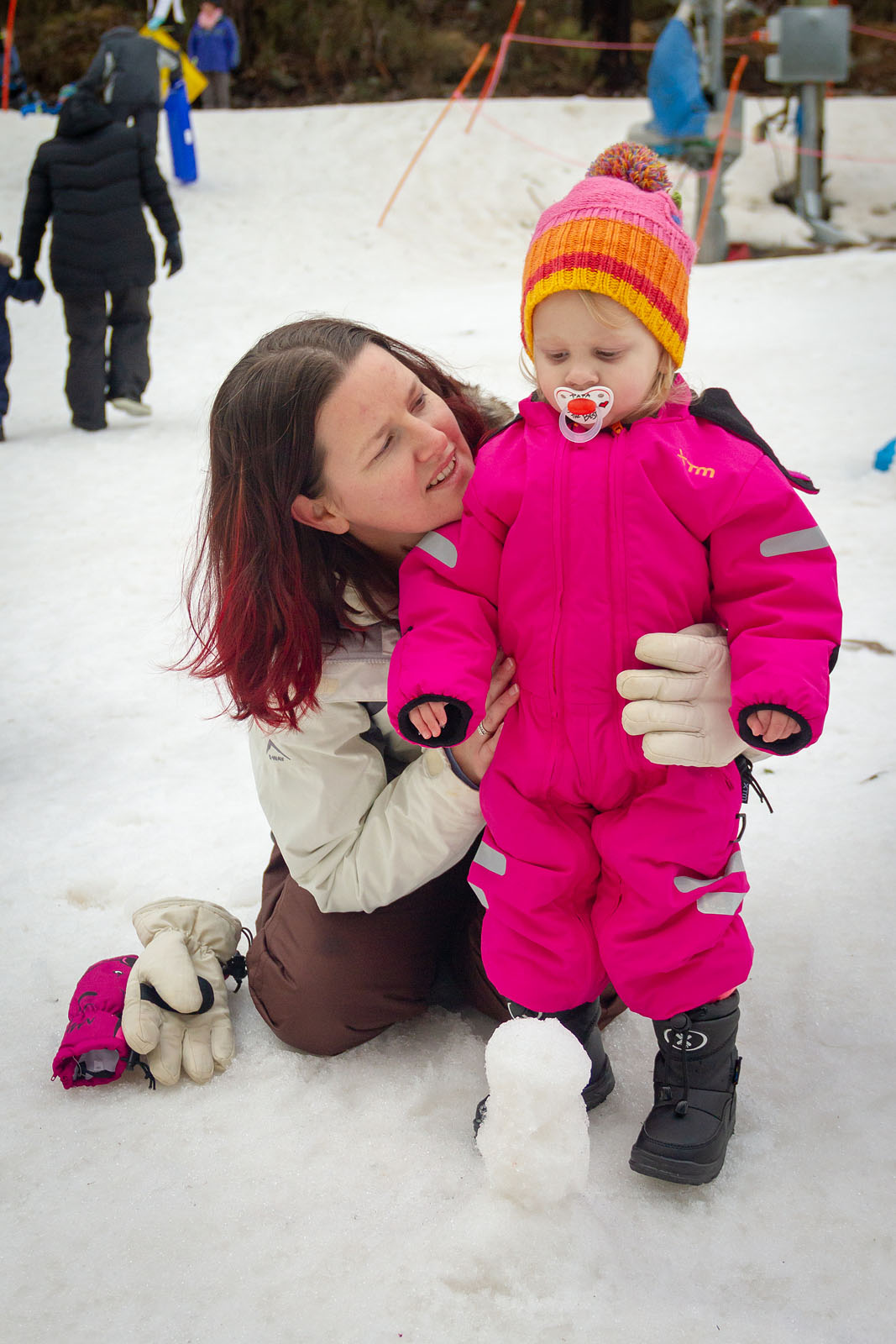 With Katie out of the picture, Sharon and I took turns going down the slope with Emma. We raced or went together, over and over, for the next two hours. It was great fun! In between we also took some time out to build the world's smallest snowman (and not have a snowball fight). Sadly Katie wasn't even interested in this, which made it somewhat difficult. That said, the snow was rather compacted and not the greatest for making snowmen anyway.
Eventually the rain started to fall, and since we only had half an hour left in our session we decided to call it a day and head back to our villa. Emma was a little upset as she was hoping to have an afternoon ski, but thankfully she bought into the logic that skiing in the rain was not the most fun.
Since we had the rest of the day free we decided to do some exploring on the way home. Our first stop was at a small campsite we discovered just 10 minutes outside of Corin Forest, called Woods Reserve. We spent a brief 10 minutes there admiring the one brave family who had decided to setup camp for the weekend. The area looked good with lovely camping facilities, BBQs, and clean toilets and showers.
From Woods Reserve we headed into Canberra to explore our nation's capital. We visited Capital Hill, Parliament House, and old Parliament House, before heading off in search of the nearest milkshake shop. Somehow we ended up at Le Bon Mélange Café – not quite the kid friendly milkshake bar we were after. That said, they made a great chocolate and malt milkshake, and their biscuits were amazing.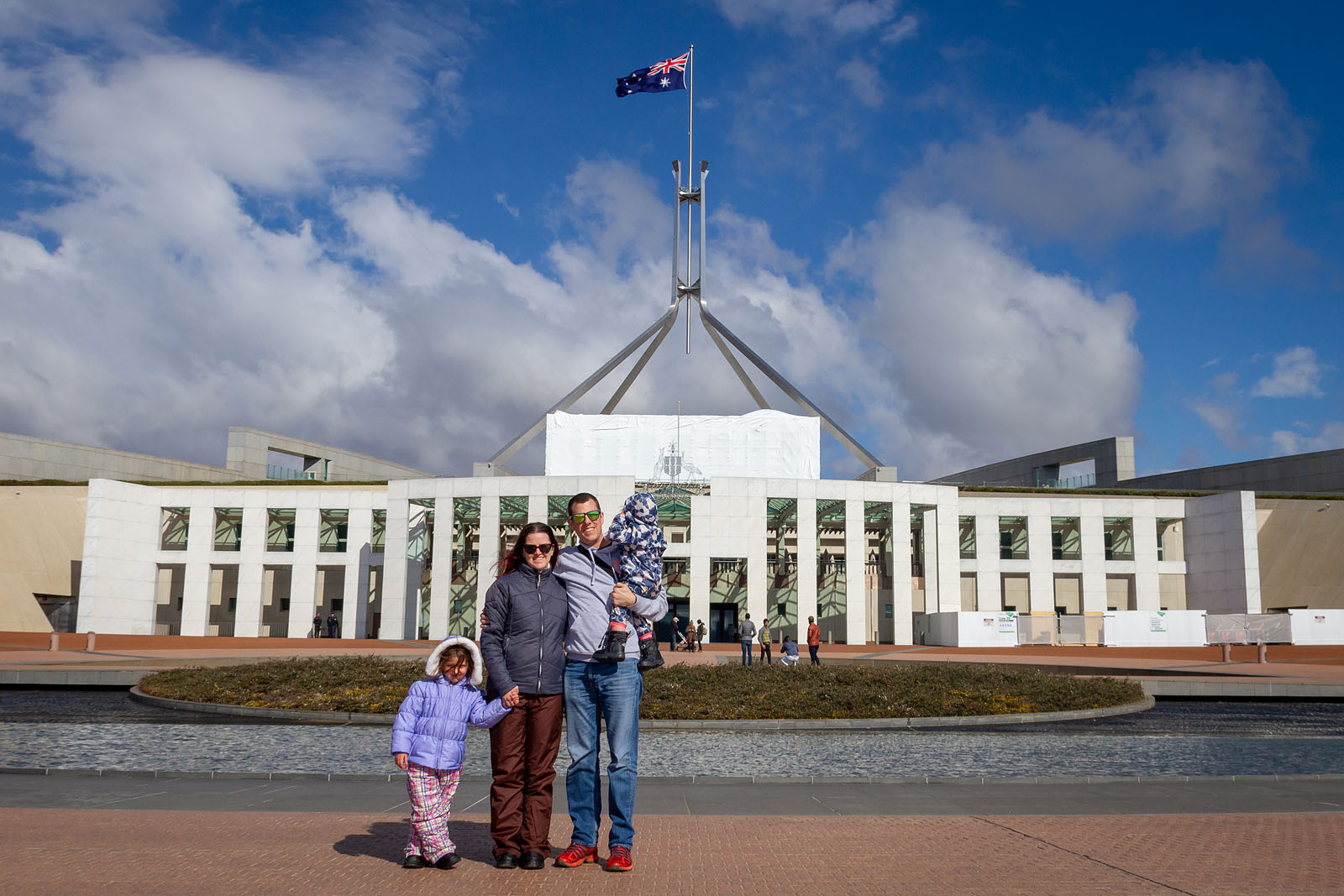 Back at Capital Country Holiday Park Sharon went about setting up Katie's birthday party, while I took the kids to the jumping pillow. Emma instantly made a friend and the 2 girls spent the next hour trying to double bounce us 2 dads, while I ran around trying to protect Katie from the carnage. More great fun!
Katie loved her mini party. She ripped through her presents quickly, and loved every one of them, especially the play-dough which was a massive hit…and equally as massive a mess. With each present she opened she would throw her hands in the air and yell, "surprise!" The present opening was followed by a delicious mud cake and far too many sweets.
Dinner that night was pie and chips, and not all that bad considering everything was cooked in a microwave as we had no oven.
The next morning was Sharon's birthday. Her pile of presents wasn't quite as impressive as Katie's, but she loved them just as much. We took it easy, and spent some more time on the jumping pillow (which I'm starting to think the kids loved more than the snow), before packing up and heading home.
Corin Forest is by no means a ski resort, and can't compete with the likes of Thredbo and Perisher. But if you're looking for a venue to introduce your kids to the snow, it's a great feeler ground. It's also a cheaper option if you're looking for a half day, or are only wanting to toboggan or touch some snow.
It was a great weekend and, while I may not go back now that I know Emma is in love with skiing, I'd definitely recommend it.