Aussie Bass at Manly Dam
Aussie Bass at Manly Dam
After months of deliberation around which fishing platform would be best suited to my use cases, having considered multiple options from boats to float tubes and paddle kayaks, I bit the bullet and purchased a 2019 Hobie Outback.
Surprisingly, even after I'd narrowed my choices down to the pedal kayaks, the decision was still far from obvious. What drive system did I want? Should it be fin based or a prop drive? Was size and ease of transport important? Or was stability more critical, being a fly fisherman? These are however questions better suited to a future post, once I've had a few more sessions on the kayak.
With a shiny, new Hobie sitting in the garage, I absolutely had to get it onto the water as soon as possible. Suddenly fearful of sharks (thank you YouTube), I decided to do the sensible thing and test the kayak out on a local still water. This would ensure I was comfortable launching it, fishing off of it, and, God forbid, scrambling back onto it should I roll in deeper water.
So with the help of my sister I loaded the kayak onto my Ute, and the family and I headed for Manly Dam. The target species was Australian bass, which were entirely new to me, and were entirely not bass. In fact, the Aussie bass was previously known as the perch, until it was rebranded in the 1960s to drive popularity.
Upon arrival we unloaded the kayak and setup a picnic area for the girls, close to the playground. I kitted up a few rods, and was quickly out onto the water, eager to see what the kayak had to offer (and to land a new species).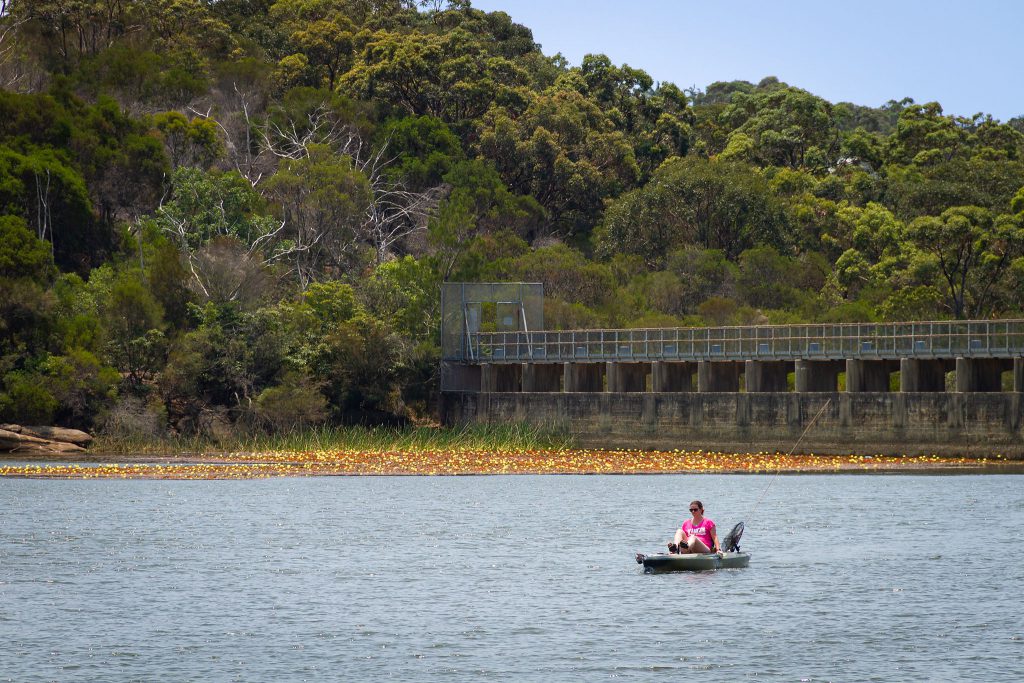 The Hobie Outback impressed me from the start. The stability was next level, and the peddle drive cut through the water like a knife through butter, averaging 6km/h with absolutely no effort. There was more that enough space onboard to stow all of my tackle (flies, tippet, leaders, and so on), as well as a variety of built in bungees to attach tools to (forceps and clippers) for easy access. I had packed a few snacks in the nose hatch, and my phone wallet and GoPro in the rectangular hatch. The moulded rod holders were perfect to store my net in, for easy access, and I'd made use of the H-Tracks to attach a Railblaza fly rod holder for my second rod. It was an impressive yak to say the least.
I peddled my way across the dam to a shallower section with a few reeds sticking out of the water, and flicked in a wooly bugger (I hadn't yet purchased and Aussie bass flies, so my limited trout selection was going to have to do). Amazingly, on my third cast, I hooked into a semi decent fish, and fought it like my life depended on it. Grinning from ear to ear I landed my first Aussie bass and, from what I've heard, it was a good one for this waterway, measuring in at ~40cms.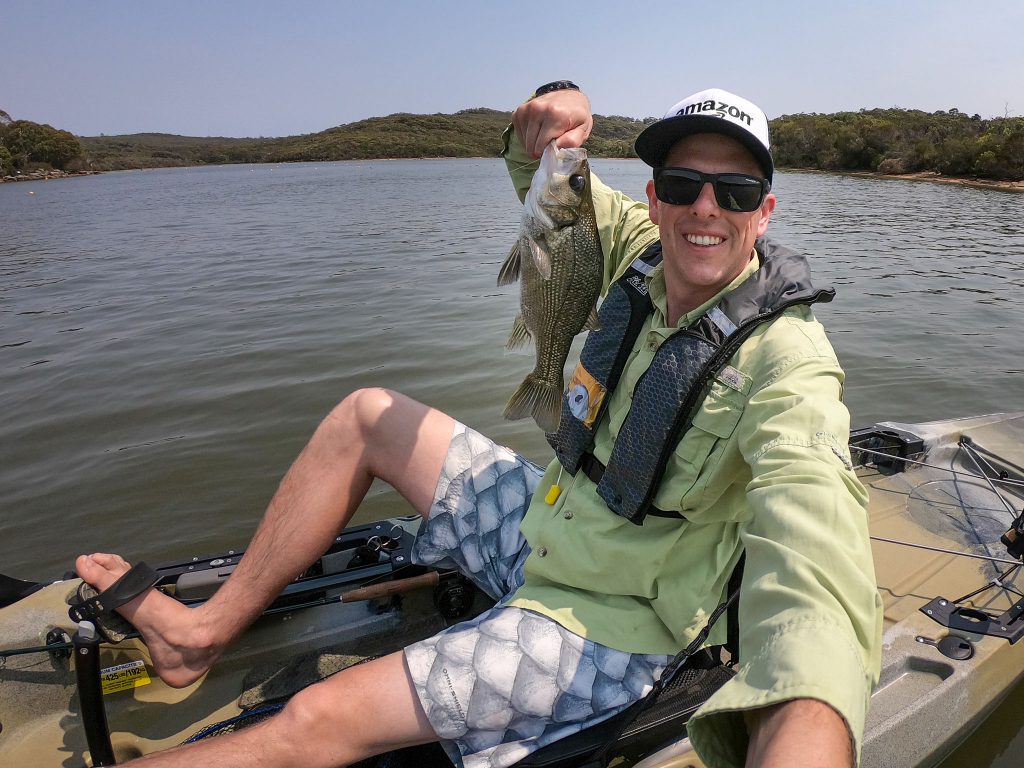 After releasing it to fight another day, I flipped the Hobie into reverse, backed up, and headed off for another reed bed. Putting the Hobie into reverse via a cable, rather than back-peddling on a prop drive, definitely came with a small amount of overhead (especially while fishing close to banks and structure). That said, it wasn't enough to worry me. And the benefit of have fins, which glided easily through the weeds (rather than a prop, which tends to get tangled in weeds), was massive.
Sadly, despite my initial excitement, and high expectations after landing a fish on just my third cast, no more fish came to net.
The kids meanwhile played in the water (loving their new life jackets, which were a Christmas present from Kerry), picnicked in the shade, and caused chaos in the playground. They absolutely loved the dam, which is an added bonus for me, as it means more bass fishing trips are on the card.
In terms of fishing, the dam was great, and is well worth future visits. There's a good assortment of weedy bottoms, reed beds, small bays, deeper pockets, and structure on the fringes. And the surrounding scenery is equally as impressive (and spectacular), especially considering you're in the middle of the suburbs, and less than 30 minutes from the city centre.
I'll be back!