My DFT Demo Tie
My DFT Demo Tie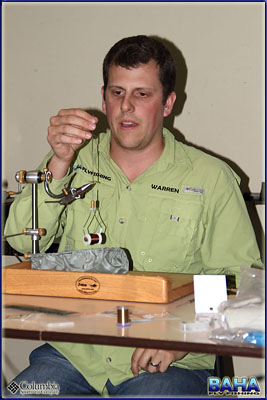 On Monday 1 October I had the pleasure of being the guest tier at the Durban Fly Tyer's monthly meeting. Although I was originally asked to demonstrate a salt water fly I opted for something a little more intricate and exciting to tie.
Since past flies had been aimed mainly at salt water fish, trout and tigers I initially decided to tie a yellowfish fly. My first idea was therefore to tie the famous orange hotspot. Sadly however, with all the recent rains in Kwa-Zulu Natal, the rivers are a little high and muddy and yellowfishing has therefore taken a back seat. I therefore made a small change and decided to tie the Pheasant Tail Nymph, or PTN as it is commonly known.
This fly works well for both trout and yellows, although I prefer to tie my trout version with a peacock hearl thorax while I tie my scally version with a dubbed orange thorax. I therefore provided materials for both giving people the option to tye either a trout version or a yellowfish version. I also explained how to tye the fly with and without bead heads and how to weight it accordingly.
Columbia Sportswear was kind enough to provide two prizes for the event, a PFG fly vest and a PFG ditch bag. These prizes were exceptionally well received and I must congratulate Bill Sadler for winning the bag and Nick Nortje for walking away with the fly vest.
All in all the event was well supported and some great flies were tied by all who attended. Well done to our two winners; Tom Gifford tied the best senior fly and Kyle Hammond tied an exceptional fly to win the junior section.
After all the flies had been judged it was great to see a lot of the members hang around to discuss fly fishing literature as well as future trips and past adventures.