The Eston Challenge – Sharon's First Race
The Eston Challenge – Sharon's First Race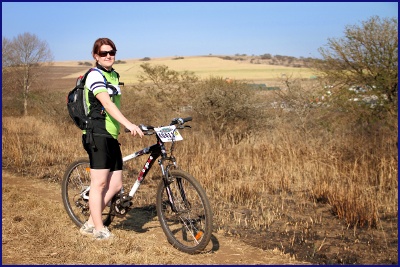 We pulled into Eston at around 9am on Sunday morning, took a few pre-race photos, and then headed for the start. Luckily we were there early since our 10:15 start became a 10am start. We were riding the 18km route which headed through Tala Game Reserve (please mind the Rhino). Things started badly when just 1km into the race a kid came off right in front of me. Thankfully I managed to avoid him, but amongst the chaos I lost Sharon.
Unfortunately we hadn't come up with a strategy for this situation. I got off my bike and waited, thinking she might have gotten caught up in the chaos as well. After a while I realised this wasn't the case and sprinted off down the road hoping to catch her (and also hoping I wasn't leaving her in my dust). Luckily I found her a short distance up the road, off her bike, waiting for me.
Since we were unseeded we had started right at the back, and after that little incident we were even further back. This proved a problem from hill number one. The people around us were clearly of the opinion that you ride down hills and push up hills. And over and above that, you don't push on the side of the track, instead you cunningly form large bunches so that the people wanting to ride the hills can't get past you and beat you. Grrr! So for most of the race we ended up getting cramped in on every uphill. But besides that it was a great race though the park and we eventually got into more space and had a better second half.
Coming down the last hill a young girl in front of us came off her bike. Sharon's motherly instinct kicked in so we stopped to check she was all right. She looked winded so Sharon told her to put her arms above her head to help her breath. Being in a slightly shocked, slightly emotional state, she though Sharon was asked for a hug so they stood there hugging on the side of the road. Aaaah! The manly sport of mountain biking…complete with hugs.
All in all it was a good first race for Sharon. We rode a time a 1:39, but I'm sure we could've done well under a 1:30 without all the chaos on route and with a slightly better seeding.