Umngazi River Bungalows
Umngazi River Bungalows
We were lucky enough to be treated to a week at Umngazi River Bungalows shortly after having our second daughter. So after spending a weekend with Sharon's folks on the farm we headed south to the Umngazi River mouth. Despite it being only 130kms away as the crow flies (from the farm), it was 220kms by road and estimated to take 4 hours.
We opted to go the shortest route, which meant taking the R61, rather than going through Kokstad which would be further but potentially on better roads. Our journey got off to a rocky start, literally, when we left the N2 at Izingolweni to link to the R61 and immediately drove onto dirt. Wondering just how much of the 200 odd kilometers would be on dirt, we pressed on. Thankfully the dirt ended 30kms later when we joined the R61. As it turned out this actually worsened the situation more than improved it as we immediately came to a stop as we entered a section of roadworks and stop-and-gos. An hour and a half later we'd covered a meager 60 kilometers and were starting to realise why the trip was estimated to take 4 hours.
The good news is that once we got through the roadworks the road was pleasant and we made good time. Well, almost. As we were approaching Port St Johns the road got incredibly windy with each corner blending into the next. This combined with my Colin McRae style driving resulted in Emma getting sick all over herself (and Sharon) in the back seat. A quick roadside stop and a pack of wet wipes later and we were back on the road.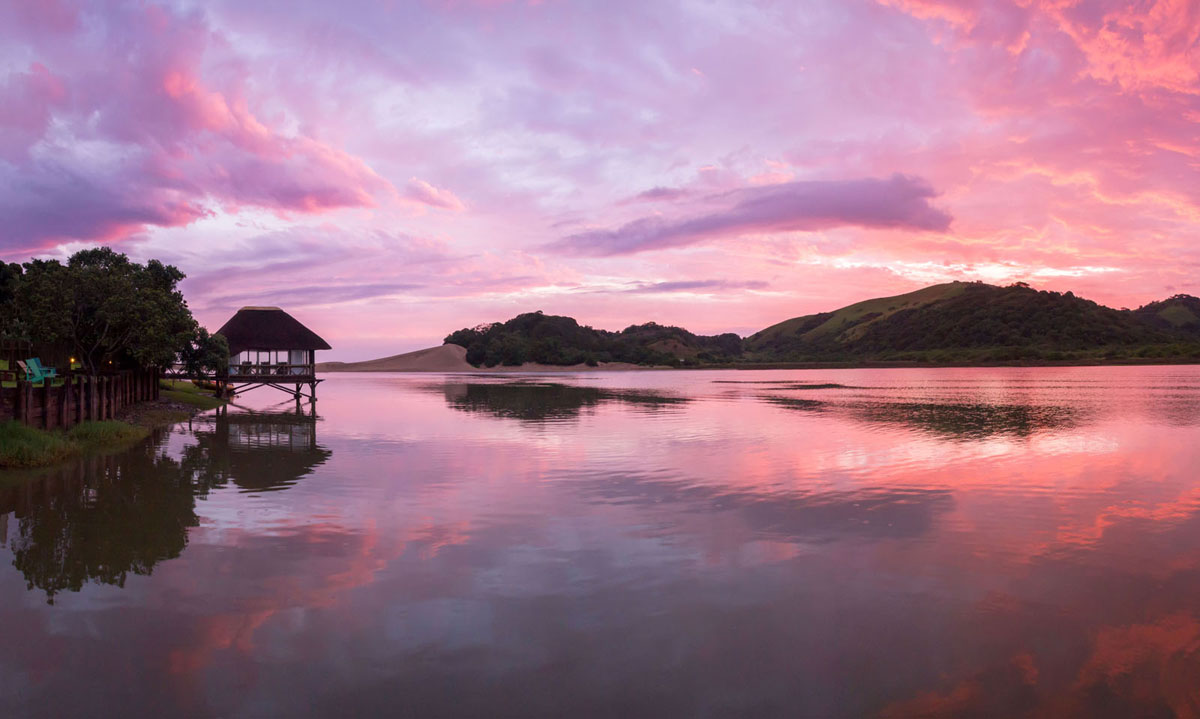 We finally arrived at Umngazi River Bungalows exactly 4 hours later (well done Google), at 12pm. My dad and Cassia were an hour behind us so we took advantage of the good weather and went for a swim in the resorts pool. Emma instantly made a new friend, Orlando, and they quickly became inseparable which was great.
Before checking in we had our first lunch on the deck, overlooking the pool and river. It consisted of a buffet of salads and sweet and sour chicken wings, followed by a good dessert. I ate far too much as I soon learned there was an endless supply of food at Umngazi.
After lunch we moved into our comfortable family bungalow. A porter thankfully helped carry our multitude of bags from the car to our room – since the car was parked a few hundred meters away in a communal parking lot. Our room was beautiful and consisted of two bedrooms, a bathroom, balcony and semi outdoor shower overlooking the river. Being fully catered there was no kitchen but there were tea and coffee facilities. The beds were incredibly comfortable and they even provided a cot for Katie.
The shower is worthy of a special mention as it was a little unnerving. You entered from the bathroom but were semi-outdoors in that all that separated you from the garden was a log fence that shielded you to your upper chest. It was fantastic to be able to watch the storms and sunset while showering, but saying good morning to your neighbour as you washed your hair was a tad on the odd side. And if you're a tall woman I'd be afraid!
Our first afternoon consisted mostly of us familiarising ourselves with the various facilities on offer at the lodge. These included a swimming pool, lounge with wifi (as there's limited cell reception), a jungle gym, the Umngazi river (of course), the beach, boat rides, the Creative Corner, the dinning hall and deck, a tennis court, a bar, pool and billiard tables, a shop, gym, dart boards, a spa, and so the list goes on.
They also offer a daily activity program for the kids which included activities like treasure hunts, crafts, crab hunts, shell collecting, slip and slides, and bug hunts. Yes, there were a lot of hunts!
The Creative Corner also deserves a special mention and is a parent's dream. It consists of an inside area, where the kids do crafts, and an outside playground with a jungle gym, horses, a see-saw, and so on. The crafts were fantastic and during our stay Emma made a necklace, a handbag, and a pair of binoculars.
But if the kids have fun the adults have even more with activities including hikes to the Blowhole and Port Alfred, kayaking through the mangroves, a river breakfast, bird walks, fishing, sunset cruises, mountain biking and trail running.
Our first dinner was an interesting affair as although the dining hall is child friendly, they do expect the kids to be well behaved and quiet (how unreasonable). Emma had other ideas and was difficult to contain, although in truth she was well behaved and relatively quiet. This combined with Katie having a screaming fit meant that Sharon left early and headed up to the room to try and relieve the stress. Thus began our evening tradition of sitting on our balcony with a glass of wine, chatting and de-stressing.
This first night's dining hall chaos brings me to the next great service offered by Umngazi – the nanny service. For a mere R130 a day you can have a nanny look after your kids for 8 hours. It then costs another R40 per hour after 6pm, which was especially useful at dinner time. We immediately signed up for the service and were introduced to Mary who helped us out for the rest of our stay. We alternated her between Emma and Katie, but generally she looked after Emma wherever Orlando and his nanny were.
It was strange having time away from Emma at such a kid friendly and beautiful place, but it did allow me the time to fish and Sharon the luxury of visiting the spa. And as I mentioned, it was a life saver at dinner. We did of course spend a lot of time with Emma doing the various activities, which also meant that Mary got some time off herself.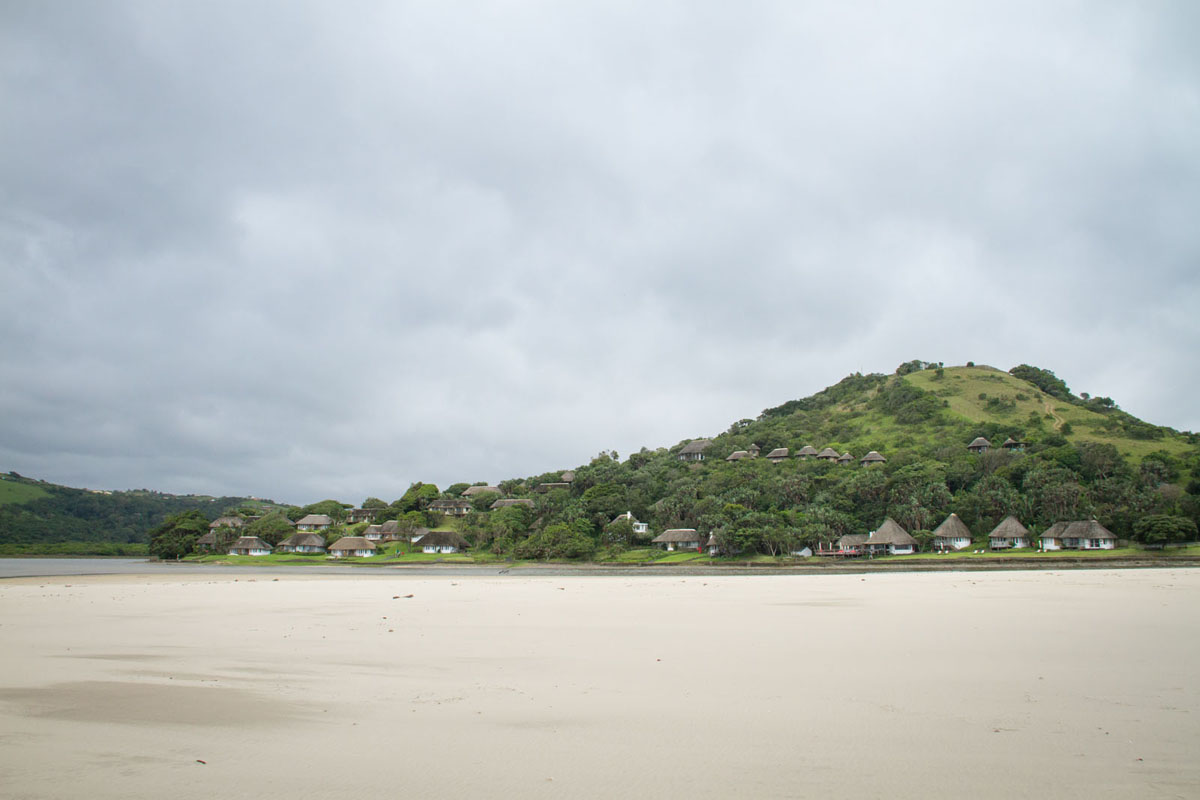 Having settled in on our first afternoon our second day was far more active. After a breakfast buffet consisting of fruit, yoghurt, cereals, pastries, and a traditional English breakfast (with any type of egg you can dream of), I headed out for a run. The original plan was to head down the road we'd driven in on, but the scenery quickly got the better of me (as well as an angry looking cow on the road) and soon I was running north on the beach, over rocky ledges. When I got stuck between the sea and a cliff I turned and ran south, over the river mouth and did some hill work on the large dunes. Then it was back to the bungalow for some family time by the pool.
The weather had sadly turned and it was overcast with on and off rain for the rest of the week. This didn't stop the kids from having a blast, nor did it stop my dad and I from heading out fly fishing. The water was dirty from recent rains and chats with other anglers weren't promising as nobody had caught a fish. But you can't catch without a fly in the water so we took a small boat, with it's tiny 5hp engine, and went in search of a spot my dad had fished years before.
We immediately had issues when just a few hundred meters upstream we did a few safety checks which didn't yield promising results. There was very little fuel in the tank, we had no oars, and the engine often wouldn't engage meaning we were left fiddling for up to 5 minutes before we got the boat moving again. However despite discovering these issues we forged ahead as it was already late and returning to the jetty would delay us by at least another half an hour. Probably not a great decision, but thankfully it all worked out in the end – the fuel lasted and we never got stuck upstream with a faulty engine and no oars. This was almost disappointing as I'd already begun stretching for the jog home, and any trip without a story is not what it could have been.
It took us roughly 20 minutes to reach our spot (under the cliffline) where we both opted to fish poppers due to the poor water clarity. A popper pushing a big wake would surely be more visible than a clouser in a chocolate milkshake. There was also a fair amount of surface activity which was promising and again pushed us towards surface flies. It took about 30 minutes of dedicated fishing, wondering if the water was indeed too dirty, before my dad hooked up with a beautiful pickhandle barracuda. With the pressure off we fished more confidently and not long after that I connected with a beautiful giant kingfish (giant trevally). It was all action and we had multiple chases, missed a lot of fish, and lost even more. I personally dropped a beautiful springer while my dad missed multiple others fish. But the good news is that the fishing was on and we had an energetic session.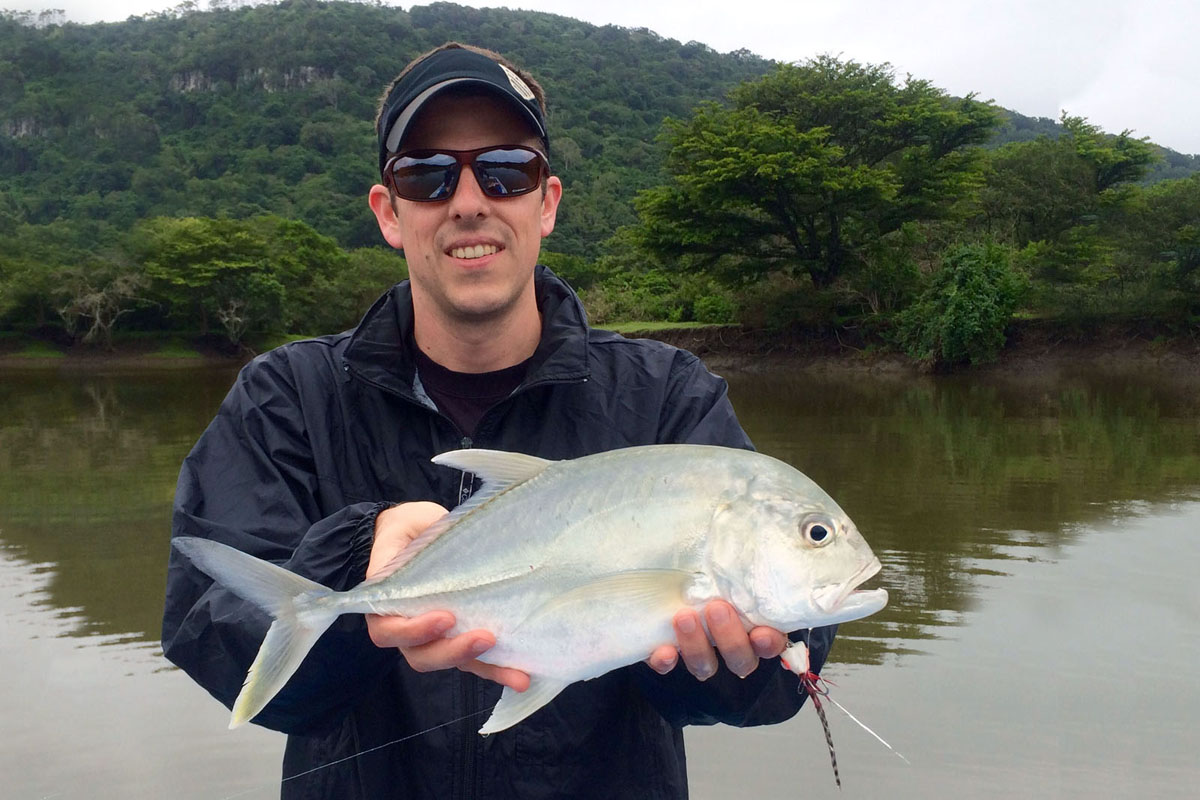 The second day's fishing followed a similar pattern with lots of activity, multiple chases, and many lost fish. On route to our spot we even had a bullhead mullet jump into the boat as it leapt from the water (we hadn't even reached our spot and we were already a fish up).
At one stage my dad and I almost doubled up on pickhandle after finding a shoal. Sadly I missed the take while my dad was bitten off, but it was an exciting moment non the less. This was followed by my dad landing two beautiful springer at which time we realised we had no net, forcing us to improvise by using my stripping basket. Sadly we only thought to use the basket after losing the first fish next to the boat while trying to land it by hand (which in turn resulted in me taking a hook to the thumb as it ejected from the springer's mouth at speed). I had a slower session but thankfully picked up another GT on route back to the bungalows.
Sadly on day 3 things fell apart (after boasting to the other anglers about our prime spot). The 2 large, evening storms we'd experienced had further muddied the water creating vastly different conditions. The surface action of the 2 previous days was gone, and so were the fish. But hey, that's fishing – you win some, you lose some. And we'd had 2 great days in the water.
Meanwhile the apparent rule was that whatever we spent on boat hire, the ladies would spend in the spa. Luckily for them we didn't enforce this as they would then have only received half a treatment each.
Being a manly blog I'm not going to discuss the treatments/massages/thingies that Sharon and Cassia received. What I will say is that the spa has won multiple awards and is one of the best in the country. It's also beautifully located on the top of a hill overlooking the river and beach. In fact, while Sharon was relaxing on the spa's deck I was on the beach with Emma, Orlando and Fenlela. So she got to sit there watching us play on the dunes and swim in the sea while her nails dried (or whatever happens on the deck).
Sadly during our stay we only managed to get to the beach twice due to the rain and wind. Getting to the beach is half the fun as they have a ferry which takes you across the river and to the beach. Amazingly Emma loved the boat ride perhaps even more than the beach. Once on the other side we splashed around in the sea but never really went for a full swim since the sea was quite rough. We also collected shells, built sandcastles, and played on the dunes.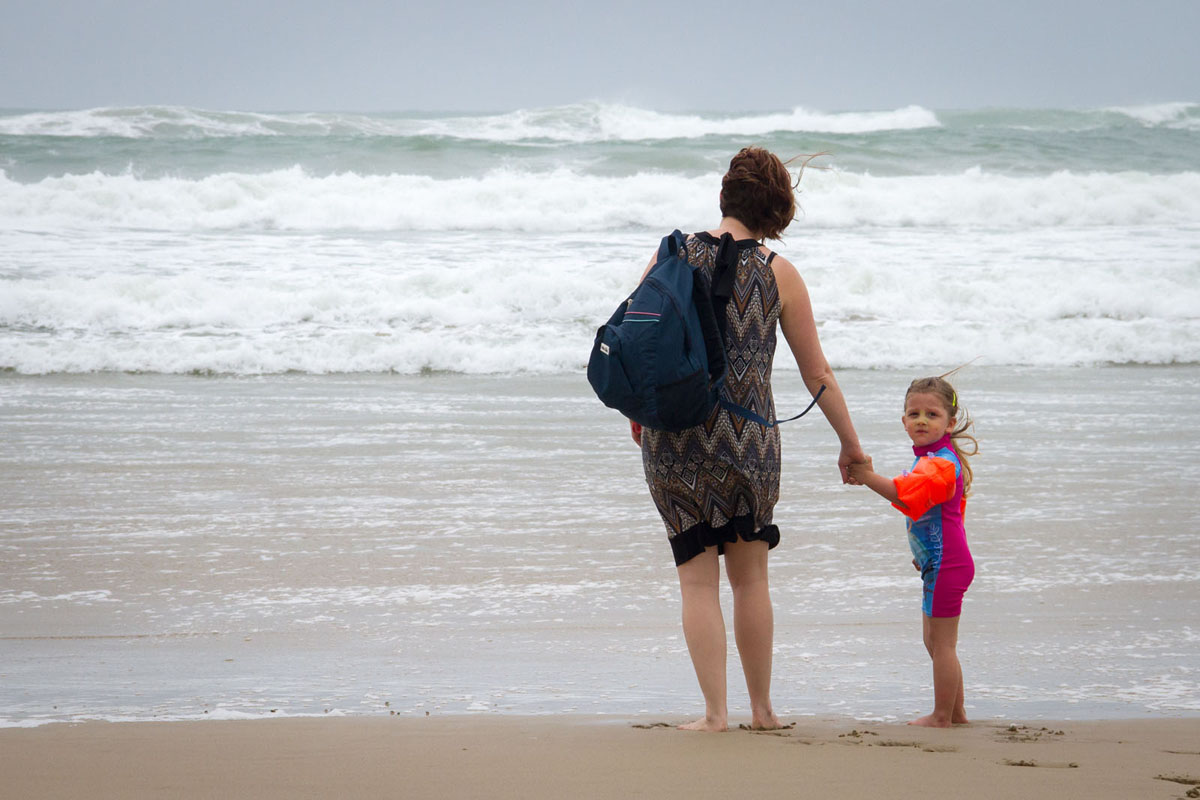 Umngazi has one large dune immediately opposite the resort which they generally offer sand boarding on. Sadly while we were there they had no sandboards as they'd had to return them to the supplier as they were too small. That being said, we still had an amazing time playing on the dunes and managed to get sand in many unmentionable places.
Getting back from the beach was equally exiting as they have a large gong that you need to ring to call the ferry. It's made up on what appears to be an old braai, hanging under a wooden structure.The only downside was the missing hammer portion which meant we were forced to search the beach for large pieces of driftwood – all part of the fun I guess.
Emma loved the various activities on offer from collecting shells to the treasure hunt. Despite some of them being geared towards the older children she took part in all of them and held her own. In fact, one day I was talking to one of the dad's at the Creative Corner who quickly informed me that Emma was "the boss of the playground" (I'm hoping that's a good thing). Off all the activities her favourite was definitely the water slide so we were lucky that they put it out on our one morning of sunshine.
The adults meanwhile took part in a few bar games which for us primarily meant darts. I built up a solid 200 point lead playing Killer against Sharon. This however was quickly eaten up once everything other than bulls was closed. Sharon then proceeded to hit 10 bulls in the time I hit 1, thereby grasping victory from me. I did however feel somewhat better when my dad picked up a the darts and proceeded to hit various points of the carpet behind the board, rather than the board itself.
Food is not something that I generally talk about in too much detail as these trips are about the experience than the food. That said it does deserve a special mention in this case. I certainly left a kilo or two heavier as there seems to be a never-ending supply of food at Umngazi (not unlike a cruise). The lineup consists of breakfast, morning tea, lunch, afternoon tea, bar snacks, and finally dinner.
Breakfast, as I mentioned earlier, consisted of a buffet including fruit, yoghurt, cereals, pastries, and a traditional English breakfast (with any type of egg you can dream of). There was also always a changing buffet item such as chicken livers or kippers.
Lunch followed a similar buffet format. There was always a soup, salads, pates with biscuits, and cold meats. There was then also a hot section which generally consisted of a single meat option as well as a vegetarian option. The meat options consisted of finger type foods like chicken wings or ribs. The vegetarian option was generally a vegetable lasagne or similar. Finally there was always dessert which I'll go into in more detail later.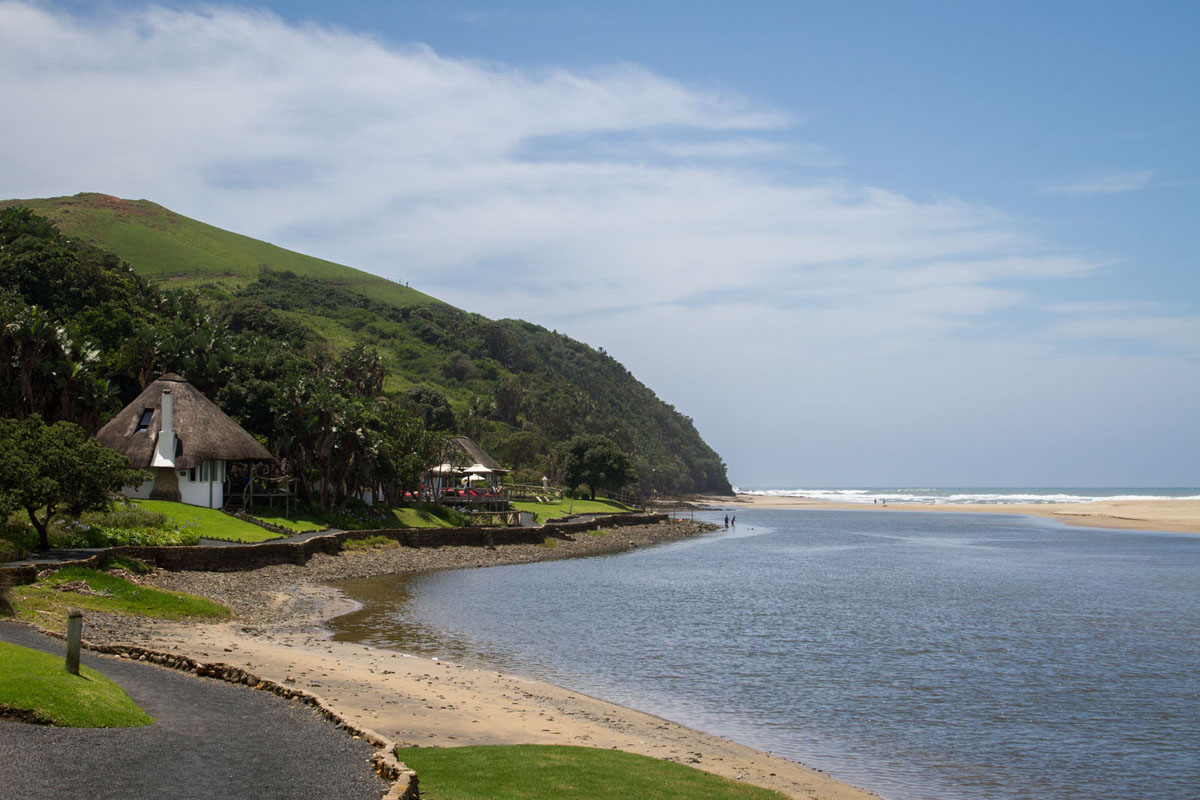 Dinners were al a carte and consisted of a 5 course meal. My only real complaint was that the main courses were generally very small, meaning you needed to eat all 5 courses. That said, if you did have all 5 courses it was an exorbitant amount of food. Generally the first course consisted of a soup, all of which were amazing. This was followed by a plated starter such as calamari, fish cakes, or livers. Some of these were better than others, and I didn't eat them all.
The main course always consisted of 3 choices – two meat options and a vegetarian option. As I mentioned they were small, but generally fantastic! I loved the lamb and chicken, while the fish options were sadly a little disappointing. Non of us ate the vegetarian option so I can't comment on this option, although on paper they sounded good. There was also a salad bar which could be eaten as either a starter or as part of the main.
The main course was followed by dessert which I have mixed reports on (this applies to the lunch desert as well as the dinner desert). The cheesecake and malva pudding were amazing, while some of the tarts were a little flavourless and dry (for example, the coconut pudding). That said there were always 2 options which meant generally one of them was good. Finally there was a cheeseboard with a variety of cheeses, biscuits and preserves.
The kiddies dinning hall was located next door to the main dining hall and was fantastic. Meal times were generally earlier than the main meals to allow parents to eat with their kids, before enjoying their own meal (as I mentioned earlier, kids were also welcome to eat in the main dining hall provided they were well behaved). The kiddies generally only had one or two options. So for example breakfast would be a type of egg, bacon and sausage. Lunch would be a meat, starch and salad, while dinner would be meat, starch and vegetables. Examples of their food included hot dogs, fish fingers, chicken fingers, mashed potatoes, smilies, and chips. Their pudding was generally custard and jelly or ice cream (I was very jealous of this since we never got ice cream). There was also fruit juice, water and Nesquick.
Emma and Orlando were inseparable and ate all their meals together. This was a blessing in disguise as the distraction (or perhaps all the activities) meant that Emma ate fantastically. It also meant that Sharon and I got some alone time (well almost, as we had Kaite with us) when Emma and Orlando ran off to play together with their nannies.
Umngazi is an amazing venue that I'll definitely return to. It's beautifully located with amazing facilities and a never ending list of activities. It's costly, and yet is incredible value for money. The only real downside to the venue is the slow drive in on potholed roads. But the journey is quickly forgotten thanks to the destination. Simply incredible!